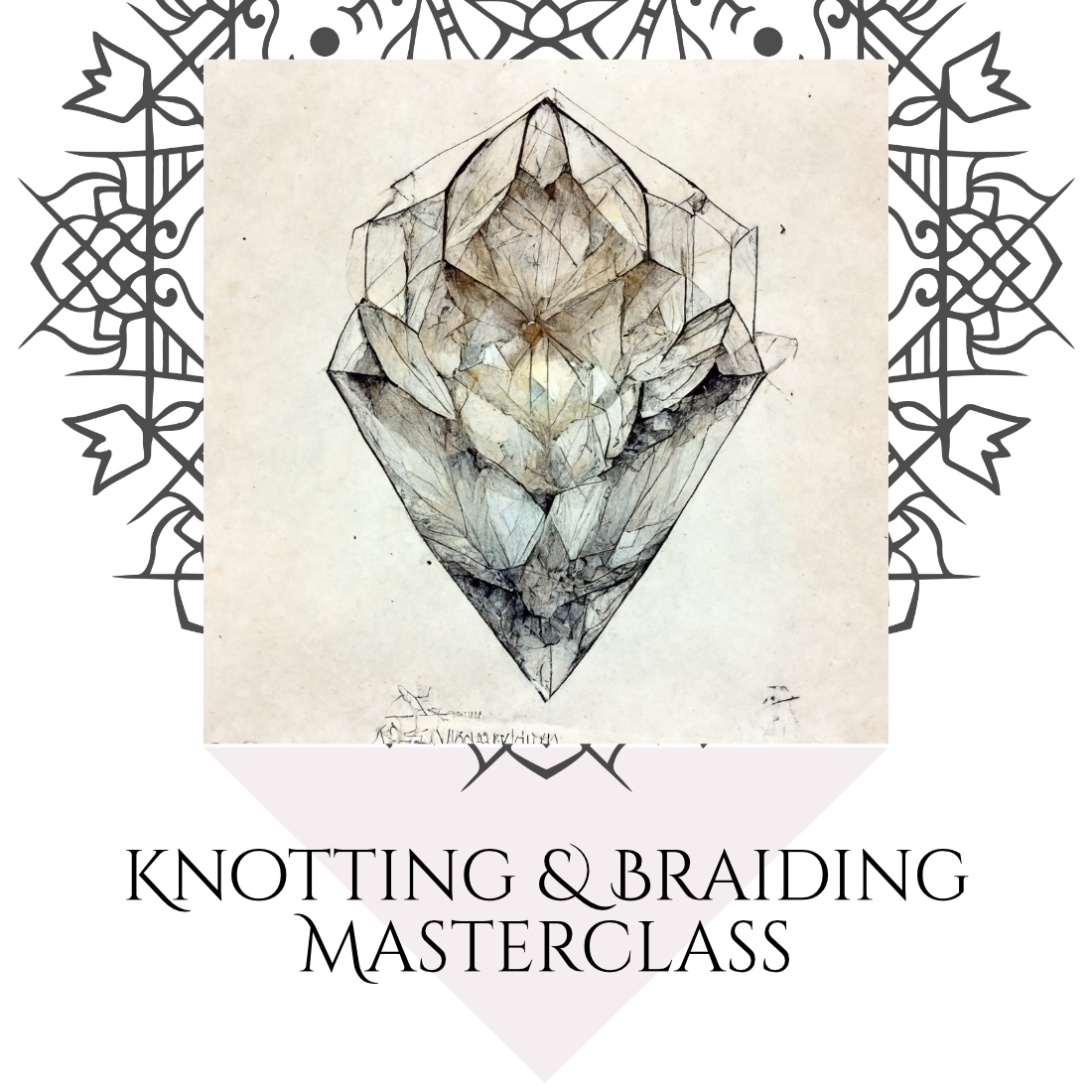 Knotting & Braiding Masterclass ~ REGISTER YOUR INTEREST
WORKSHOP
Next online class date TBA. 

In this practical group workshop, suitable for beginners, I will teach you the most useful basics of how I knot and braid Spirit Carrier amulets. The methods can be applied to all types of items (necklaces, bracelets and earrings, even handbound books) but in this workshop each participant will work towards completing a simple bracelet - not in any pre-determined style, instead you'll create something that is personally meaningful to you.

In the past 25 years of teaching groups, my aim has always been to have you understand why something is done the way it is. This makes you learn at an accelerated rate and you then become capable of making your own independent decisions about your future work, without adhering to a "set recipe". After this workshop you will know not only how to make the knots and braids I teach, but you will gain the understanding of how to take these basic skills further to your own direction and become creative with what you have learnt.

Whilst I teach in this workshop the structural techniques and methods involved in my work, a large part of how I do this goes deeper than that. While you're practising the knotting and braiding that I demonstrate, I will talk about the holistic, transformative process of making with one's hands, and invite you to engage in some meditative exercises involving the cords and threads that we're working with.

As this is the first time I'm teaching this particular class remotely, I give a time estimate of 4 hrs, although it is possible we may go a little bit over. We'll also have a break in the middle!
This workshop takes place on: NEXT DATE TO BE ANNOUNCED
The group size will be capped at max 15 participants.
*Certificate of Attendance* will be issued for those who complete the class.

You can join from anywhere in the world as long as the time suits you, depending on your own timezone.

Due to the nature of the teaching, the group interactions and the length of the class, and to protect the privacy of all attendees, I will not record this workshop. This will be like those old-fashioned in-person classes where you're either there or you aren't!

I would advice you to source your own preferred materials for this workshop, because that ensures you'll create something personally appealing. Guidance for required materials and tools is listed in the 'Requirements' tab above. If you attended the Mala Making Workshop last year, you already have most of what is needed. 

I will use the email address from your order to register you for the Zoom session, and you will then receive the joining link via email. If you have any questions, feel free to send me a message.


REQUIREMENTS
A stable internet connection is needed, preferably via computer or laptop rather than phone. You need a table to work on and generally a comfortable space and clothing to spend four hours in. I also recommend your device to be attached to a charger so that it won't run out of power in the middle of our session.

List of materials and tools for guidance:

- Any type of micro-macrame cord, e.g. Linhasita (brand)
*approx. 1mm or slightly less in thickness
*minimum of two different 2 colours
*minimum of 20 metres in total, preferably more just in case

- Any kinds of ribbons, threads, silks
*each strand minimum of 1 metre (a bit over 1 yard) in length
*selection of various thicknesses and textures as to your preference
- Small glass seed beads in any colour for practising
*hole size to accommodate your cord, e.g. seed bead size 6 or 8
*minimum of 20-30 beads

- Drilled crystals/beads in various sizes that you may like to include in your knotwork
*a selection of round, nugget and chip beads of your choice
*hole sizes large enough for your micro-macrame cord

- Metal clip (solid, approx. 7 cm / 3" wide clipping edge length)
- Approx. palm size piece of any thick fabric, cork or leather
- Tapestry needle (eye to accommodate your cord size)
- Cotton wool
- Cigarette lighter, electronic style is best
- Small plate or shallow bowl that can hold a bit of water
- Scissors
- Belt or long scarf (normal clothing type, any material)

Recently Viewed