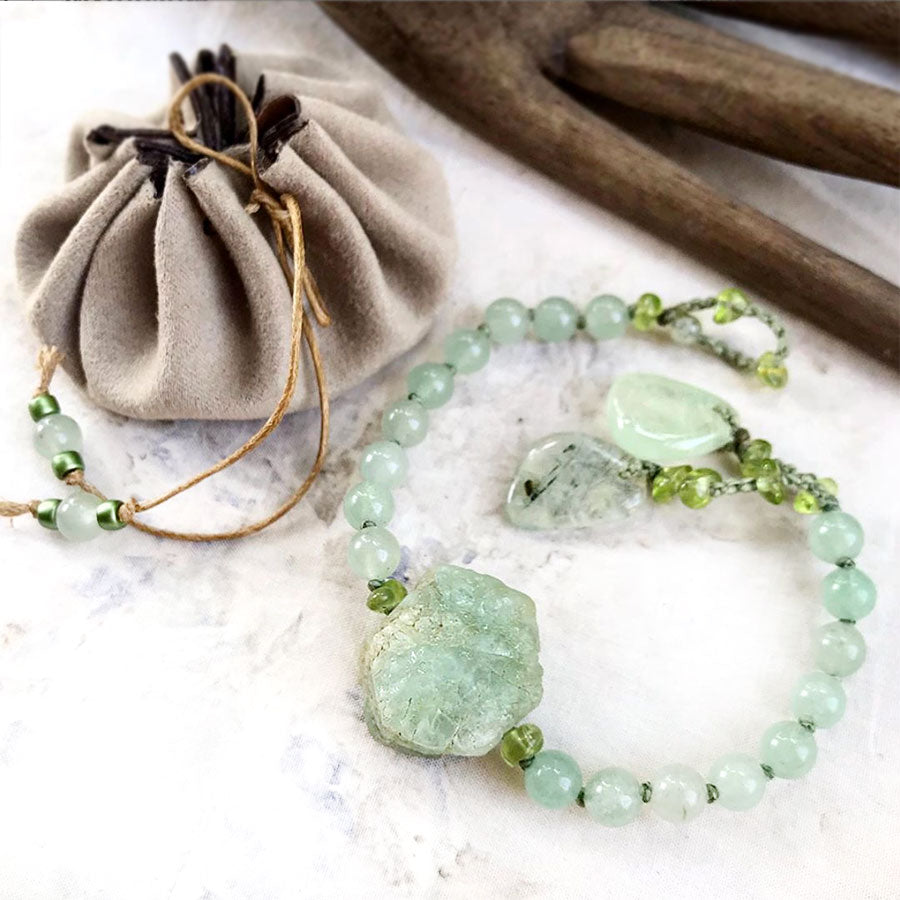 Aventurine mala bracelet ~ for up to 6.5" wrist
DESCRIPTION
Mala bracelet with 18 green Aventurine counter beads with a divider of a lovely naturally hexagonal raw Aquamarine and small Peridot crystals. The two toggle stones are Prehnite ~ you can slip both toggle strands through the knotted loop to fasten the bracelet securely. The Aventurine counter beads are knotted individually for strength and flexibility, using light green micro-macrame cord.
This is a handy meditation / mantra aid for times when you'd like something smaller than a full mala. You can still count up to 108 with these bracelet beads - or in multiples of 27 if you prefer. Simply count back and forth over the divider as many rounds as needed. Use the toggle crystal as the guru bead.
Whilst the total length of this bracelet, including the toggle, is 19 cm (7.5") it would make a good fit for up to a 6.5" wrist circumference, although if you prefer a more loose fit, this is fine for a smaller wrist too. The counter bead diameter is 0.6 cm (0.2").
This mala bracelet comes in the pictured fabric pouch for safe-keeping and gift-wrapped at no extra charge.
Read more about Spirit Carrier mala beads
CRYSTAL PROPERTIES
GREEN AVENTURINE (sometimes called Adventurine)
Comforts, harmonises and protects the heart. One of the main stones to attract luck, abundance and success. Helps in working through any remaining unresolved emotional issues. Has a soothing energy, and is known as "stone of personal growth".
AQUAMARINE
Connected with the throat chakra, easing verbal self-expression. Helps you communicate your own truth and find your voice. Helps in looking at emotional situations from other perspectives, assists in opening up intuition and to calmly be in the flow of life. Aquamarine also aids in reaching deep meditative states. Resonates with the energy of the ocean. Stone of courage and protection.
PREHNITE
Protective on all levels, strengthening one's life force. Fosters a sense of trust in the Universe and helps you protect your boundaries so it's easier to say "no" when needed. Stimulates inner knowing of oneself and guides in fulfilling one's potential. Helps to let go of unpleasant memories. Enhances spiritual "knowing". Revitalising and said to bring inner peace. Also said to be "a healer's healer".
PERIDOT
Upbeat and comforting, Peridot reduces stress and amplifies intuitive awareness. Soothes hurt feelings, supporting renewal and personal growth. Brings in-depth heart based awareness, extending from healing to understanding and offering protection against negative emotions. Known also as the stone of prosperity and happiness.
Recently Viewed