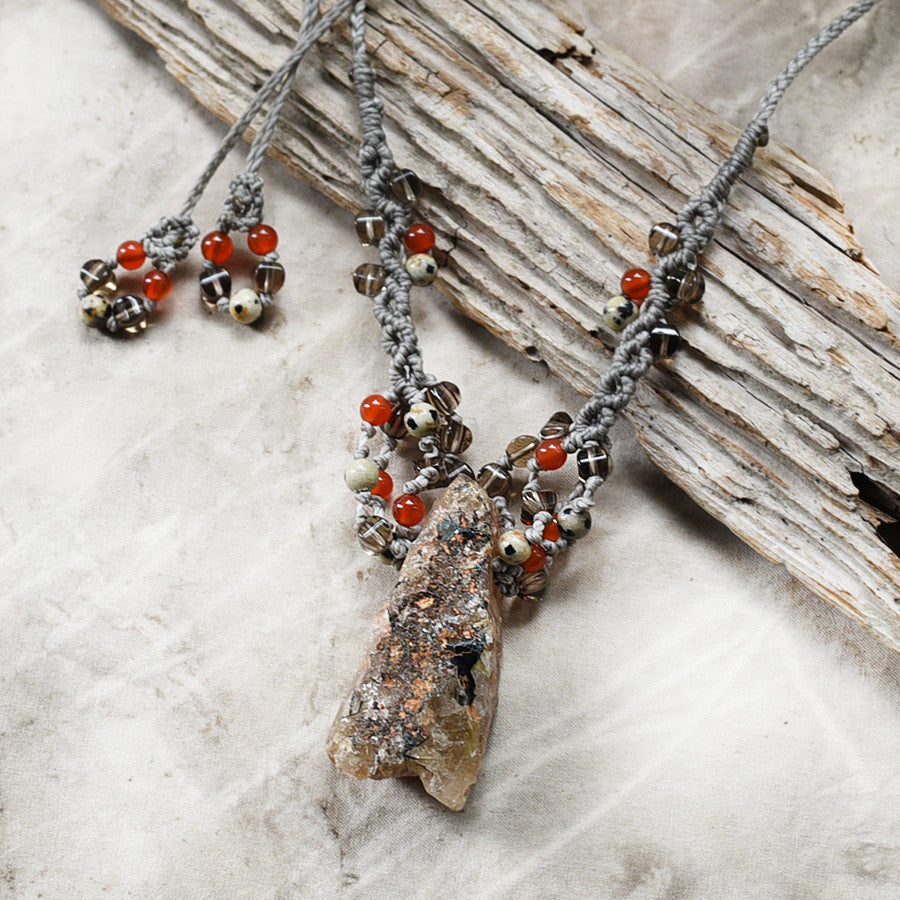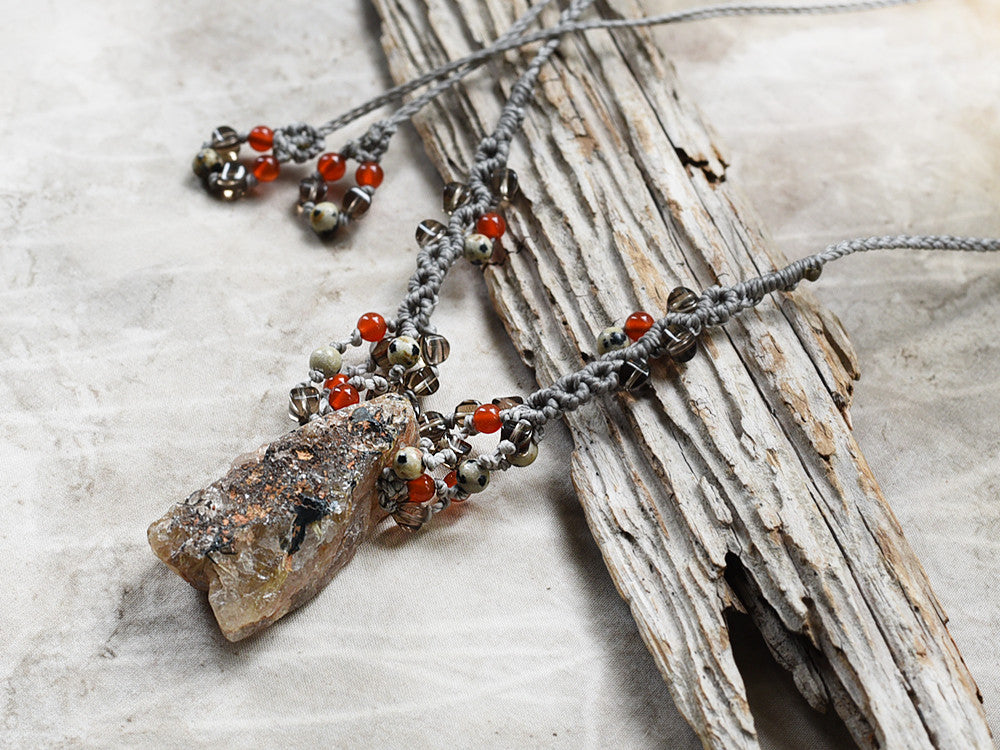 Crystal amulet with Witches Finger Quartz, Carnelian, Smokey Quartz & Dalmatian Jasper
DESCRIPTION
Crystal healing amulet with a rough Witches Finger Quartz point - although resembling more of a wing shape and is much more beautiful than the name suggests! The necklace is intricately knotted in lace-like pattern with light grey micro-macrame cord, highlighted with Carnelian, Dalmatian Jasper and small faceted Smokey Quartz crystals.
The length of the necklace is adjustable from very short down to just above solar plexus level. This Witches Finger Quartz is just over 4 cm (1.6") tall and just under 2 cm (0.8") at its widest. The thickness of the crystal point is approx. 1.5 cm (0.6").
There are no metals in this necklace so would be particularly suitable for those with metal sensitivities, energy workers and those who simply prefer not to wear metal.
You'll receive this crystal healing necklace in one of my fabric draw-string pouches, great for the safe-keeping of the necklace. Gift-wrapped at no extra charge.
CRYSTAL PROPERTIES
WITCHES FINGER QUARTZ
The 'wise elder' with healing, protecting wisdom to draw upon. Protects against chaotic energy, great for aura shielding. Used to attract spiritual partners onto your life path. Creates a synergy of power from connecting the heart chakra and the crown chakra. Assists in integrating one's shadow side, to see life from a higher perspective and to find constructive solutions to life's experiences.
SMOKEY QUARTZ
A grounding and calming stone that elevates moods and dissipates negative emotions. "A Stone of Serenity", it is comforting and protective for one's aura. Smokey Quartz is thought to assist in creative endeavours and also in setting personal boundaries. Offers EMF protection. A good healing stone for improving general feeling of well-being.
CARNELIAN
Known as a stone of motivation and courage. Stimulates creativity and increases one's sense of self-worth. Balancing for body's energy levels, restoring vitality and motivation. Said to attract prosperity, new resources and good luck. A success stone that helps you follow through with plans. Stone of action that aids in overcoming procrastination. Helps in gaining more understanding of one's inner self. Stimulating to the Sacral Chakra, which, when in balance, allows one to enjoy life, feel its joys and pleasures, be flexible and 'go with the flow'.
DALMATIAN JASPER
Helps in removing barriers that prevent you from moving forward in life, and to discover your true purpose of being in the world. Brings joy and playfulness into one's life. The black spots in this stone are Black Tourmaline, which adds to this stone's protective qualities.
Recently Viewed