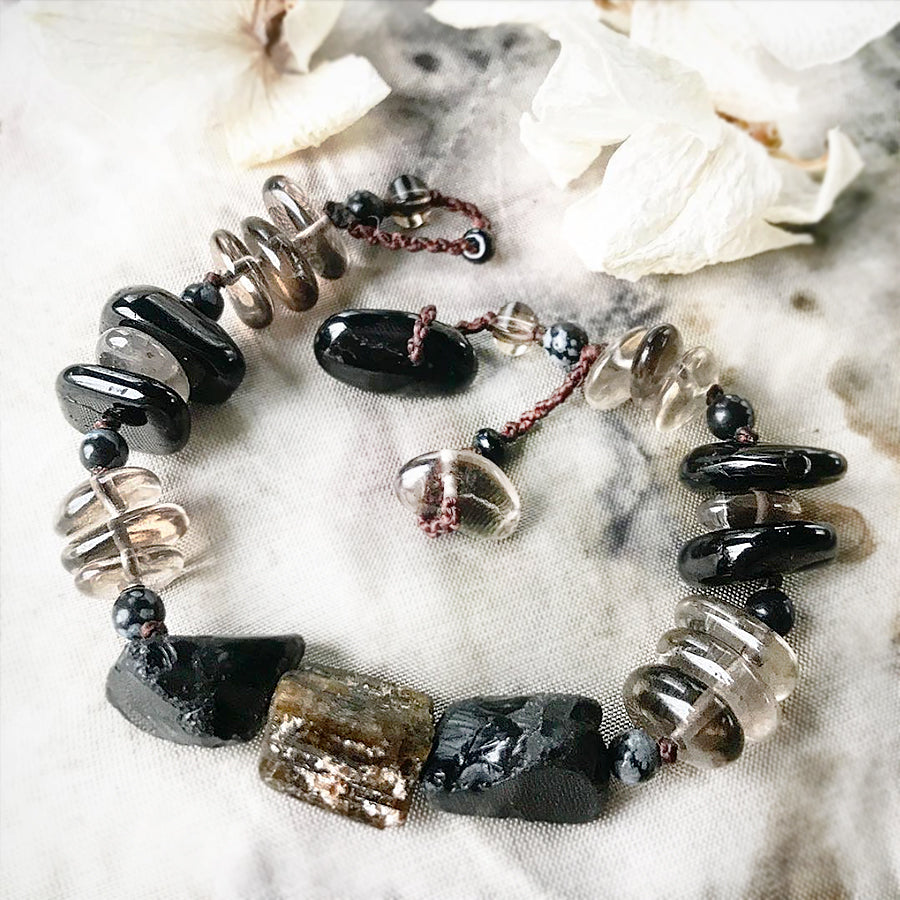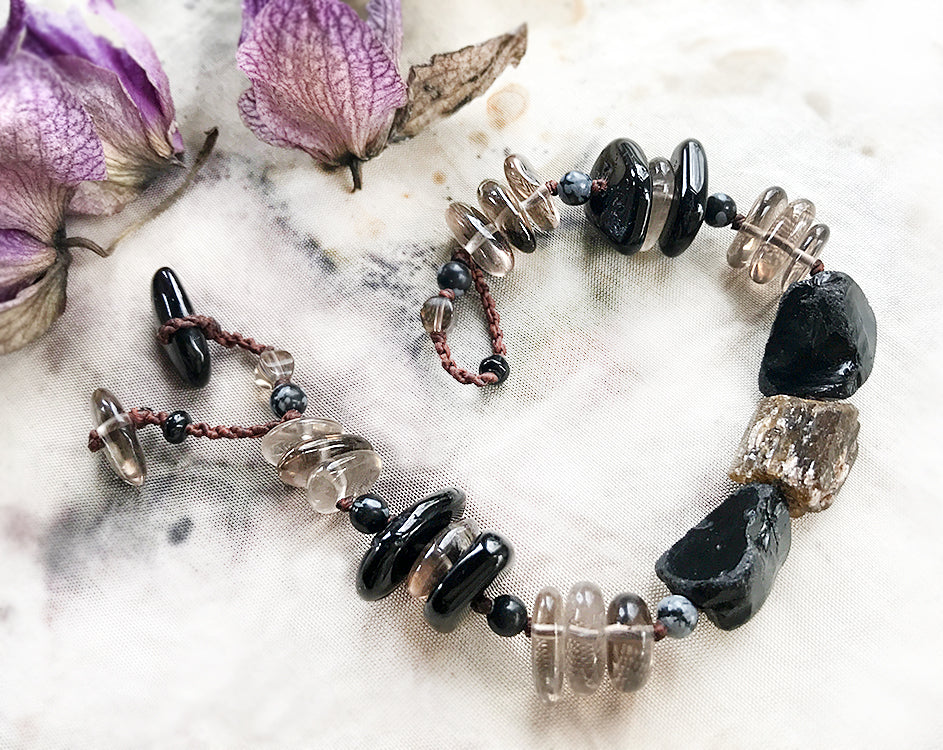 Crystal healing bracelet in dark tones ~ for up to 6.5" wrist
DESCRIPTION
Crystal healing bracelet with Black Tourmaline, Smokey Quartz, Dravite, Obsidian and Snowflake Obsidian. The bracelet is knotted with dark brown micro-macrame cord. The closure toggle stone is Black Tourmaline, with a secondary toggle of Smokey Quartz (you can slip both through the knotted loop to fasten the bracelet).
Although the bracelet length is 19.5 cm (7.7") the shapes of the stones make this a good fit for a up to 6.5" wrist circumference. The middle stone (Dravite) is just under 1.5 cm (0.6") wide. The general size of the crystals in this bracelet make the average thickness approx. 1.5cm (0.6").
You'll receive this crystal healing bracelet in one of my fabric draw-string pouches, great for the safe-keeping of the bracelet. Gift-wrapped at no extra charge.

Read here how to take care of your crystal jewellery.
CRYSTAL PROPERTIES
BLACK TOURMALINE
One of the most well-known protective stones, shielding its user from negativity. A shamanic stone used for grounding during vision quests. Empowering for those who work in challenging environments. Purifies and transforms denser energies into lighter vibrations and is also detoxifying for the body. If you're sensitive to electromagnetic smog, you may get relief by wearing black Tourmaline.
SMOKEY QUARTZ
A grounding and calming stone that elevates moods and dissipates negative emotions. "A Stone of Serenity", it is comforting and protective for one's aura. Smokey Quartz is thought to assist in creative endeavours and also in setting personal boundaries. Offers protection against electromagnetic rays. A good healing stone for improving general feeling of well-being. Relieves anxiety and worry, wards off confusion. Shielding crystal to create a calm, safe environment.
DRAVITE (aka Brown Tourmaline, Champagne Tourmaline, Dravide)
Soothing and reassuring, contributes to a peaceful atmosphere in its vicinity. Helps you feel at ease in a crowd. Deeply cleansing energetically. Empowering stone, inspires courage and increases stamina in situations where needed. Improves self-esteem, guiding you to accept yourself on all levels and to move on with life. Good stone in enhancing creativity.
OBSIDIAN
Quick-acting grounding stone. Cleanses and removes unwanted energies from the environment. Assists in releasing negative emotions, bringing them to the surface to be dealt with. When meditated with, can help discovering the roots of certain life situations. Releases disharmony. Strong shield against negative/chaotic energies.
SNOWFLAKE OBSIDIAN
Promotes a sense of calm and inner equilibrium, bringing balance to body, mind and spirit. A grounding, protective stone. Eases worries and when carried/worn helps one to stay balanced and centred throughout the day. Native American shamans often carried Snowflake Obsidian as a powerful talisman to avert evil and bring good fortune, also considering it to be the guardian of the Great Spirit.
Recently Viewed