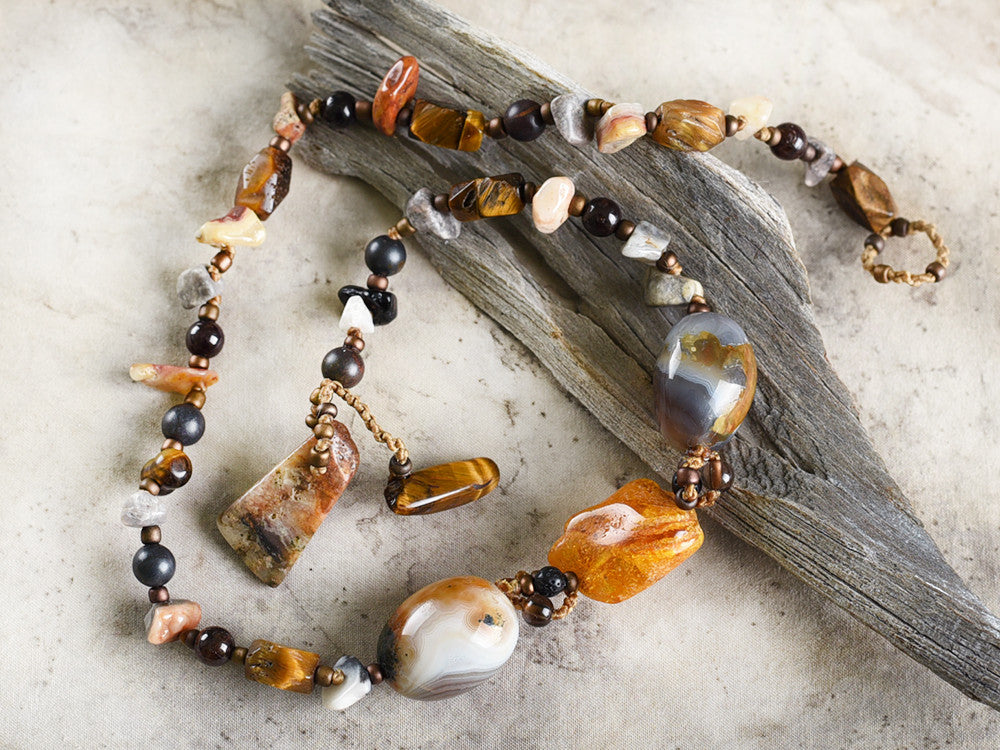 Crystal healing double wrap bracelet in warm earthy tones ~ for 6.5" wrist
DESCRIPTION
Easy to wear daily favourite that matches many outfits too ~ a 15" (38 cm) long line of energy activated crystals that wraps snuggly around a 6.5" wrist twice (would also be fine for a smaller wrist if you prefer a slightly more loose fit, or 6.75" wrist if you prefer tight fitting bracelets). The closing toggle clasp consists of two strands, a Silver Leaf Jasper and a Tiger Eye - both can be slipped through the knotted loop to close the bracelet securely.
The combination of gems in this bracelet create a smooth energy flow - the bracelet strand includes Zebra Jasper, Botswana Agate, Crazy Lace Agate, Amber, Lava Stone, Black Tourmaline, Tiger Eye, Smokey Quartz and Tiger Iron. The bracelet is strung on golden brown micro-macrame cord, alternating the crystals with matt brown glass seed beads, an occasional golden sheen glass bead and knotted at regular intervals for strength.
This one-of-a-kind bracelet comes in a fabric drawstring pouch, and gift-wrapped at no extra charge.
CRYSTAL PROPERTIES
The four main crystals with the most prominent energy in the bracelet:

AGATE
The oldest good luck amulet. In ancient times Persian magicians were, according to legend, diverting storms with the powers of Agate. Considered a protective stone (especially for travel), said to shield its keeper against dangers. Increases inner stability, enhances personal courage and fosters self-confidence. Grounding and soothing. Balancing stone for one's yin-yang energies.
AMBER
Amber is like sunshine solidified, offering a wonderful sense of health and wellbeing. Transmutes negative energies into positive, excellent for psychic protection. Cheers you up and helps you take action to make your ideas reality - ideal manifestation aid. Cleansing effect on the body, mind and spirit, promoting self-confidence and creative self-expression. Encourages spontaneity, patience and inner wisdom.
TIGER EYE
A power stone for attracting prosperity. But it has also a highly spiritual energy and is helpful in understanding any life cycle that one is living through. It helps in seeing through illusions, in discerning the truth in any situation. A highly protective as well as grounding stone. Good for strengthening the solar plexus (3rd) chakra.
SILVER LEAF JASPER
Harmonious, protective stone. Considered a good amulet for times of travel (whether physical or astral). Instils a feeling of wholeness and serenity, a sense that all is well. Great support for one's will power and personal courage. Healing effect on emotional tension. Has been called a "stone of natural wisdom", awakening one's sense of joy in life.
Recently Viewed