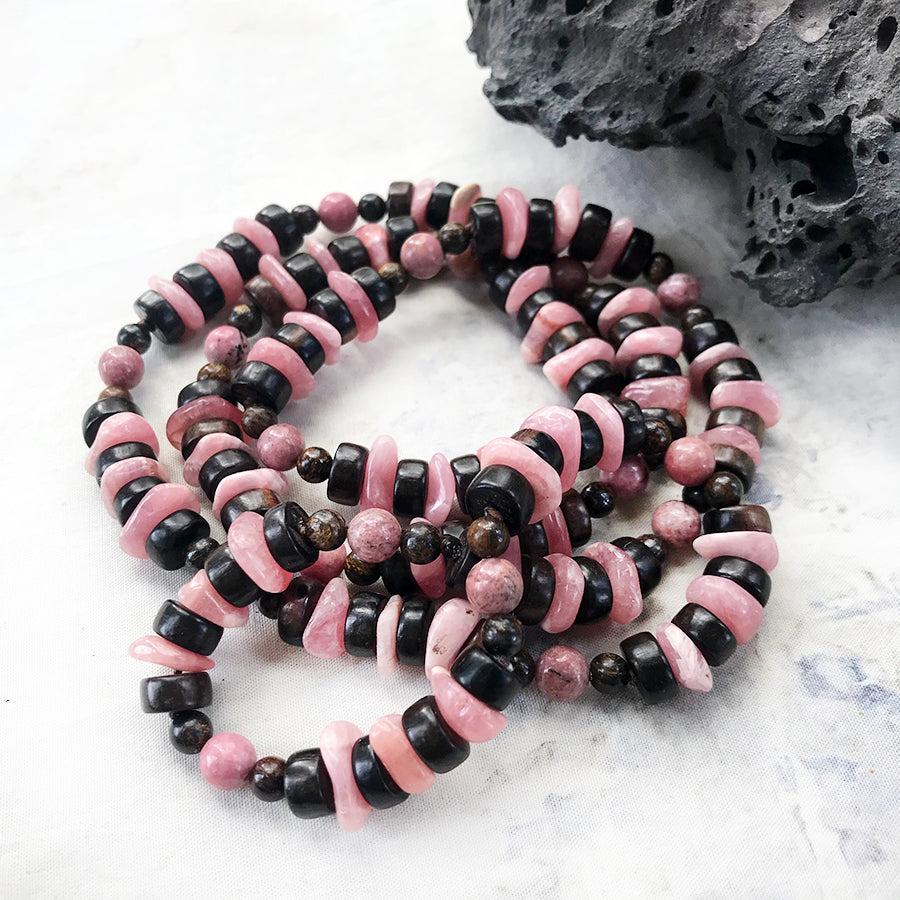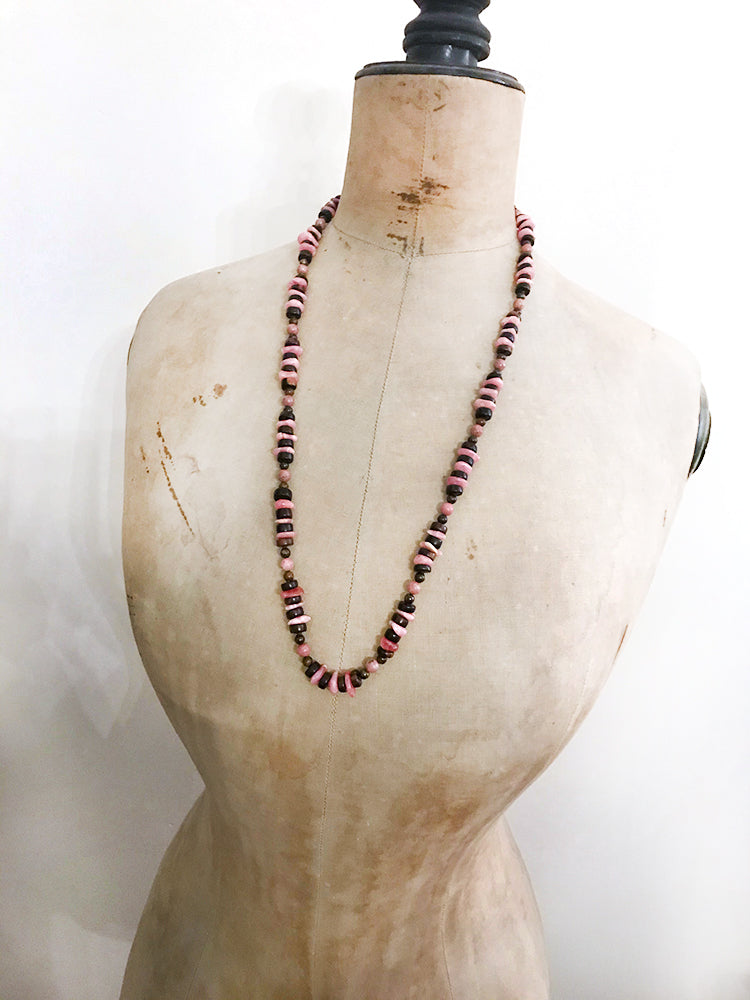 Crystal healing necklace with Rhodochrosite, Rhodonite, Bronzite & Rosewood
DESCRIPTION
Crystal energy of Rhodochrosite, Rhodonite and Bronzite combined with Rosewood beads. The dark brown Rosewood alternates with the energy activated crystals in this necklace full of heart vibe. Easy to wear-and-go by just slipping  the necklace over your head.

This necklace is long enough at 77 cm (30") all around, thus there is no need for a closure clasp. The width of the necklace string is approx. 1 cm (0.4").
Care: To protect the wooden components from deteriorating, showering or swimming while wearing this necklace is not recommended.
You'll receive this necklace in one of Spirit Carrier's handmade draw-string pouches - useful for the safe-keeping of the necklace. Gift-wrapped at no extra charge.

Read here how to take care of your crystal jewellery.
CRYSTAL PROPERTIES
RHODOCHROSITE
A stone of deep emotional healing. Comforting and positive, strengthening feelings of self-love, self-worth and self-forgiveness. Supportive heart-healer stone for those who are grieving or might feel stuck in the process. Repairs damages to one's subtle energy bodies. Helps in recovering lost talents you might have given up on due to past hurts, in order to discover your true purpose in this life.
RHODONITE
Known for its capacity to bring emotional healing, releasing blockages in the heart chakra. Balances emotions during chaotic times. Restores calm after emotional upheavals. Beneficial for the harmony of close relationships. A beautiful stone specifically for discovering one's inner gifts and can act as a catalyst for fulfilling one's life purpose. Stone of self-confidence that supports you in trusting your own heart.
BRONZITE
Encourages loving, non-judgemental mindset. Helps in gaining certainty about one's decisions and the right course of action. Bronzite is said to bring harmony into discordant situations, protective when the wearer might feel a lack of control. Instils a feeling of calmness when having "many irons in the fire". A stone of focused action. Grounds you into the knowing that "All Is Well".
ROSEWOOD
Contains compassionate and loving heart qualities. The energy is primarily feminine, focused on spiritual, intuitive health and beauty. Spiritual and nourishing. Especially effective in spiritual healing. In matters dealing with beauty, rosewood can be very effective. Carried or worn as a charm, this wood will enhance female beauty and feminine grace.
Recently Viewed