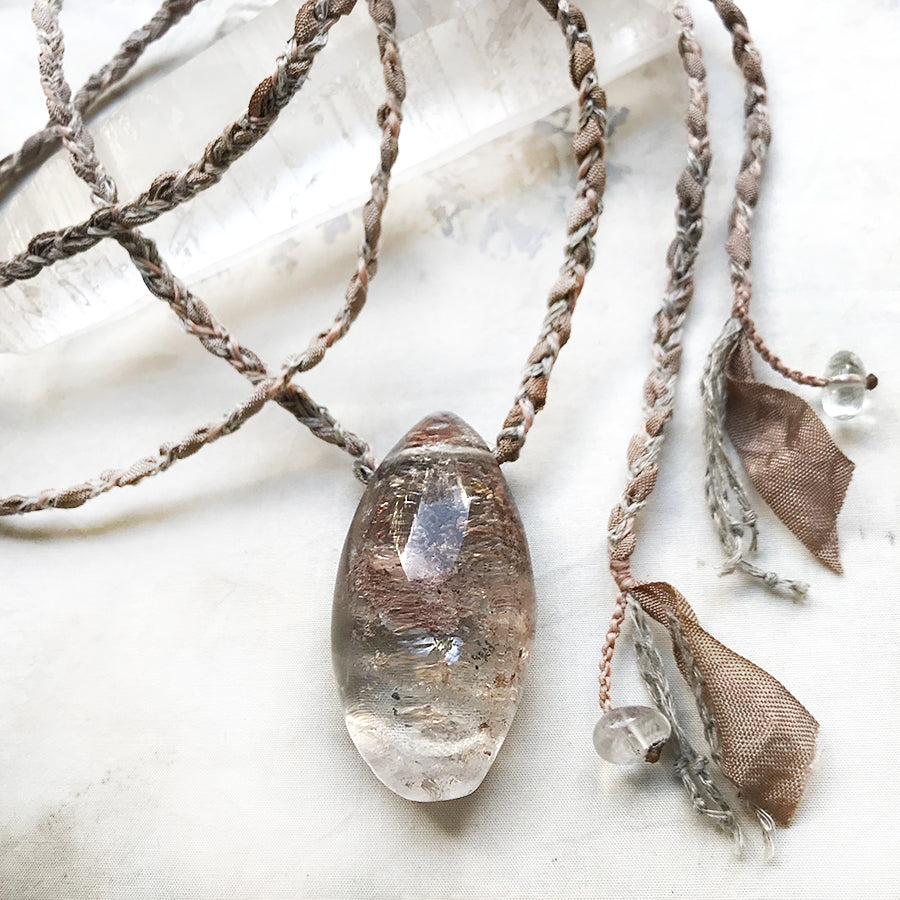 Ghost Quartz ~ crystal healing talisman
DESCRIPTION
Crystal healing amulet with smooth dome of Ghost Quartz, with a beautiful inner landscape in earthy tones within. The crystal dome attaches to a long necklace braid of organic linen thread, dark beige viscose ribbon and light beige micro-macrame cord. Both long braid ends are adorned with a small matching crystal and are left open so you can tie the amulet to hang at any desired level, even very low with a long maxi dress, as well as combined with other necklaces worn at shorted length.
The Ghost Quartz dome is just over 5.5 cm (2.2") tall and approx. 3 cm (1.2") at its widest. Both braids are very long at 60 cm (23.5") each. If you tie the braids so that the dome hangs higher up on your chest, you'll have the beautiful hanging braid ends adorn your back.
There are no metals in this necklace so would be particularly suitable for those with metal sensitivities / metal allergy, energy workers and those who simply prefer not to wear metal.
You'll receive this crystal healing necklace in one of my handmade fabric draw-string pouches - great for the safe-keeping of the necklace. Gift-wrapped at no extra charge.

Read here how to take care of your crystal jewellery.
CRYSTAL PROPERTIES
GHOST QUARTZ
Enhances one's sensitivity to invisible energies and activates one's own inner healing capabilities. Instils inner harmony and energetic alignment. Helps in manifesting one's desires, offering guidance on the process of life and inner growth. Assists in seeing how the past is part of one's meaningful spiritual path. Provides inspiration to reach your goals. Gazing into this stone is said to bring about a cosmic shift of consciousness.
Recently Viewed