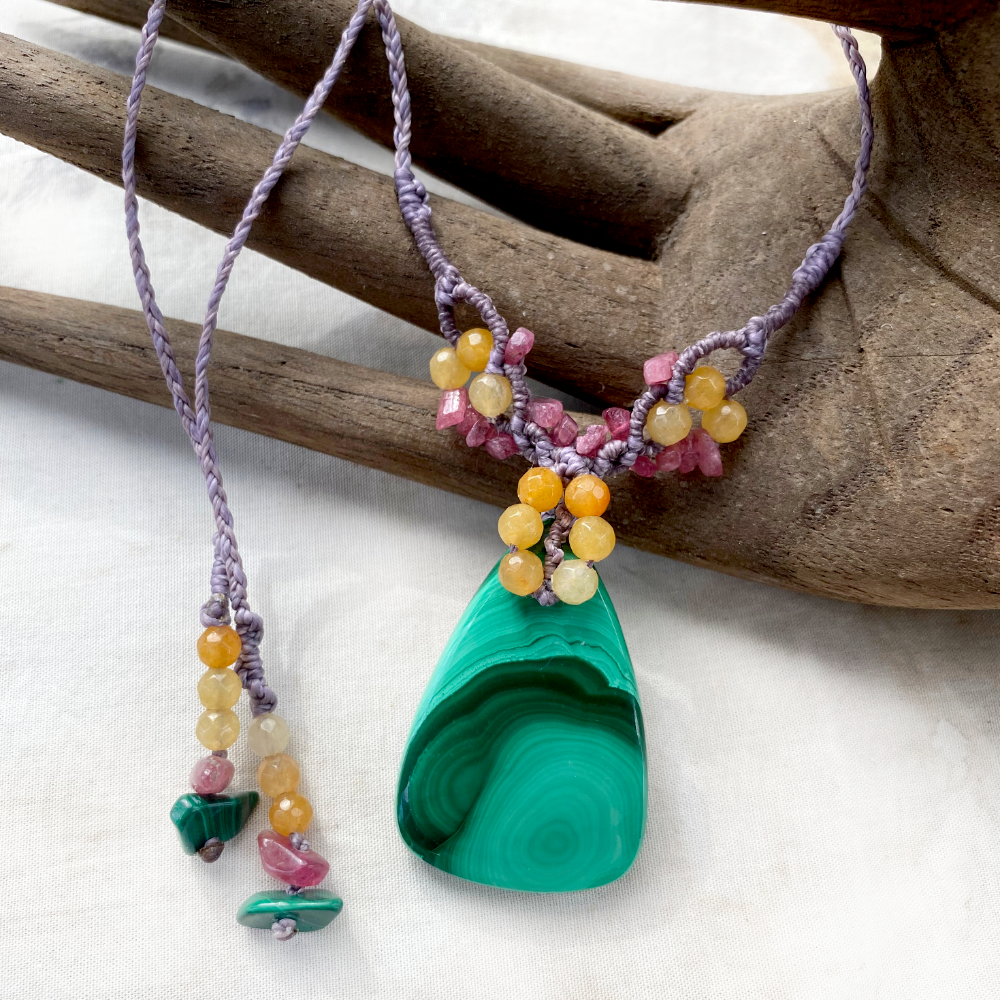 Malachite crystal healing amulet
DESCRIPTION
Crystal healing necklace with a smooth, drop-shaped Malachite cabochon showing its characteristic patterning and strong natural colour. The necklace is knotted with light purple micro-macrame cord, highlighted with rough cut Rubellite and small faceted yellow Calcite crystals. The ends of the adjustable necklace cords are decorated with matching crystals.
The length of the necklace is adjustable from very short down to just above heart level. The Malachite is just over 3.5 cm (1.4") tall and 2.5 cm (1") at its widest.
There are no metals in this necklace so would be particularly suitable for those with metal sensitivities, energy workers and those who simply prefer not to wear metal.
You'll receive this crystal healing necklace in one of Spirit Carrier's fabric draw-string pouches, great for the safe-keeping of the necklace. Gift-wrapped at no extra charge.

Read here how to take care of your crystal jewellery.
CRYSTAL PROPERTIES
MALACHITE
Known as a stone transformation. Brings abundance, helps in manifestation and when setting intentions. Draws emotions to the surface to be cleared, especially heart-related matters, and can be used for deep energy clearing, as well as for creating balance in the matters of the heart. Assists in reaching your core self without fear, and to create new beginnings. Malachite's effects in clearing energy blockages may be sudden. Also used for protecting from the effect of electromagnetic fog (EMF).
RUBELLITE (aka Pink Tourmaline)
Considered a rare, valuable crystal, Rubellite (pink Tourmaline) stimulates the heart chakra and life-force energy. A stone of quiet authority, instilling peaceful vibes in the midst of disputes. Harmonises one's feminine energies and has a nurturing energy. Helps in overcoming fears of lack and supports those who might not feel like belonging in this world to find joy of life.
YELLOW CALCITE
Associated with self-confidence, inner strength and hope. Effective in helping to clear away old outworn energy patterns and increasing personal motivation and drive. Helps in releasing self-doubt. Assists in learning new things quickly, increasing memory.
Recently Viewed