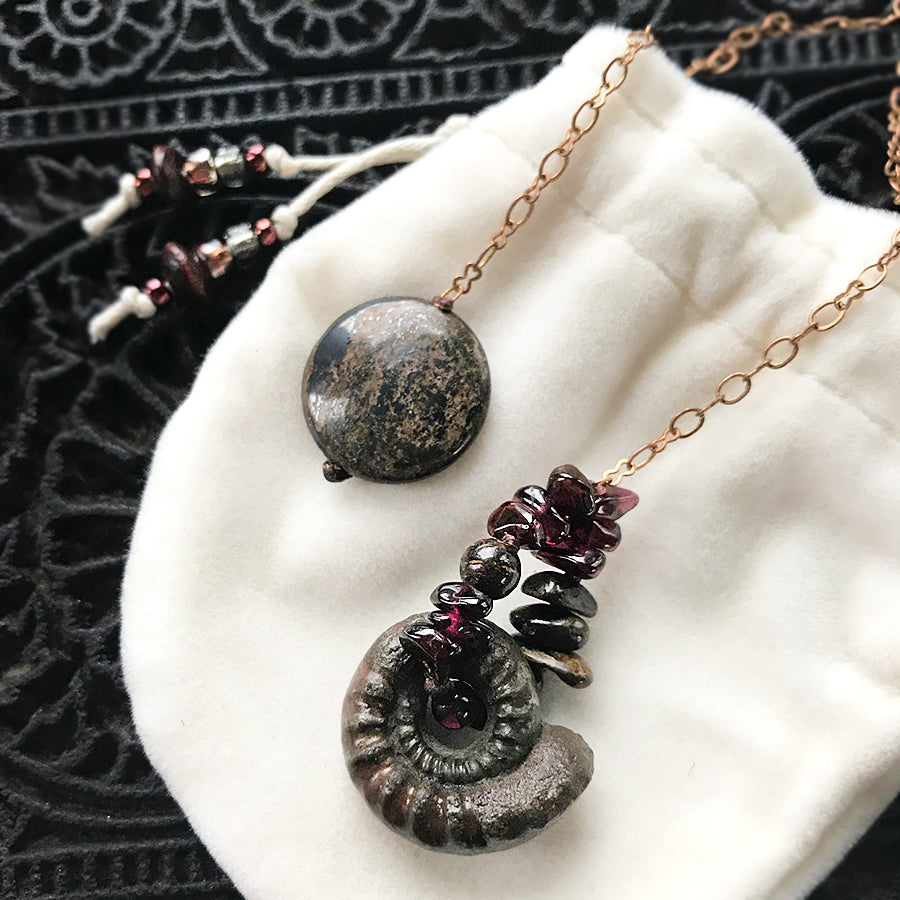 One-of-a-kind crystal pendulum ~ with Pyrite Ammonite
DESCRIPTION
A one-of-a-kind crystal pendulum combining Pyrite Ammonite, Bronzite and Almandine Garnet crystals. The handle is Bronzite.
The chain is solid, pure copper which is a great energy conductor. The chain is 20 cm (7.9") long. The pendulum height is 3 cm (1.2") of which the Pyrite Ammonite diameter is approx. 1.5 cm (0.6"). The size of the velvet pouch is approx. 7 x 6 cm (2.8" x 2.4")
When not in use, the pendulum can be stored in its soft, natural white velvet pouch. The white cotton drawstring ends of the pouch are decorated with glass beads in colours that match the tones in the pendulum.
You'll receive this crystal treasure gift-wrapped at no extra charge.
CRYSTAL PROPERTIES
AMMONITE
Stimulates the flow of chi (qi), life force energy through the body. Stimulates charisma, youthfulness and longevity, releasing mental obsessions, past life blockages and anything that interferes with one's energy flow. Assists in finding your centre, empowering for one's soul path. Increases stamina, vitality and perseverance. Acts like a spiralling filter, transmuting negativity. A rarer form of Ammonite includes Pyrite (Pyritized Ammonite) attracting prosperity, abundance and success by dissolving thoughts of worry and misfortune, thus increasing confidence.
BRONZITE
Encourages loving, non-judgemental mindset. Helps in gaining certainty about one's decisions and the right course of action. Bronzite is said to bring harmony into discordant situations, protective when the wearer might feel a lack of control. Instils a feeling of calmness when having "many irons in the fire". A stone of focused action. Grounds you into the knowing that "All Is Well".
ALMANDINE GARNET
Stimulates one's life force. Opens the root chakra while drawing earth energy into the body, helping you to feel secure and centred. Awakens the "inner fire" of creativity. Highly protective stone and a great companion to keep you energised. Excellent good fortune and 'success' stone in both social and career ventures, adding positive vibes both in your personal or business life. Stone of purification and cleansing. Symbolises passionate, devoted love.
Recently Viewed