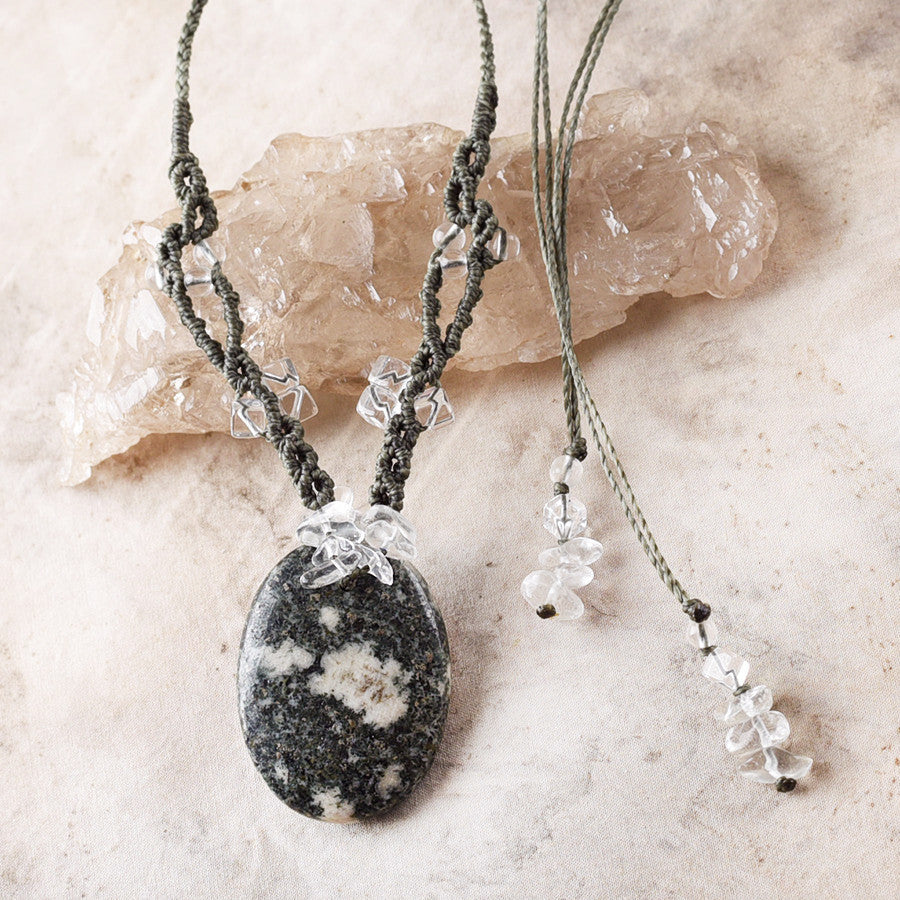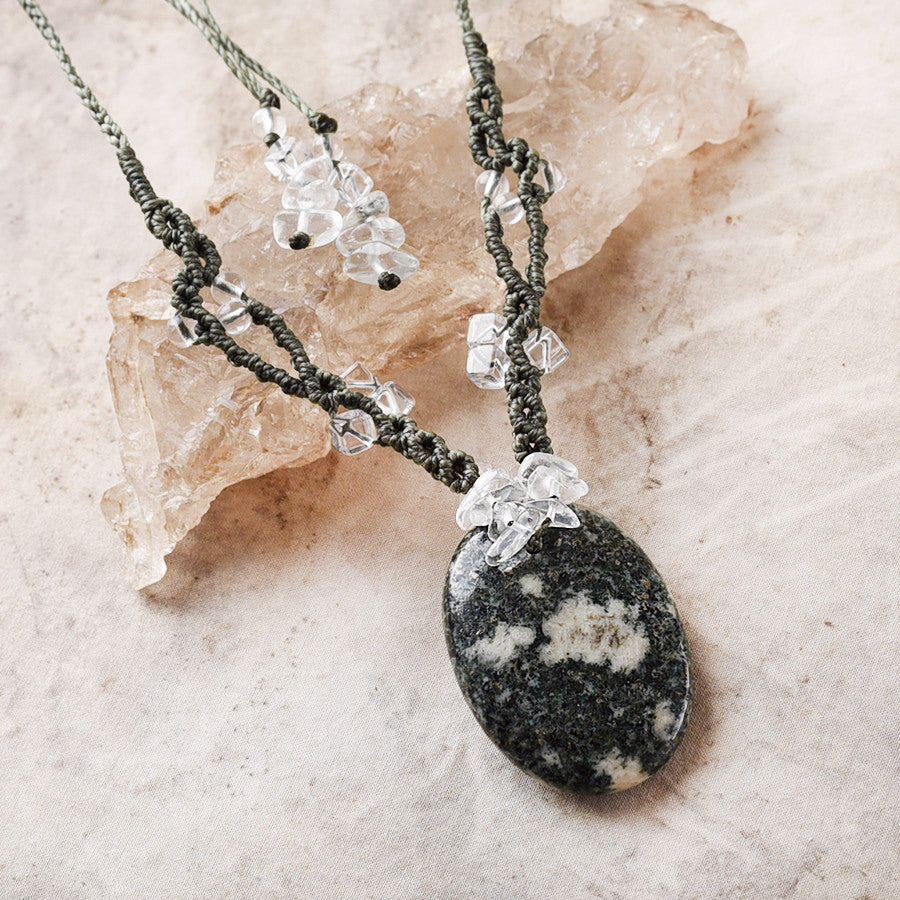 Preseli Bluestone talisman with clear Quartz
DESCRIPTION
Crystal healing amulet with smooth oval shaped, rare Preseli Bluestone. This is the same stone that the ancient Stonehenge monoliths in England are made of, only mined in that area of the world. Whilst the name includes the word 'blue', it is slightly misleading as the colour of this stone is more of a dark green, with splashes of cream colour. The necklace is intricately knotted and braided with muted green micro-macrame cord, and highlighted with clear Quartz crystals. 
The length of the necklace is adjustable from very short down to solar plexus level. The Preseli Bluestone is approx. 4 cm (1.6") tall and just over 2.5 cm (1") at its widest.
There are no metals in this necklace so would be particularly suitable for those with metal sensitivities, energy workers and those who simply prefer not to wear metal.
You'll receive this crystal healing necklace in one of my fabric draw-string pouches, great for the safe-keeping of the necklace. Gift-wrapped at no extra charge.
Read here about how to take care of your natural crystal jewellery.
CRYSTAL PROPERTIES
PRESELI BLUESTONE (also known as Dolerite)
Stone of unity and connection, with strong shamanic energy. Can be used in past life regression, in discovering aspects that may be holding you back in this life. Strengthens one's connection with all creation, bringing forth healing to the soul. Helps one to find inner harmony, releasing fears. Particularly good for matters of the heart, easing feelings of abandonment and restoring a sense of universal love and compassion within one's being.
CLEAR QUARTZ
The universal master crystal that has a harmonising effect on all levels of being. Programmable by intention, so can be used for versatile purposes. Quartz can clear, enhance, amplify, transmute, balance, focus and transmit energy. Raises one's energetic vibration. Brings clarity and filters out distractions. A deep soul cleanser, attuning its keeper to their higher self. Each Quartz crystal is unique with its own character and teachings it offers, all are known as "Stones of Power" and "Master Healers".
Recently Viewed