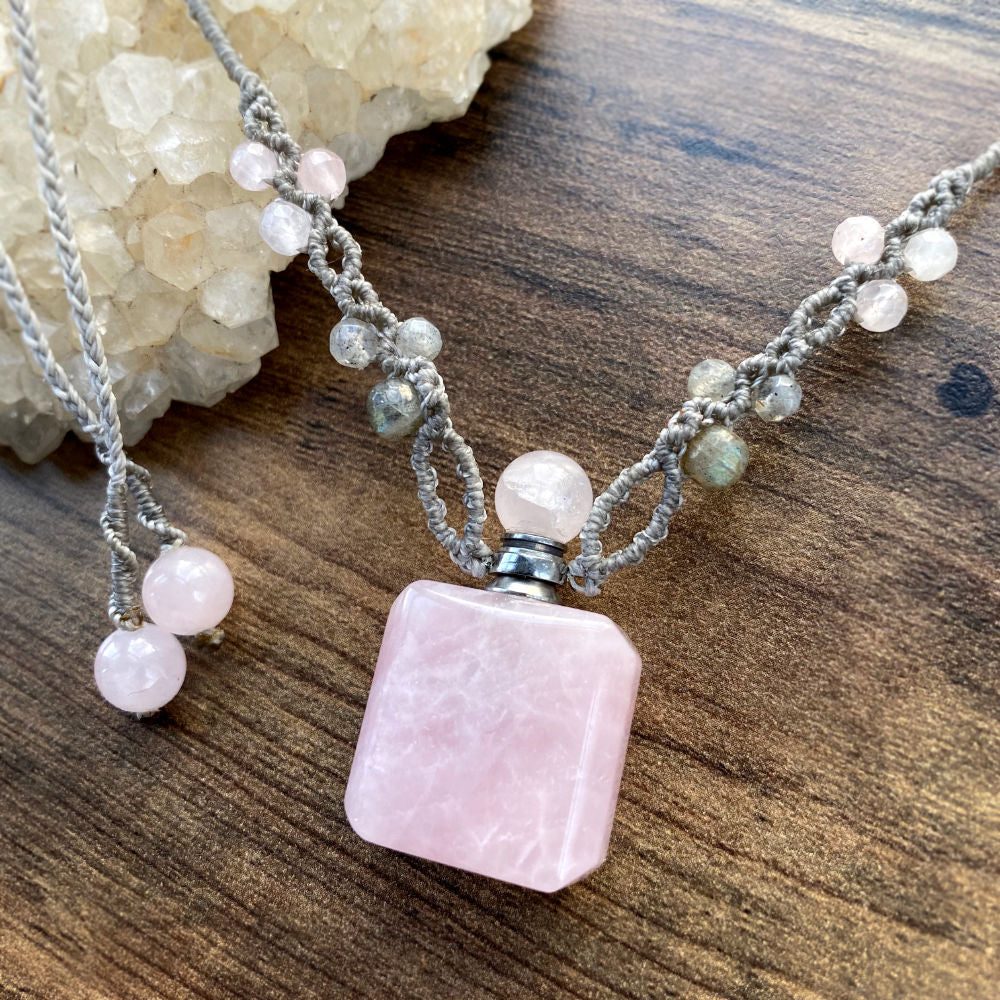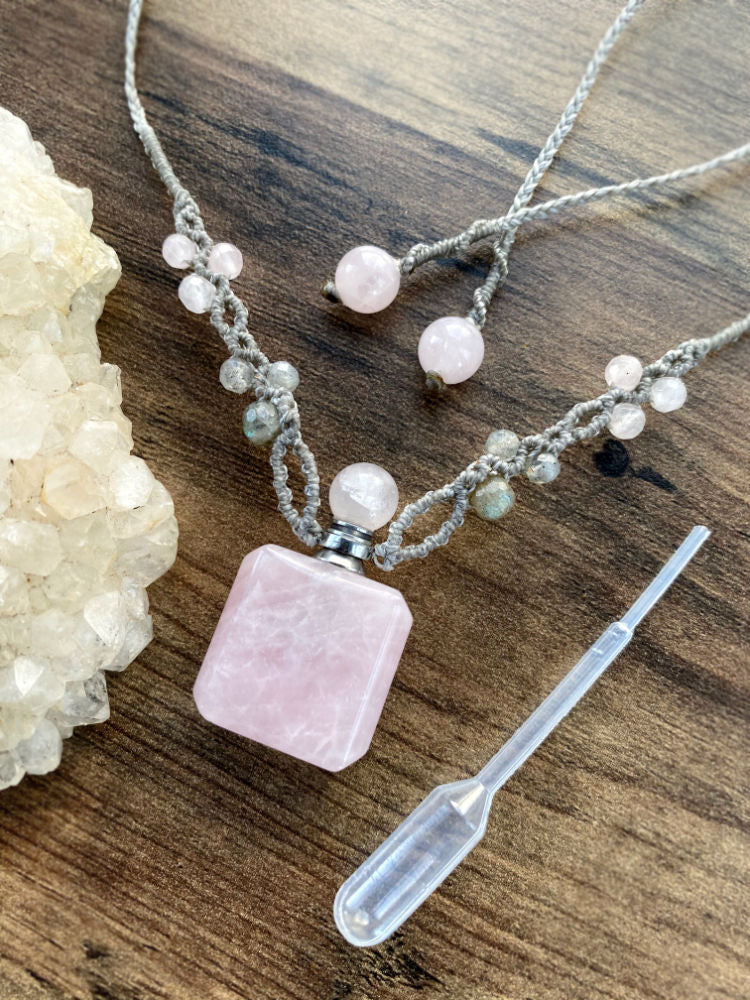 Rose Quartz bottle amulet ~ for essential oil or perfume
DESCRIPTION
Crystal healing talisman with a tiny bottle made out of Rose Quartz - perfect for inserting your favourite perfume or essential oil to carry with you by wearing it. The minimal necklace braid is muted light green micro-macrame cord, allowing the pendant crystals to take centre stage. The highlighting crystals along the braids and the braid ends are Labradorite and Rose Quartz.

Please note in case you have metal allergy: there is a small metal part around the neck of this bottle, from which it is attached to the necklace braid.

The necklace has a knotted channel through which you can pull the braided cords to change the length and have the bottle hang at your desired level. The Rose Quartz bottle is just over 3.5 cm (1.4") tall and just over 2 cm (0.8")  and comes with a small pipette that you can use to insert your chosen scented liquid into the bottle.
You'll receive this crystal healing necklace in one of Spirit Carrier's fabric draw-string pouches, great for the safe-keeping of the necklace. Gift-wrapped at no extra charge.

Read here how to take care of your crystal jewellery.
CRYSTAL PROPERTIES
ROSE QUARTZ
Powerful love stone, love that is all-encompassing and unconditional. Awakens one's heart to its own innate love, compassion and acceptance. Vibrates its loving energy to all chakras, offering gentle healing. Soothing and calming. Dissolves anger and resentment. Good for raising one's self-esteem and feelings of self-worth. Balances emotions and is said to support all types of healing. Guides one's life path towards a sense of personal fulfilment and contentment.
LABRADORITE
One of the most powerful, versatile crystal tools for healing. Creates an auric shield and strengthens your innate energy and life force, preventing energy leakages. Enhances intuitive abilities and assists in spiritual transformation. Helps the wearer align with their highest destiny and discover their inner worth. Strengthens willpower and brings in new ideas. Often referred to as the 'Stone of Destiny', believed to help you to find your true path in life, and as 'Temple of the Stars', anchoring higher dimensional light into your being.
Recently Viewed