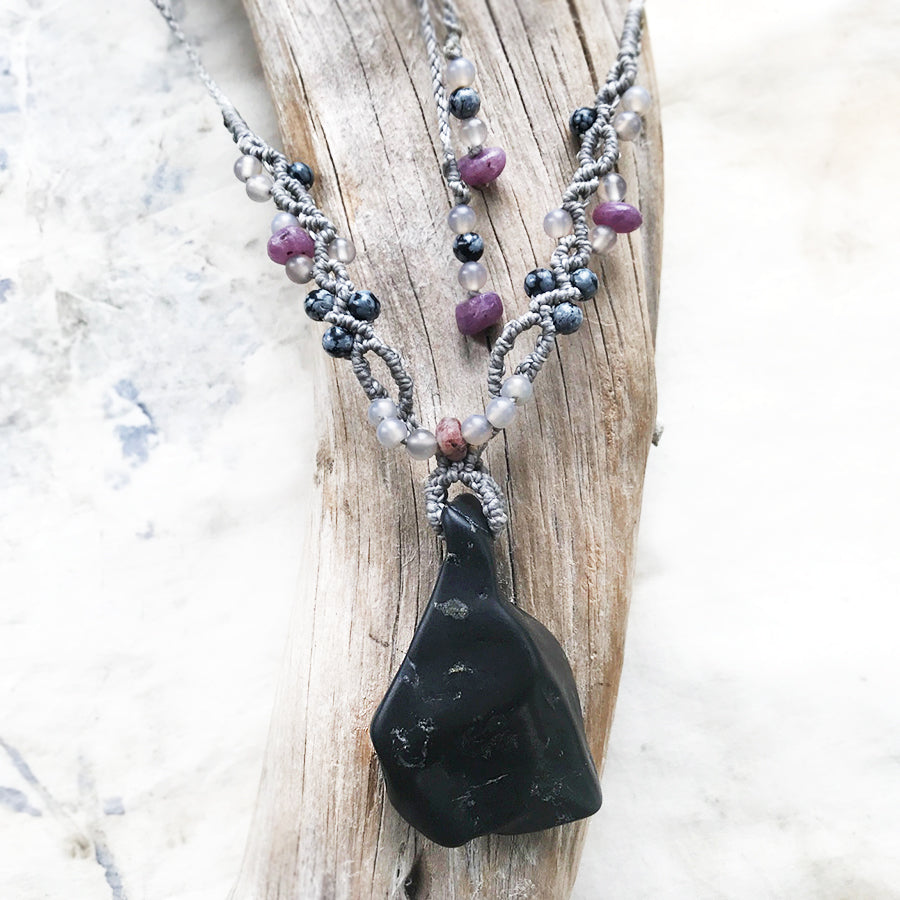 Shungite crystal healing amulet
DESCRIPTION
Crystal amulet with a smooth, organically shaped Shungite stone. This is a wonderful purifier stone Karelia in Western Russia. The necklace is knotted and braided with light grey micro-macrame cord and highlighted with Ruby, Agate and Snowflake Obsidian crystals. Matching crystals also adorn the ends of the adjustable necklace braids.
The length of the necklace is adjustable from very short down to just above solar plexus level. The Shungite approx. 4.5 cm (1.6.8") tall and 3 cm (1.2") at its widest.
There are no metals in this necklace so would be particularly suitable for those with metal sensitivities, energy workers and those who simply prefer not to wear metal.
You'll receive this one-of-a-kind crystal healing necklace in one of my fabric draw-string pouches, great for the safe-keeping of the necklace. Gift-wrapped at no extra charge.

Prior to leaving Spirit Carrier studio, all crystals are energy cleansed, balanced and activated for the highest good of their new keeper. 

Read here how to take care of your crystal jewellery.
CRYSTAL PROPERTIES
SHUNGITE
Protector and purifier. Reveals truths in one's life and initiates meaningful changes for the highest good, even if the process isn't always comfortable. Excellent stone to protect from electromagnetic radiation across large frequency range as well as from geopathic stress. Connecting to the cosmic flow, directs one to reach one's full potential in life, assisting in staying focused and centered, following one's true path. Can be used to help access ancient memories and soul wisdom.
RUBY
Increases vitality and one's life-force energy, Very energising, excellent for women. Promotes clear mind, motivation and concentration. Associated with love, passionate commitment and heart-based closeness, offering help in shedding past hurts. Encourages you to 'follow your bliss' and have courageous attitude. Supports closeness and commitment. Shielding crystal to keep your energy field in your own command. (Ruby is one of the four 'precious' gemstones, the other three being Emerald, Sapphire & Diamond. Other gemstones are considered 'semi-precious'.)
SNOWFLAKE OBSIDIAN
Promotes a sense of calm and inner equilibrium, bringing balance to body, mind and spirit. A grounding, protective stone. Eases worries and when carried/worn helps one to stay balanced and centred throughout the day. Native American shamans often carried Snowflake Obsidian as a powerful talisman to avert evil and bring good fortune, also considering it to be the guardian of the Great Spirit.
AGATE
The oldest good luck amulet. In ancient times Persian magicians were, according to legend, diverting storms with the powers of Agate. Considered a protective stone (especially for travel), said to shield its keeper against dangers. Increases inner stability, enhances personal courage and fosters self-confidence. Grounding and soothing. Balancing stone for one's energy system to experience oneness instead of duality.
Recently Viewed