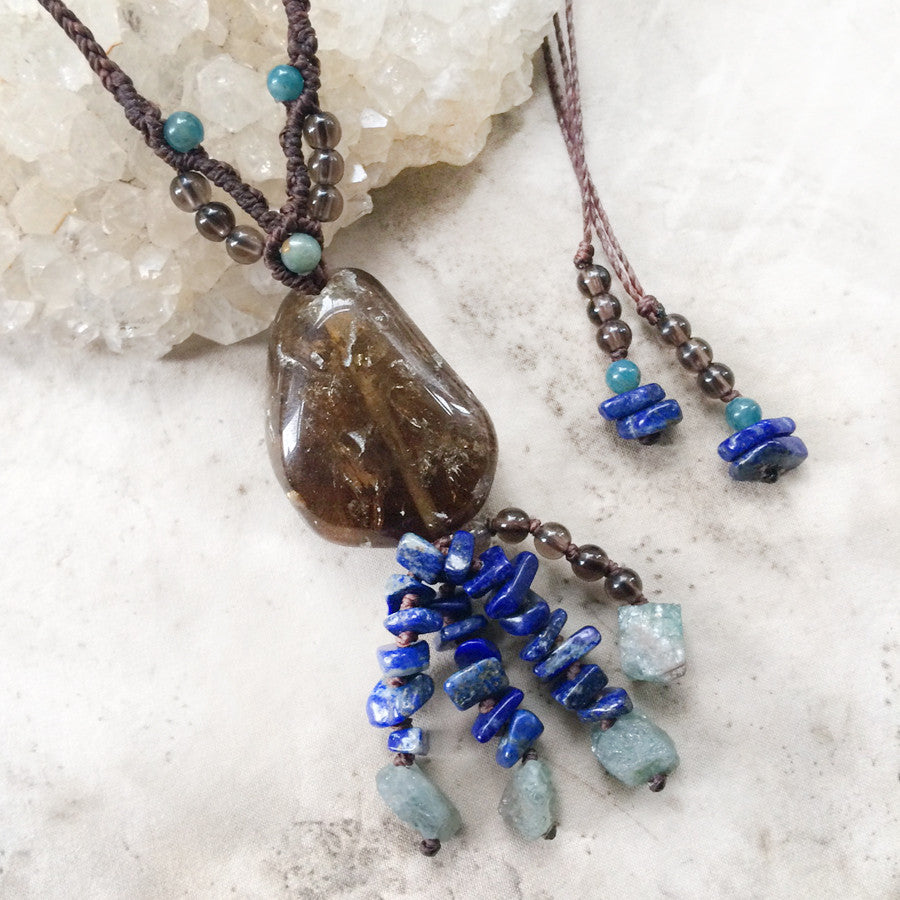 'Calm Winds' ~ Smokey Quartz crystal amulet with Lapis Lazuli & Apatite
DESCRIPTION
Crystal healing amulet with Smokey Quartz, highlighted with Lapis Lazuli and Apatite crystals. The necklace is knotted in muted brown micro-macrame cord, very strong and durable, yet soft and comfortable to wear. The Smokey Quartz, although tumbled, is not fully polished but still shows some natural surface texture and you can also see some of its beautiful inner landscape within.
The length of the necklace is adjustable from very short down to solar plexus level. The combined height of the Smokey Quartz together with the crystal 'tassel' is approx. 7 cm (2.75") tall and the Smokey Quartz is approx. 2.5 cm (1") at its widest.

There are no metals in this necklace so would be particularly suitable for those with metal sensitivities, energy workers and those who simply prefer not to wear metal.

You'll receive this crystal healing necklace in one of my fabric draw-string pouches, great for the safe-keeping of the necklace. Gift-wrapped at no extra charge.
CRYSTAL PROPERTIES
SMOKEY QUARTZ
A grounding and calming stone that elevates moods and dissipates negative emotions. "A Stone of Serenity", it is comforting and protective for one's aura. Smokey Quartz is thought to assist in creative endeavours and also in setting personal boundaries. Offers EMF protection. A good healing stone for improving general feeling of well-being.
LAPIS LAZULI
Creativity super charger stone. Ignites new ideas and encourages different creative ways of thinking. Stone of truthfulness, openness, inner power, intuition and manifestation. Thought to increase self-confidence as well as to promote spiritual healing, mental calmness and strength of will. Powerful tool for dream work. Historically a stone of royalty.
APATITE
Enhances one's insight and imagination, and gives increased self-confidence. Blue Apatite connects to high level of spiritual guidance and is helpful in letting go of anything that no longer serves your highest good. Apatite crystal is also said to be a good aid in curbing one's appetite!
Recently Viewed