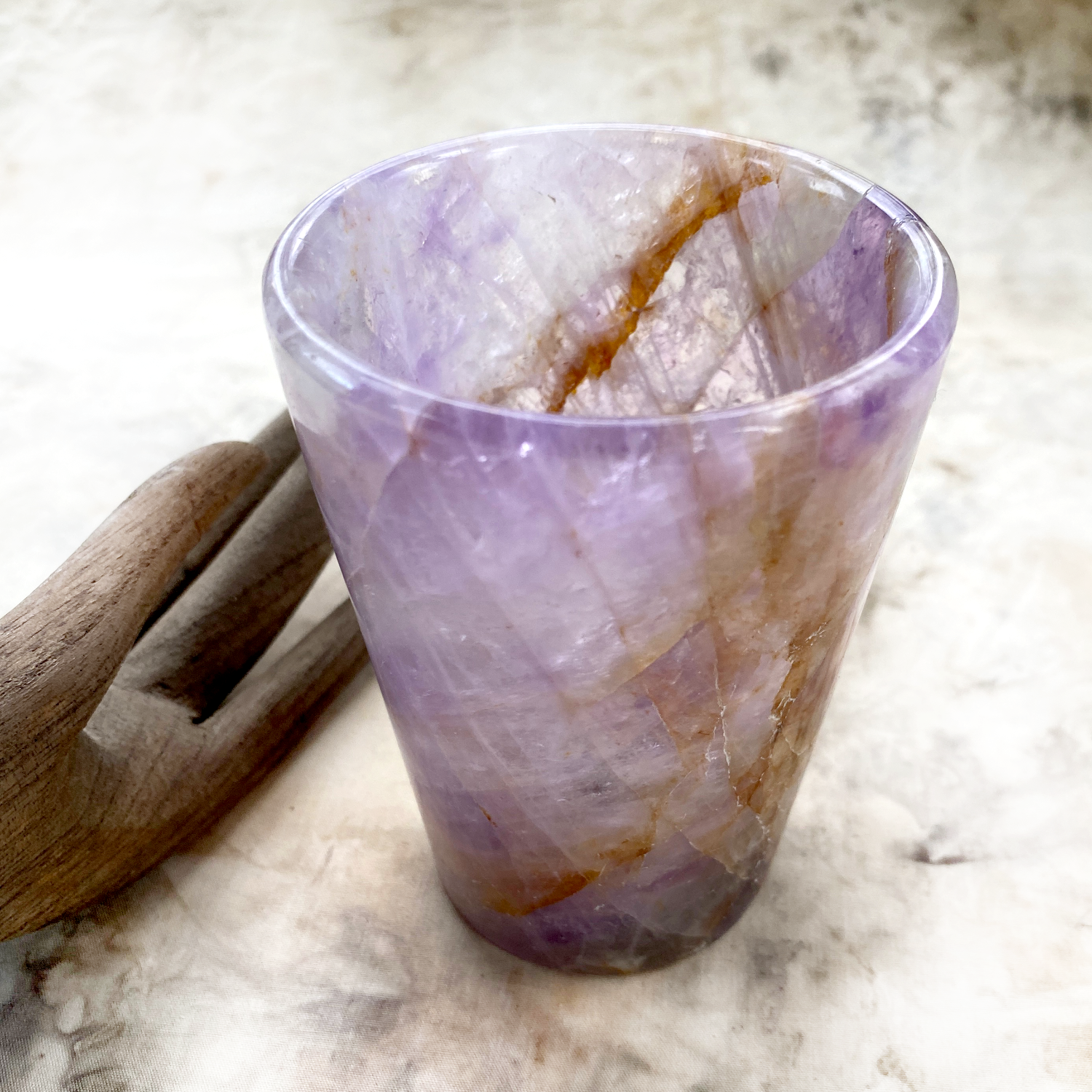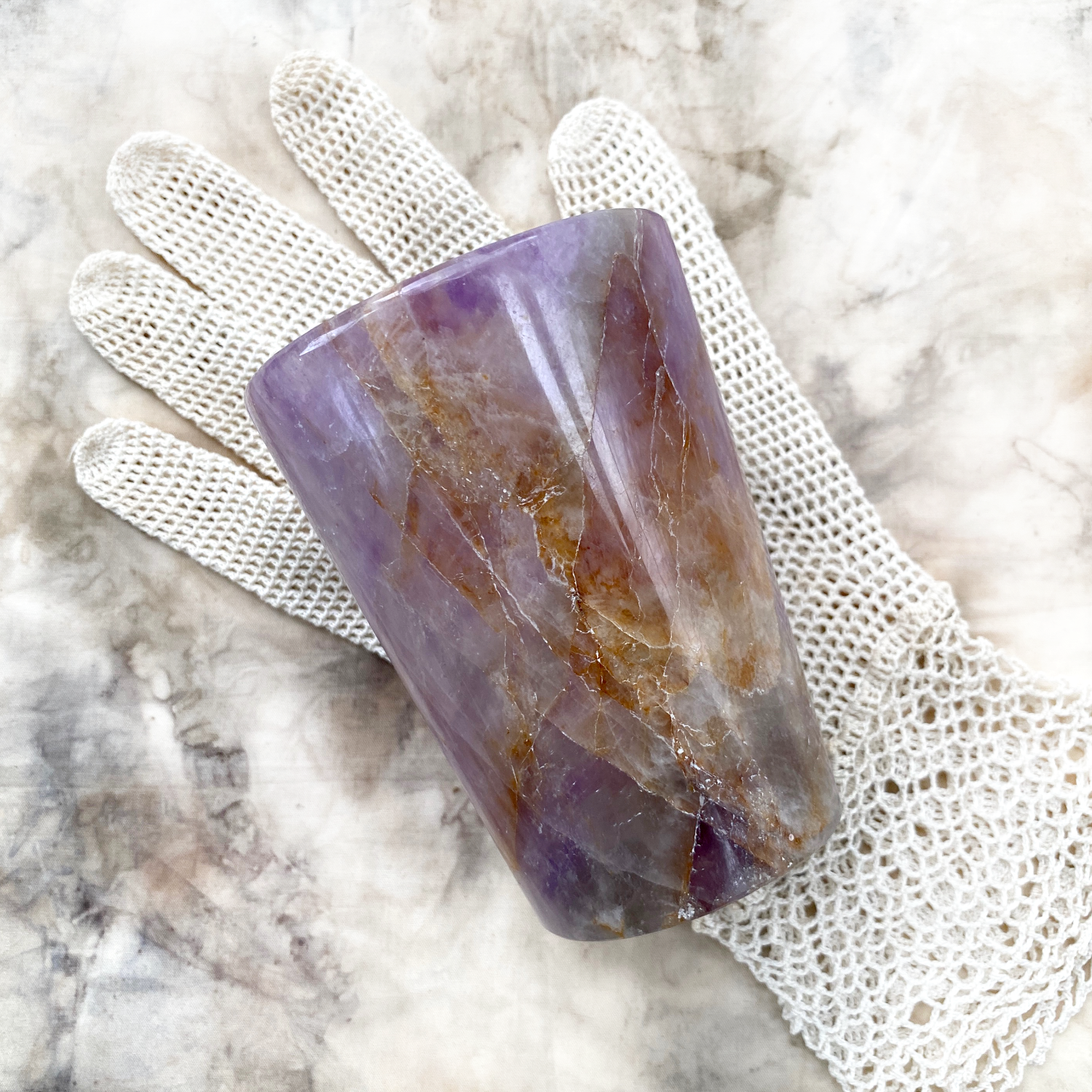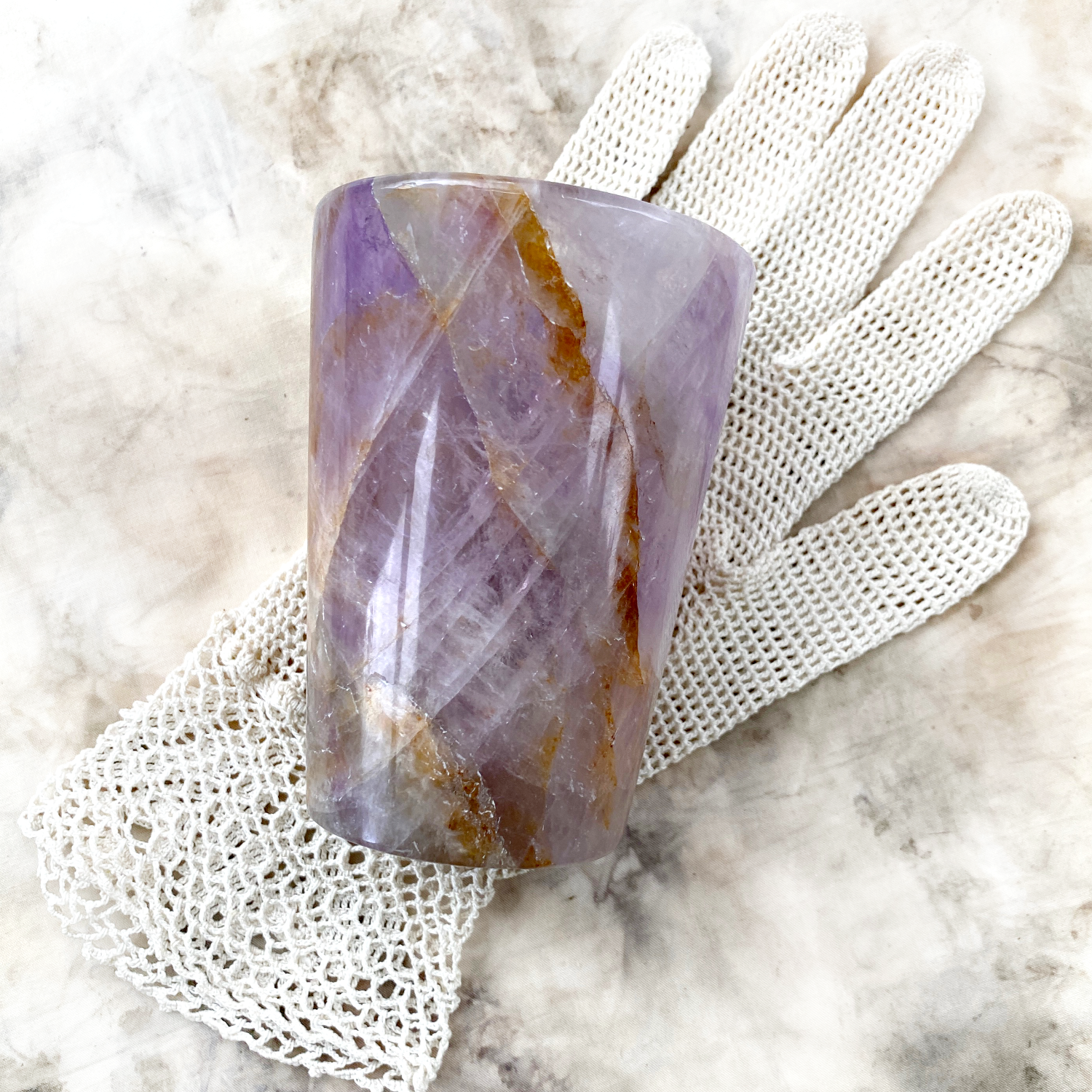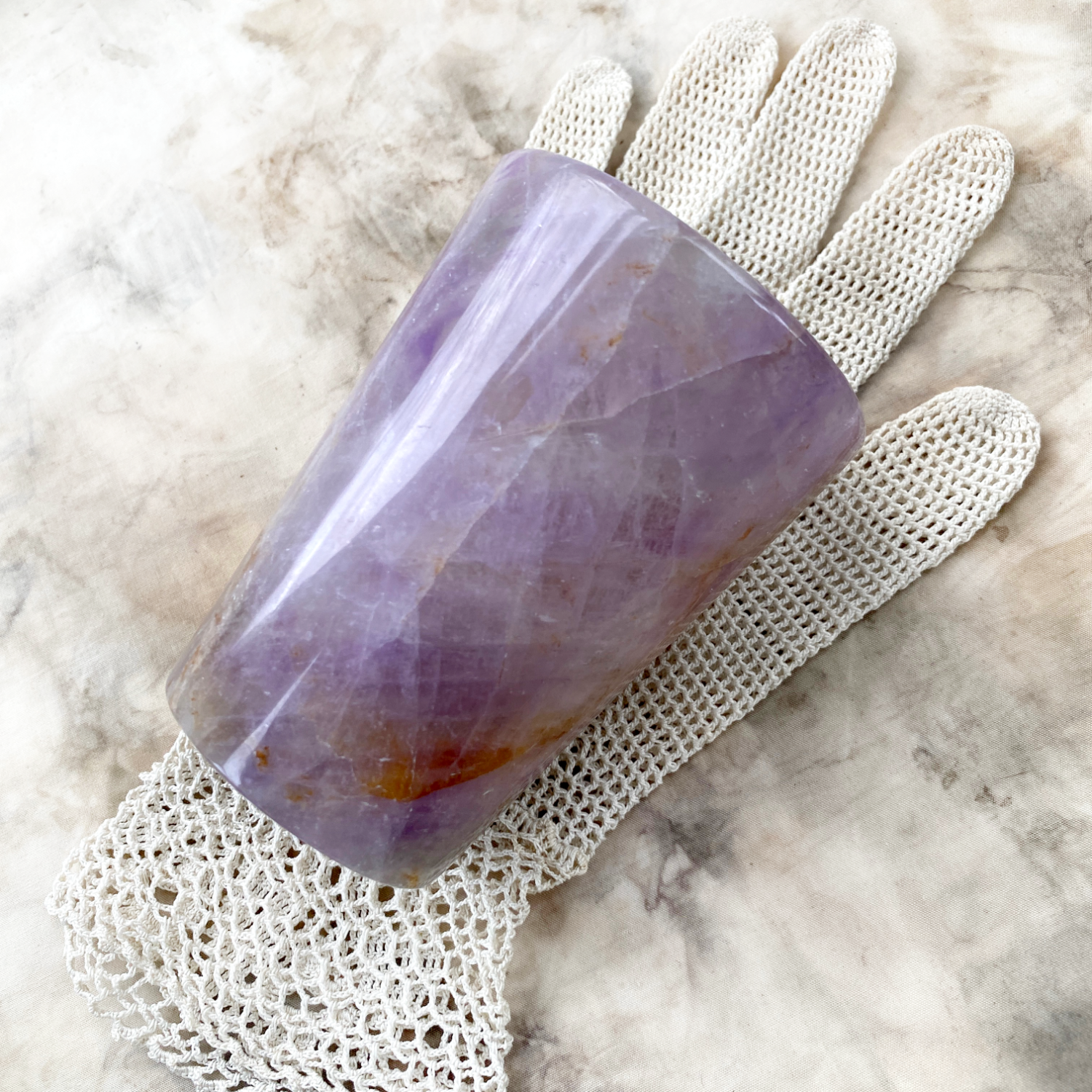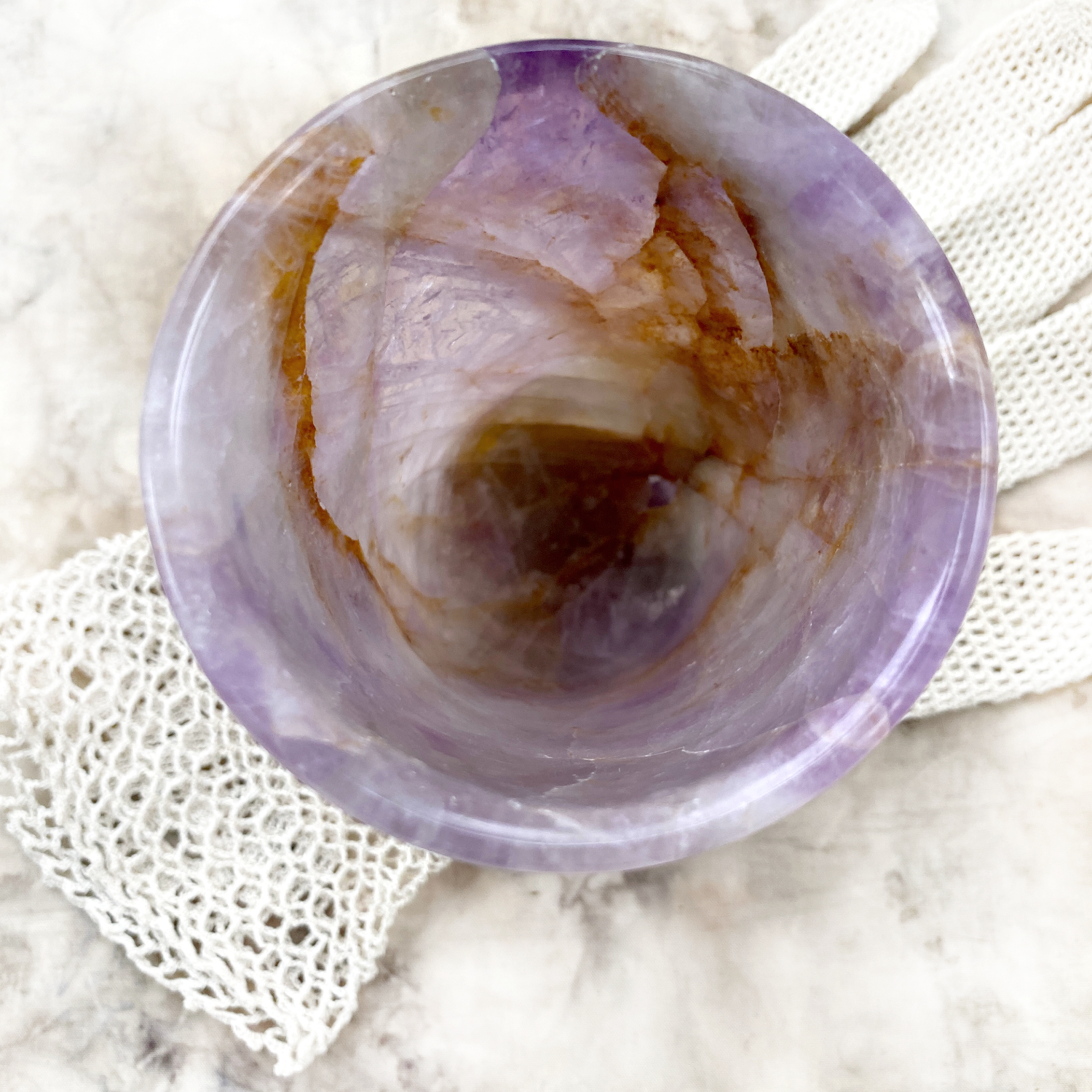 Carved Amethyst cup ~ one of a kind
Breathtakingly stunning one-of-a-kind drinking cup, masterfully hand-carved out of natural Amethyst. Smooth all over, but showing unique wispy veins, lines and translucent areas within the Amethyst, giving this treasure a very sculptural feel. Imagine drinking your own crystal healing water every day, pure water powerfully charged by this Amethyst vessel that holds it. You'll no doubt feel a certain reverence when holding this cup due to its strong energy, and your drinking becomes almost like a ritual. Every time your lips touch the rim of this Amethyst, it is a way of centering yourself - you'll be reminded of the wholesome balance and harmony that is your natural state, and this will end up having a direct consequence to how you'll feel in your body.
This is a comfortably sized cup, standing 10 cm (4") tall. The diameter of the cup opening is approx. 7 cm (2.8") tapering to the diameter of 5 cm (2") at its base. This cup is satisfyingly weighty at 310 grams (11 oz), and smooth to handle. 
You'll receive this crystal healing cup securely wrapped and protected on its journey, and gift-wrapped at no extra charge.

*Ships from England, UK*
~

AMETHYST
Instils inner peace, promotes self-discovery and aids in relaxation. Associated with the crown chakra, known as a "stone of balance" and positive transformation. Thought to increase spiritual awareness and psychic abilities, initiating higher knowing and greater understanding. Helps in assimilating new ideas and manifesting thoughts into action. Symbolises a connection to the Divine. A well-known support stone for those wanting to break old patterns to create a new, harmonious life.
Recently Viewed