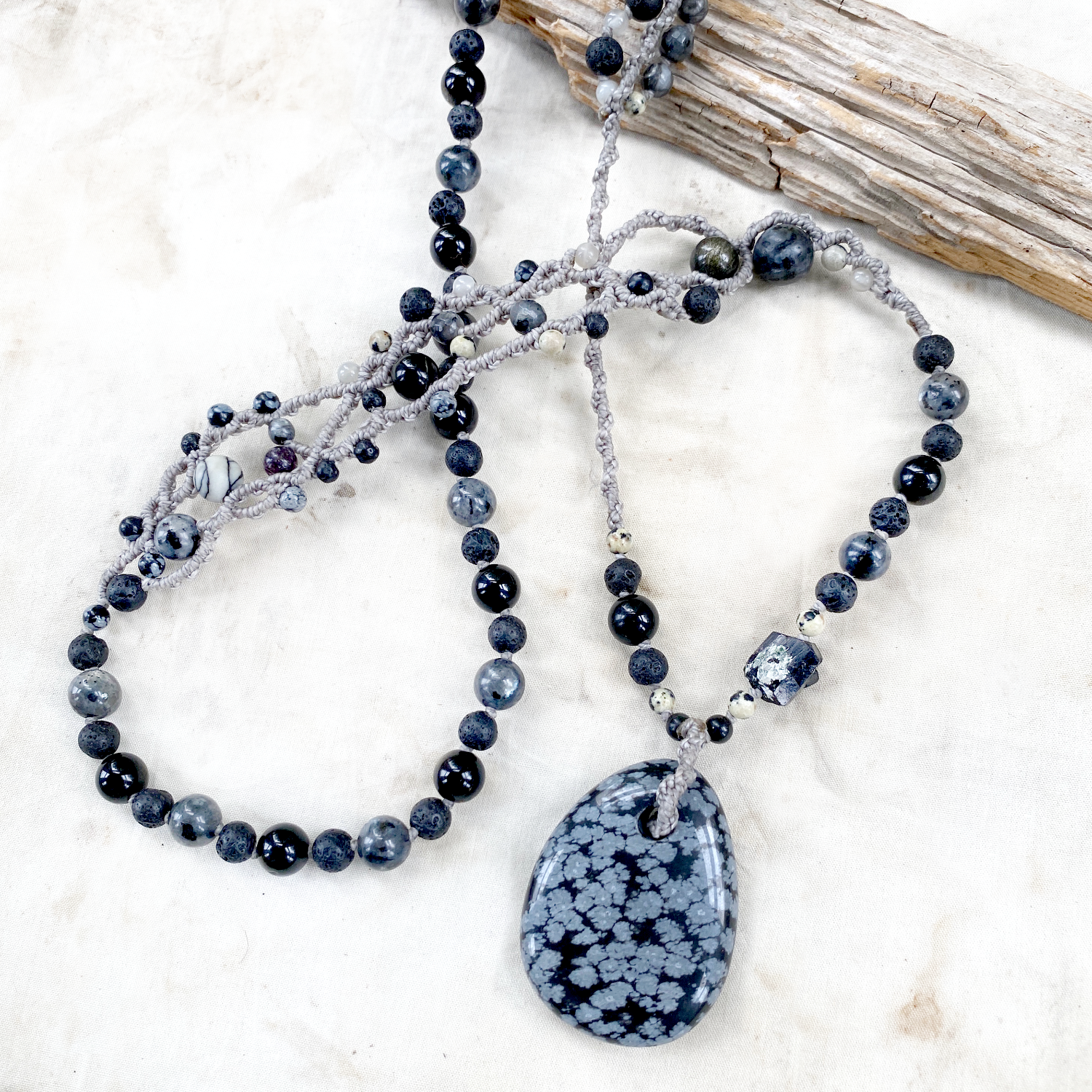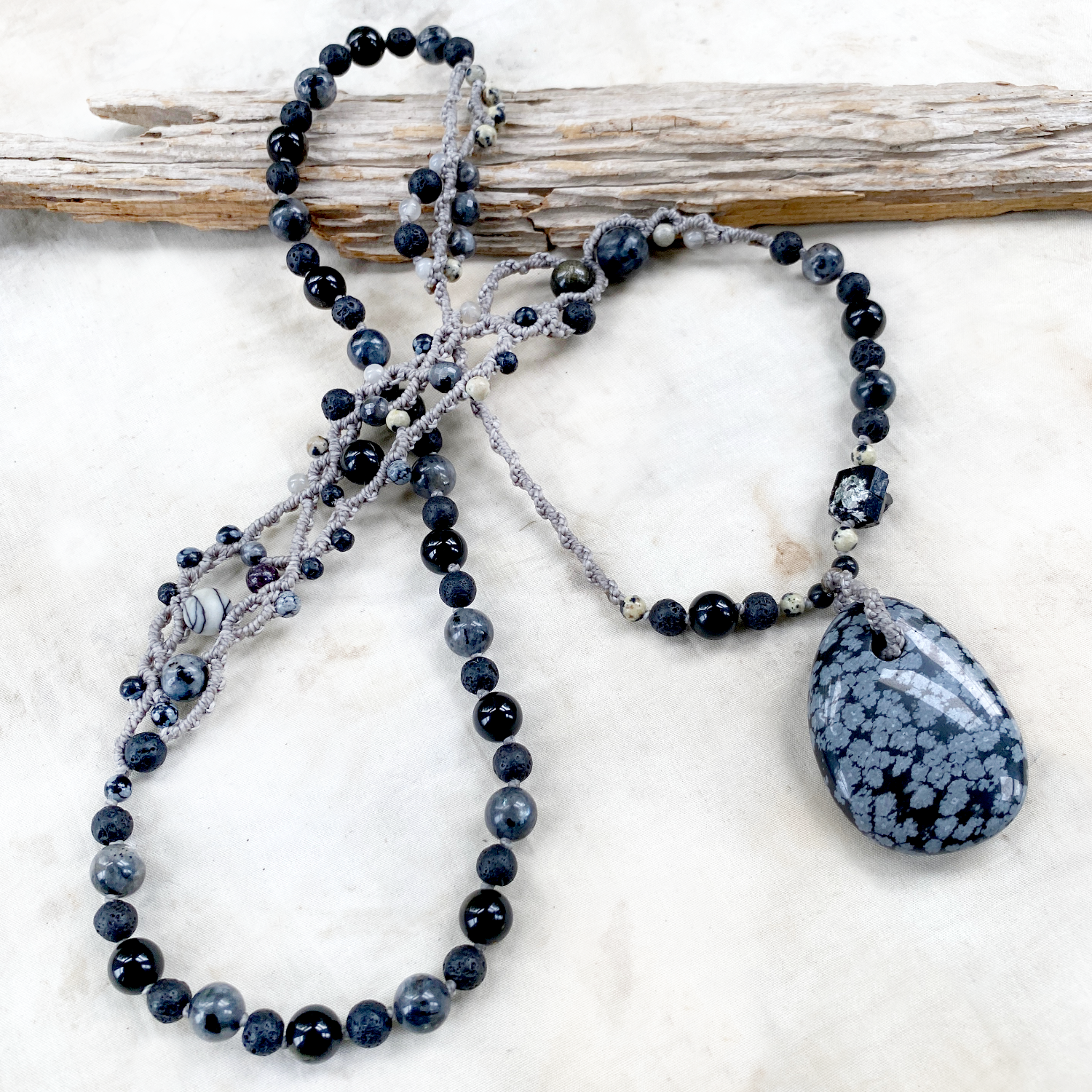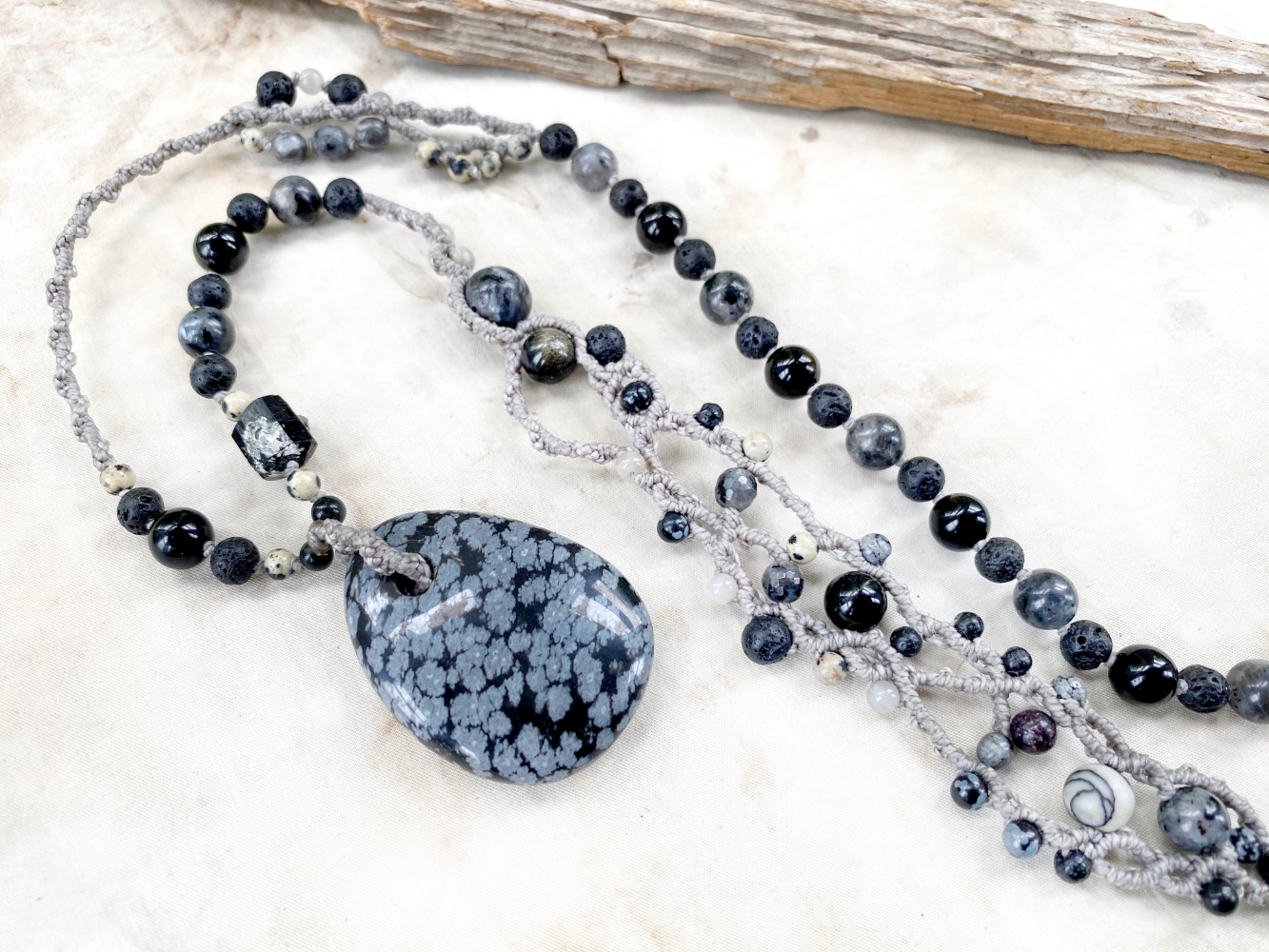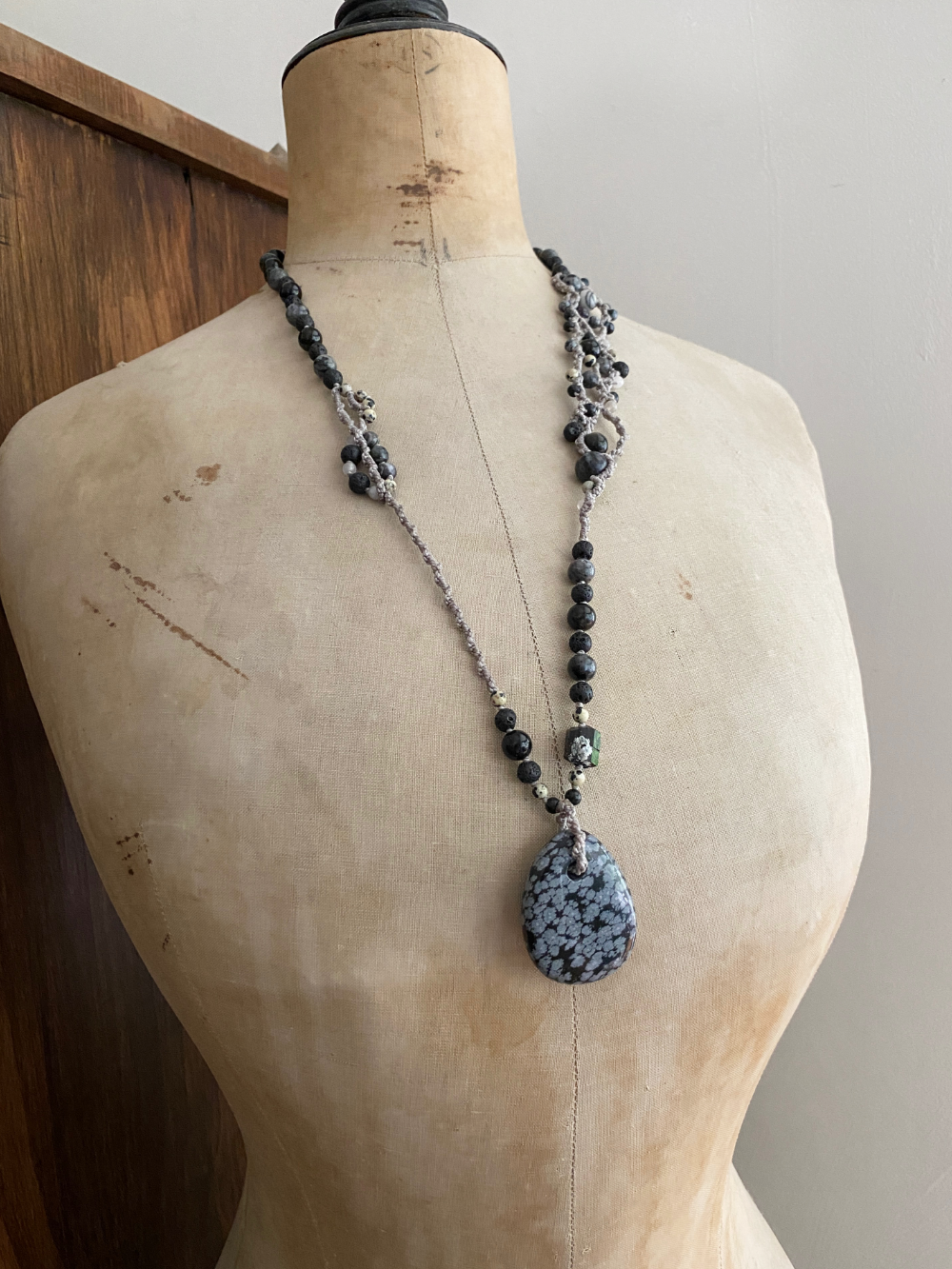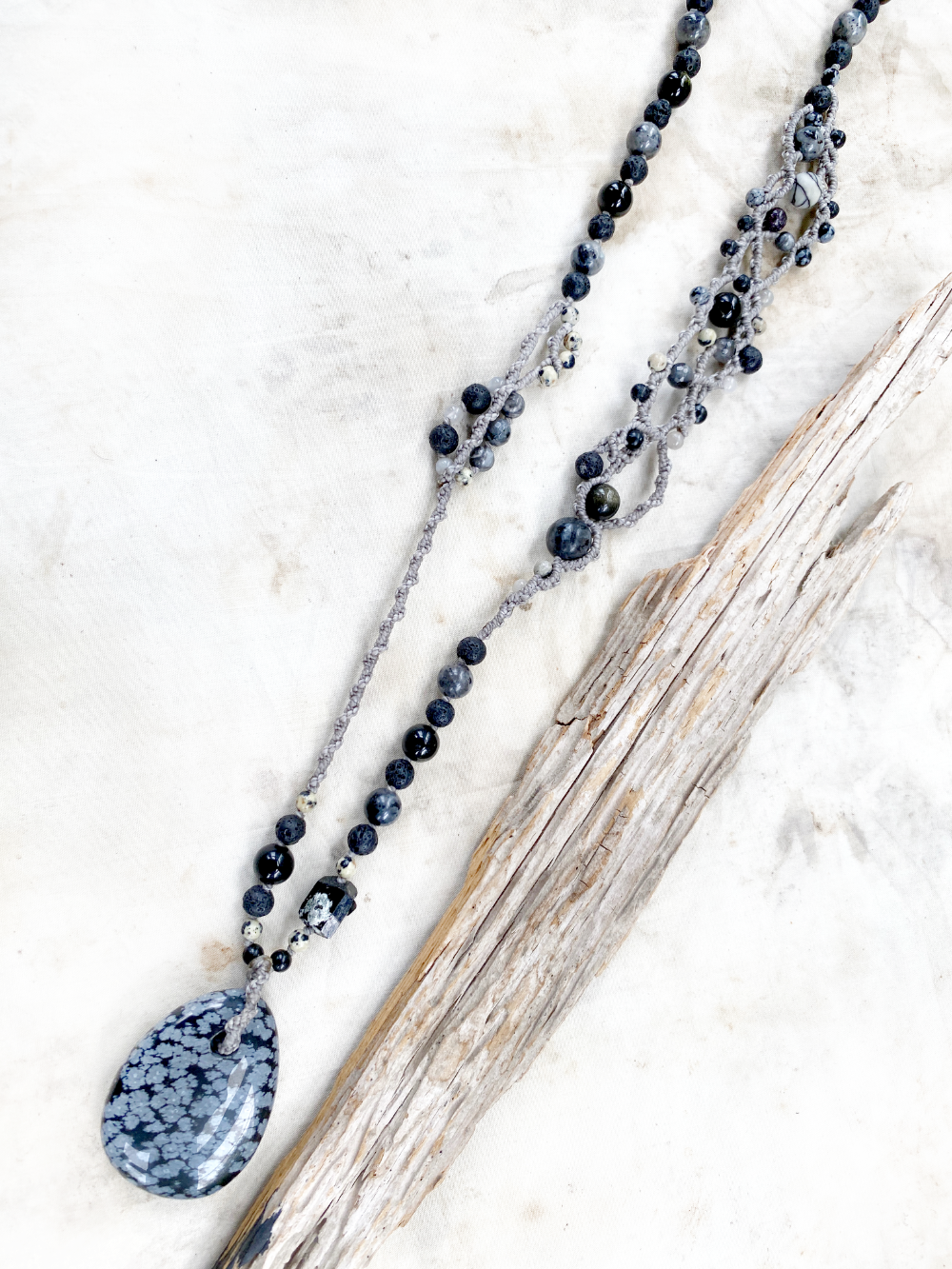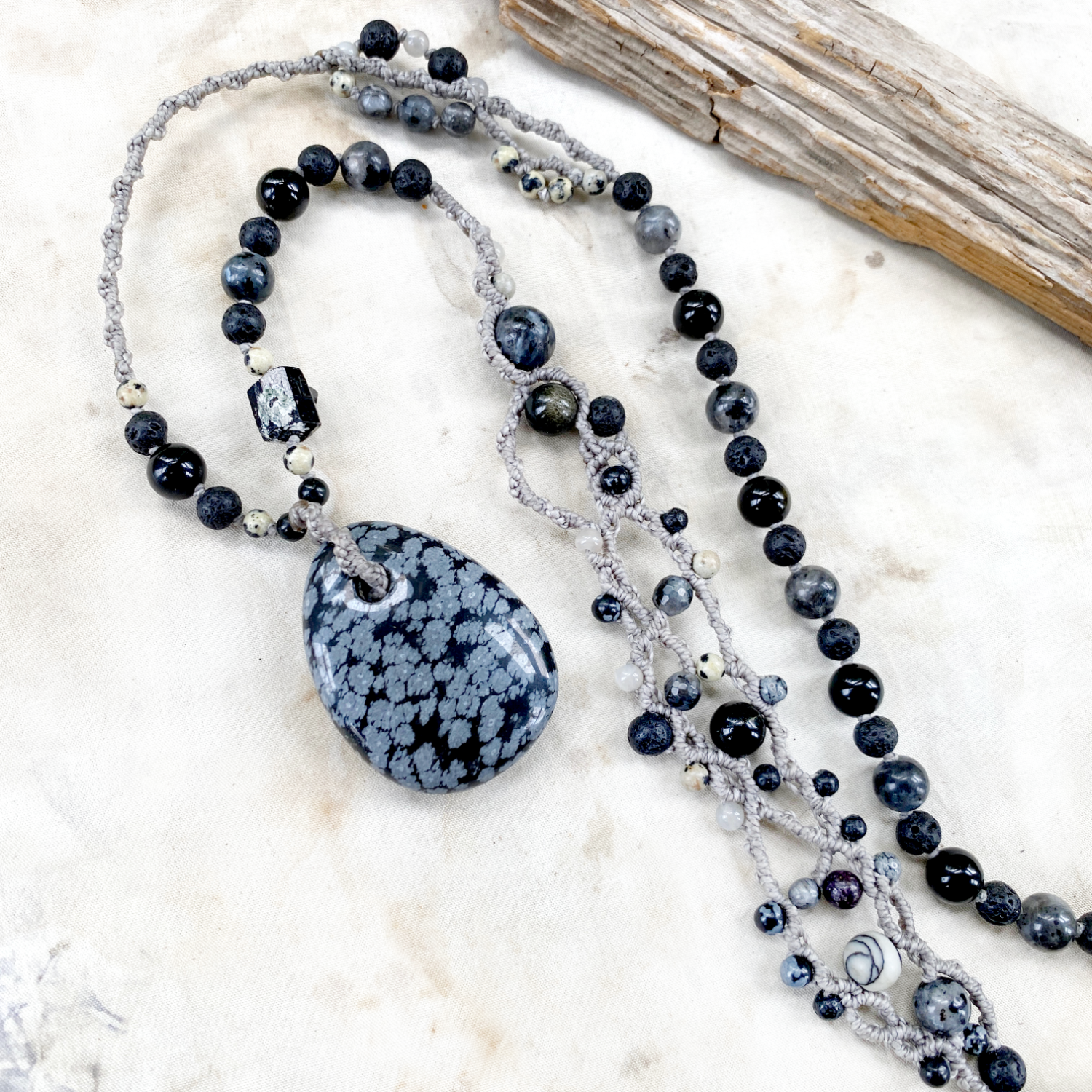 Crystal healing amulet with Snowflake Obsidian
DESCRIPTION
Monochrome, one-of-a-kind necklace with intricate visual interest in form of beaded areas and decorative lace-like knotting in all-round asymmetrical pattern. The main crystal energy comes from Snowflake Obsidian, Golden Sheen Obsidian, Larvikite and Lava Stone, supported by Black Line Jasper, Dalmatian Jasper and Black Tourmaline. Quite an eye-catching talisman and easy to wear as you can just slip it on over head without any need for clasp closure. This is strongly shielding, protective crystal energy in a unique, stylish form.

The necklace is decoratively knotted with grey micro-macrame cord. 

The total length of the necklace, all around is 74 cm (29"). The smooth Snowflake Obsidian focal crystal is just over 4 cm (1.6") tall and 3 cm (1.2") wide at its middle. The decorative, grey knotting section has an average width of 2 cm (0.8")
You'll receive this lariat in one of Spirit Carrier's fabric draw-string pouches for safekeeping, and beautifully gift-wrapped at no extra cost.

Read here how to take care of your crystal jewellery.
CRYSTAL PROPERTIES
SNOWFLAKE OBSIDIAN
Promotes a sense of calm and inner equilibrium, bringing balance to body, mind and spirit. A grounding, protective stone. Eases worries and when carried/worn helps one to stay balanced and centred throughout the day. Native American shamans often carried Snowflake Obsidian as a powerful talisman to avert evil and bring good fortune, also considering it to be the guardian of the Great Spirit.
LAVA STONE
Stone of vitality, assertiveness and passion. Provides stability in times of change. Grounding and protective. Supports courage and decisiveness. Helps in finding one's 'life path'. Encourages personal development and growth.
NORWEGIAN MOONSTONE (aka Black Labradorite, Larvikite)
Repels negative energy and can make you more adaptable to life's situations. It also stimulates inner visions so it's very suited to meditation. Black Labradorite is also said to connect with nature spirits. On physical level, it is said to be good for renewing and maintaining vitality and youthfulness.
GOLDEN SHEEN OBSIDIAN
Protective stone that helps one achieve harmony and solve problems relating to past, present and future. Helps in settling inner emotional conflicts and keeps one from entering into outer conflicts so one is free to follow one's spiritual path. Shielding stone that encourages one to stay positive. Transmuting stone to keep negativity at bay. Said to open a window to one's soul and brings out any hidden talents one may have.
BLACK TOURMALINE (aka Schorl)
One of the most well-known protective stones, shielding its user from negativity. A shamanic stone used for grounding during vision quests. Empowering for those who work in challenging environments. Purifies and transforms denser energies into lighter vibrations and is also detoxifying for the body. If you're sensitive to electromagnetic smog, you may get relief by wearing black Tourmaline.
DALMATIAN JASPER
Helps in removing barriers that prevent you from moving forward in life, and to discover your true purpose of being in the world. Brings joy and playfulness into one's life. The black spots in this stone are Black Tourmaline, which adds to this stone's protective qualities.
BLACK LINE JASPER
Protective stone that's said to balance one's yin and yang energies. Grounding for one's kundalini channel. Instils a sense of wellness. Offers insight into one's life path and its purpose.
Recently Viewed