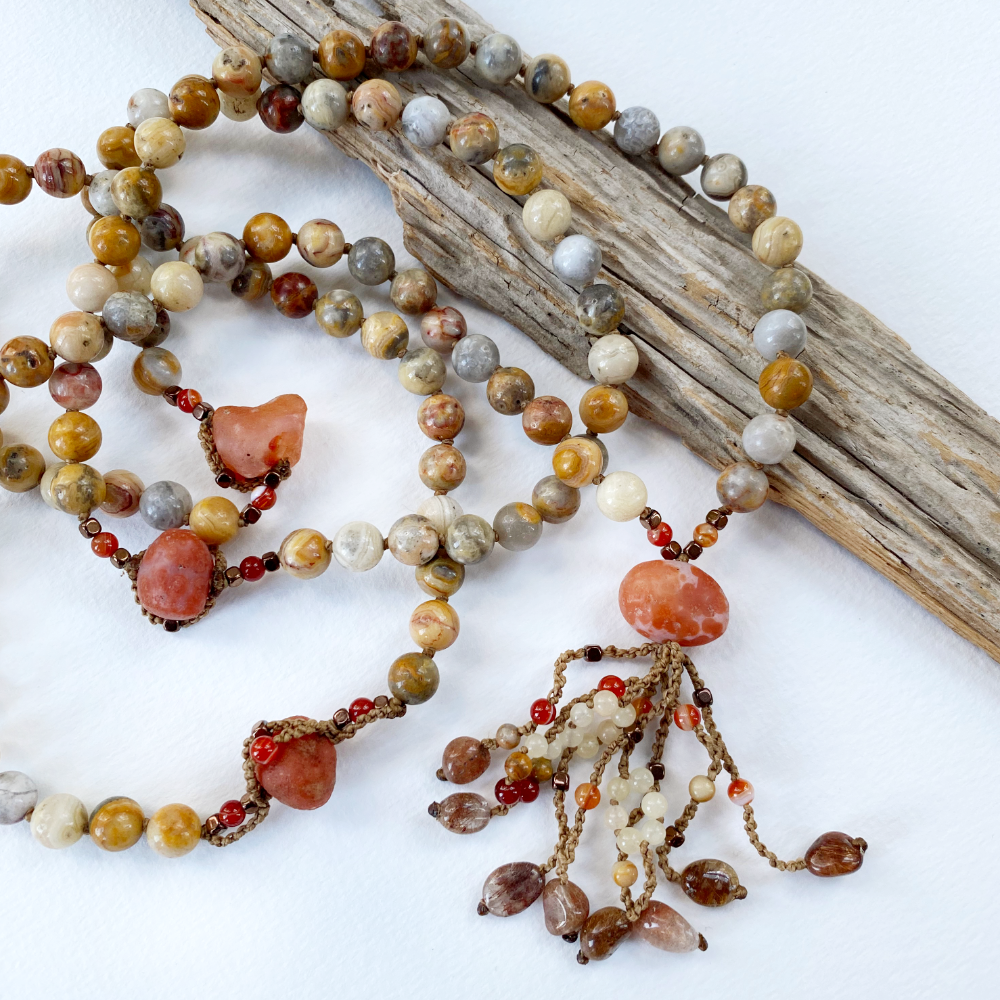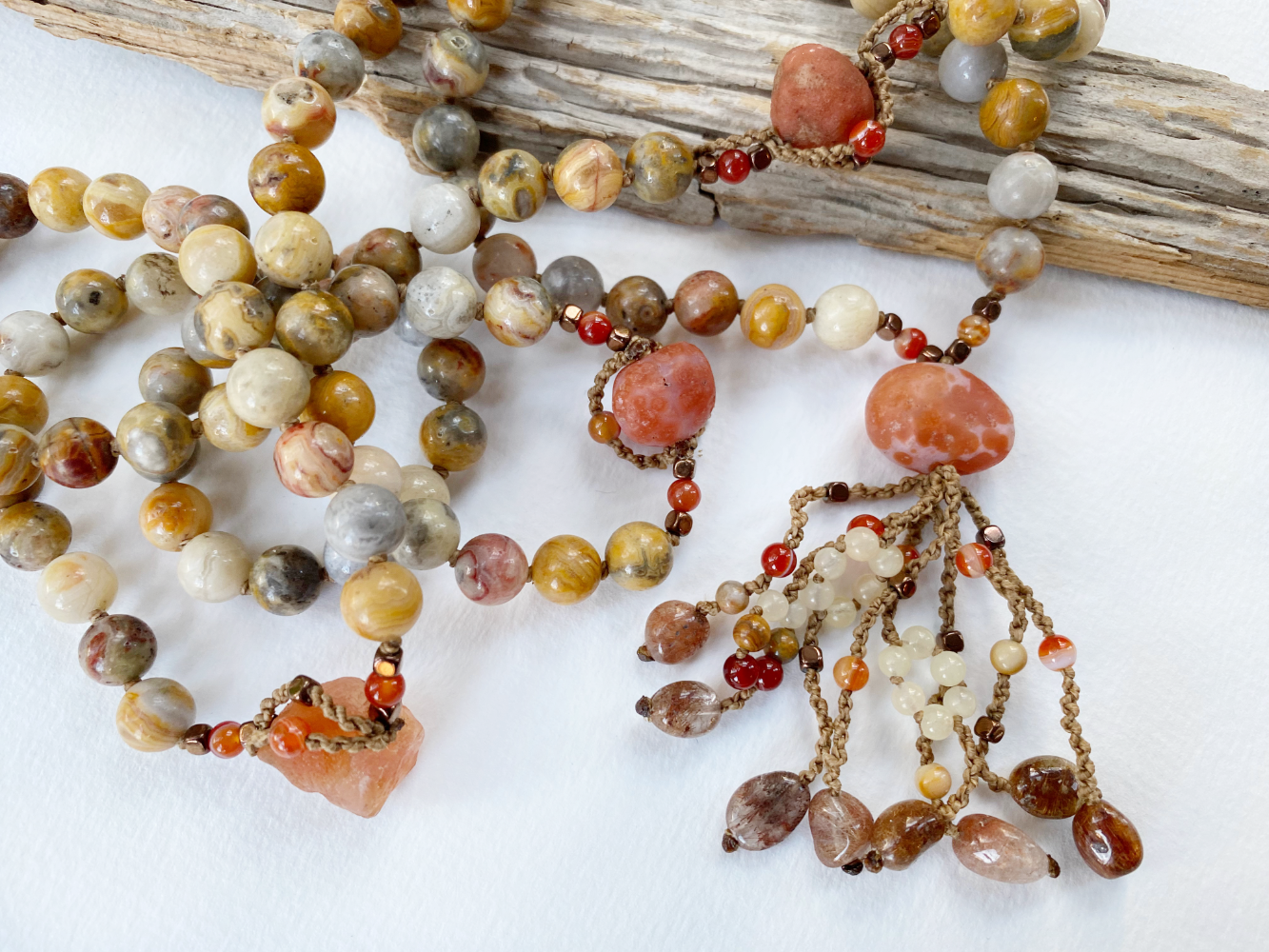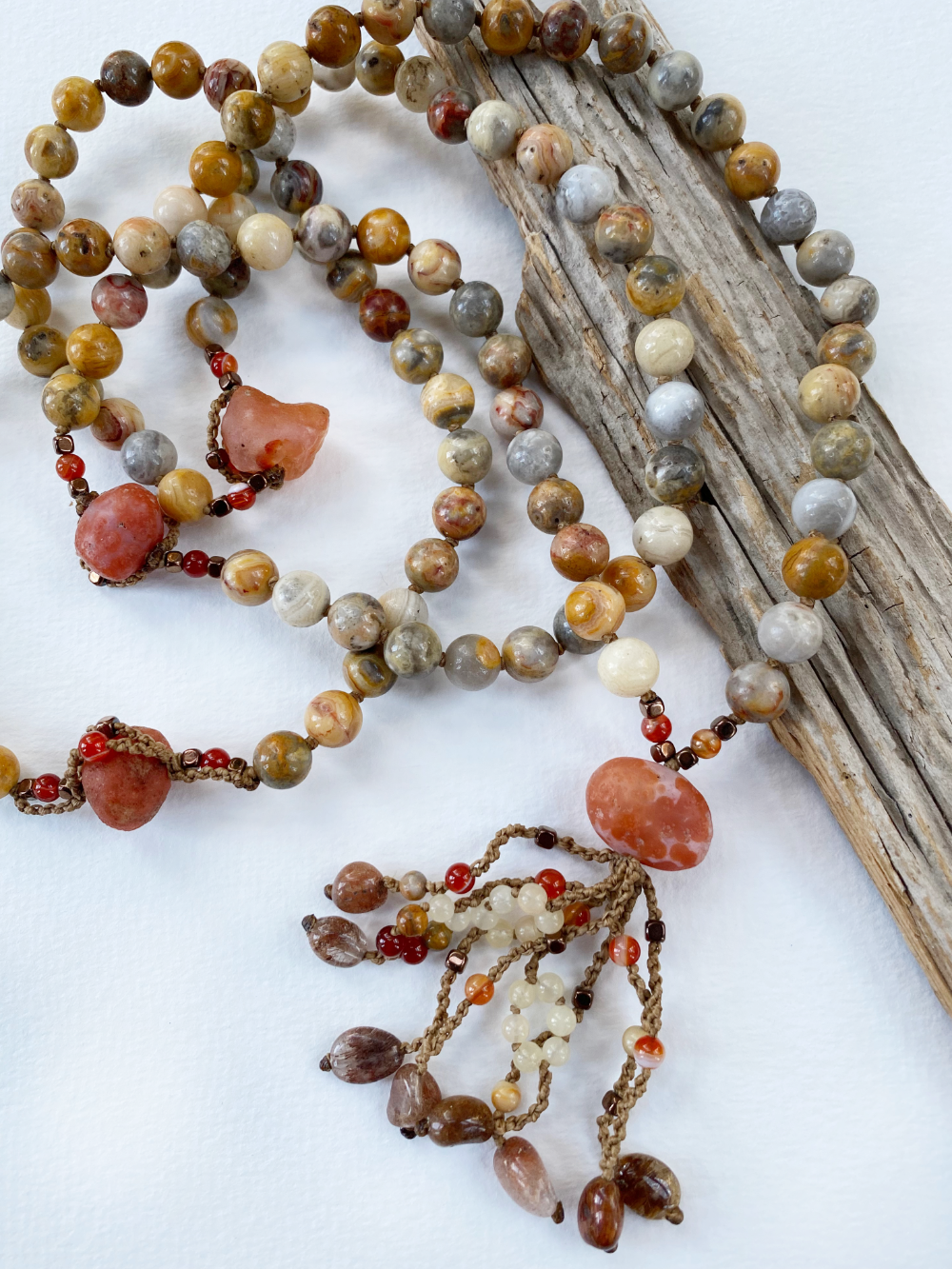 Crazy Lace Agate meditation mala
DESCRIPTION
One of a kind, contemporary 108 bead meditation mala with Crazy Lace Agate counter beads. The three dividers are a combination of Carnelian and copper-plated Hematite. The guru bead consists of Carnelian and a 'tassel' of eight knotted strands, accented with small Carnelian, Hematite, Jade and Crazy Lace Agate crystals and ending in Copper Rutile Quartz pebbles. This is a vitalising, joyful mala, consistent and deep reaching in its energy.
The Crazy Lace Agate counter beads are knotted individually for strength and ease of handling with golden brown micro-macrame cord. Whilst this mala is long, it's not too heavy, so would suit wearing either as one long length or wrapped around twice, shorter. 
All around length of mala: 114 cm (45") 
Counter bead diameter: 0.8 cm (0.3") 
The size of the divider combinations: approx. 3 cm (1.2")
Length of guru bead & tassel combination: 7 cm (2.75")
This mala comes in one of Spirit Carrier's handmade cork pouches ('vegan leather') for safe-keeping and gift-wrapped at no extra charge.

Read more about Spirit Carrier mala beads
CRYSTAL PROPERTIES
CRAZY LACE AGATE
A stone of laughter and happiness, offering support and encouragement, elevating one's mood and promoting optimism. Uplifting stone that alleviates emotional pain and promotes self-acceptance. Useful for overcoming any kind of trauma, encouraging one to start over. Promotes inner stability.
CARNELIAN
Known as a stone of motivation and courage. Stimulates creativity and increases one's sense of self-worth. Balancing for body's energy levels, restoring vitality and motivation. Said to attract prosperity, new resources and good luck. A success stone that helps you follow through with plans. Stone of action that aids in overcoming procrastination. Helps in gaining more understanding of one's inner self. Stimulating to the Sacral Chakra, which, when in balance, allows one to enjoy life, feel its joys and pleasures, be flexible and 'go with the flow'.
HEMATITE
Creates a strong sense of self and enhances the creative flow. Relieves stress. Revitalises, enhancing personal magnetism and optimism. Helps in releasing self-imposed limitations to find your own unique gifts. A stone of balance and equilibrium. Grounds when feeling scattered, allows one to maintain a natural alertness while remaining calm.
JADE
Known throughout history as the stone of balance, peace and prosperity. Helps in advancing the human consciousness to higher levels. Restorative energy, stimulates ideas and relinquishes self-imposed limitations. Promotes healthy self-confidence and strength of character. Yellow Jade promotes self-sufficiency, keeps its keeper out of harms way, a stone of joy and good luck, bringing vitality and quiet strength.

COPPER RUTILE QUARTZ
Ignites inspiration and activates creativity. Amplifies intentions and abilities, thus perfect for manifesting desired outcomes. Fosters self-reliance, opens up new directions and supports aspirations dear to your heart. Energising, vitalising and highly purifying. Reminds you of the power of the Sun. Attracts the help you need on your life path. 
Recently Viewed