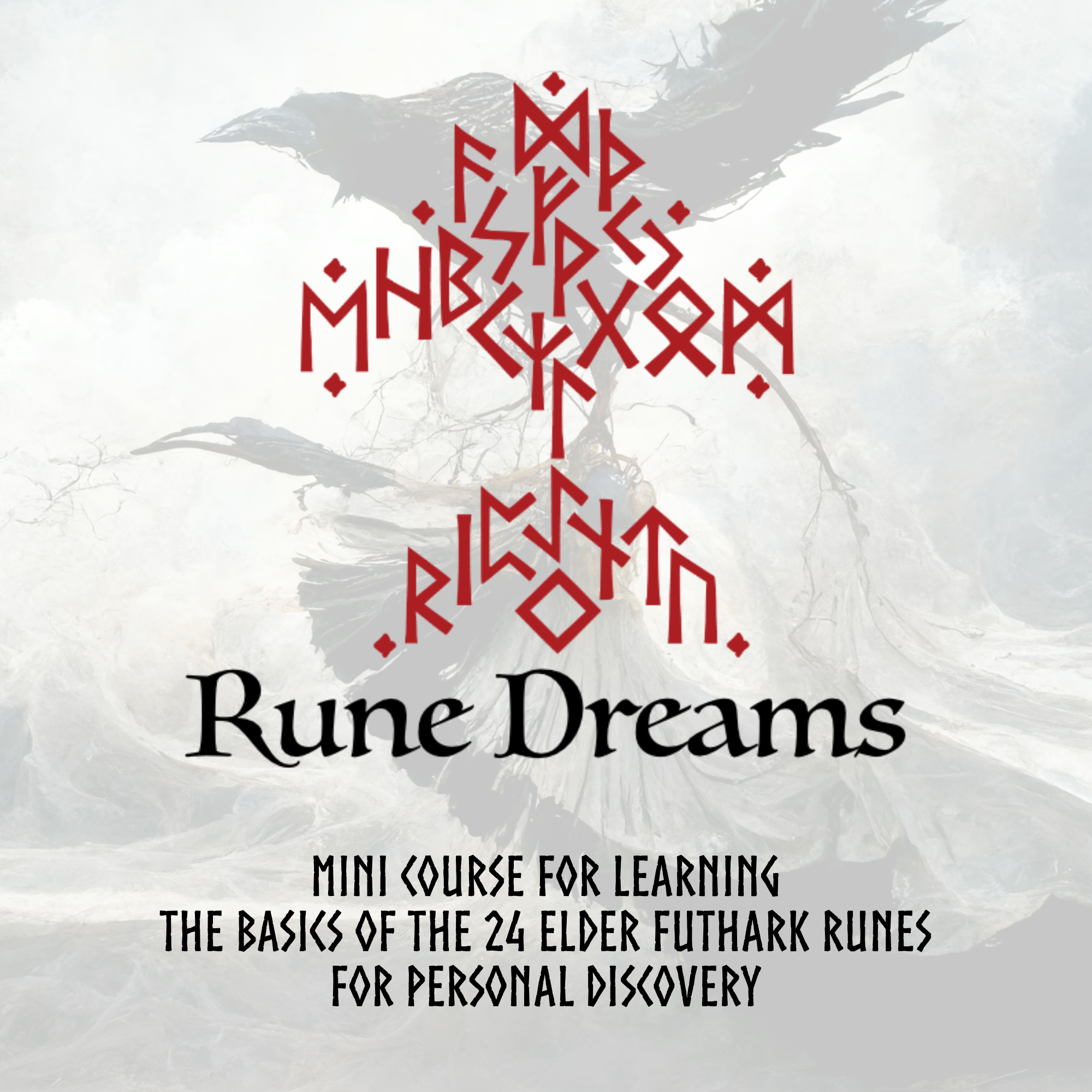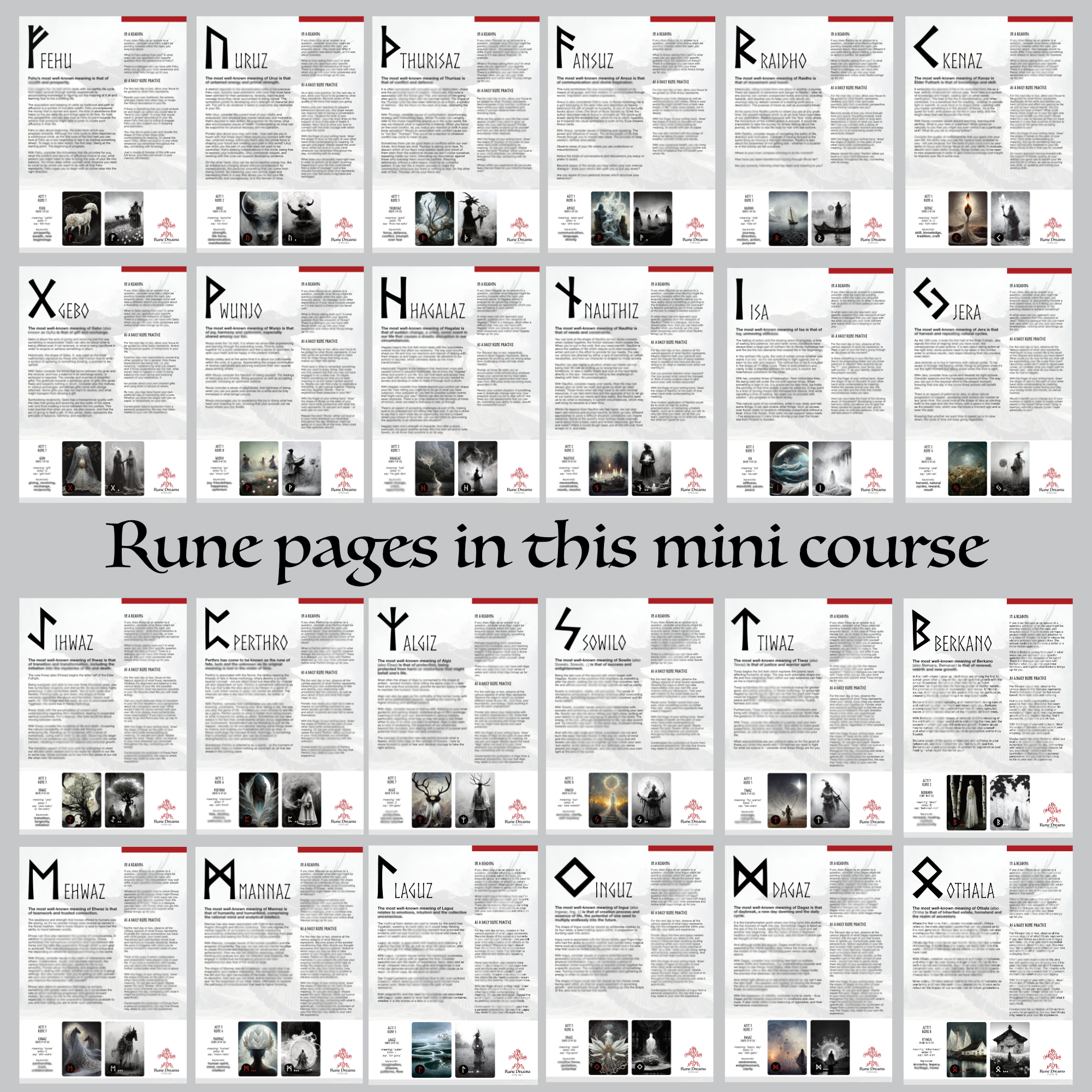 Elder Futhark mini course for learning rune meanings for divination & personal discovery
DESCRIPTION
This digital mini course about the 24 Elder Futhark runes is designed to give you a fast, simple and enjoyable start on learning about runes. Originally, this course was delivered as sequential emails to those who backed my Rune Dreams Kickstarter campaign. The positive response was phenomenal from those who attended so I'm now offering the process for anyone who might like to quick start their runic journey. 
Ideally you will familiarise yourself with one page in this file every few days, and do the short exercises to integrate your learnings before moving onto the next rune. Literally decide to *live with the runes" for the duration of going through this mini course and you'll be surprised where it can take your understanding about the world and dimensions within each rune. The fastest I recommend completing this course is one rune per day - so it would take you 24 days to go through the course. You can also print the file so you can write your notes on each page as you progress.
This rune course is decidedly concise so you won't get overwhelmed - yet each page is packed with information in a way that if you let it flow through you naturally, you won't sense any effort in your learning. The focus and perspective of this mini course is on connecting each rune to your own personal life experience, so that you will easily memorise what each rune is about and your learning happens naturally.
There are also a few book suggestions for you to expand your knowledge after this mini course, especially if you want to delve more into the history and sources in Norse mythology.
Each course page includes sections on the most well-known meanings of the runes, suggestions on how to approach each rune in a divinatory reading as well as guidance for daily rune practice to deepen your connection with the energy of each rune. The questions on each page are geared towards eliciting your personal responses to each rune to further your connection with each rune. You can use the sample images of the Rune Dreams cards on each page as a visual memory aid to link the rune's symbolism with. Both the colour card and the monochrome card images are included.
Wishing you a wondrous journey learning about runes!
How you will receive the file:
After your order comes through, you will receive an email from me within 24hrs. The email contains a link for you to download the file. The download link will be valid for 7 days. If you don't download the file within that time, you will need to request a new link.
If you have purchased both Rune Dreams card decks previously, email me with your order number and I will send you a link to download this mini course free of charge. Also, if you purchase ***
both Rune Dreams decks
*** now, you will receive this digital mini course for free.
ᛉ ᛉ ᛉ
This mini course PDF is for your personal use only, or for the recipient you are gifting it to.
Please have integrity and respect my copyright. May your own conscience forever bother you, should you share or distribute this digital course without explicit permission from me. I'm a very reasonable and kind person, so do get in contact if unsure. 
***Please note*** 
There are NO PHYSICAL RUNE CARDS INCLUDED in this listing. The Rune Dreams card decks are sold as a separate listing.
Returns, exchanges or cancellations can not be accepted after you download the file as I'm sure you understand. Please get in contact if you have any problems with viewing the course file.
ᛉ ᛉ ᛉ
Recently Viewed