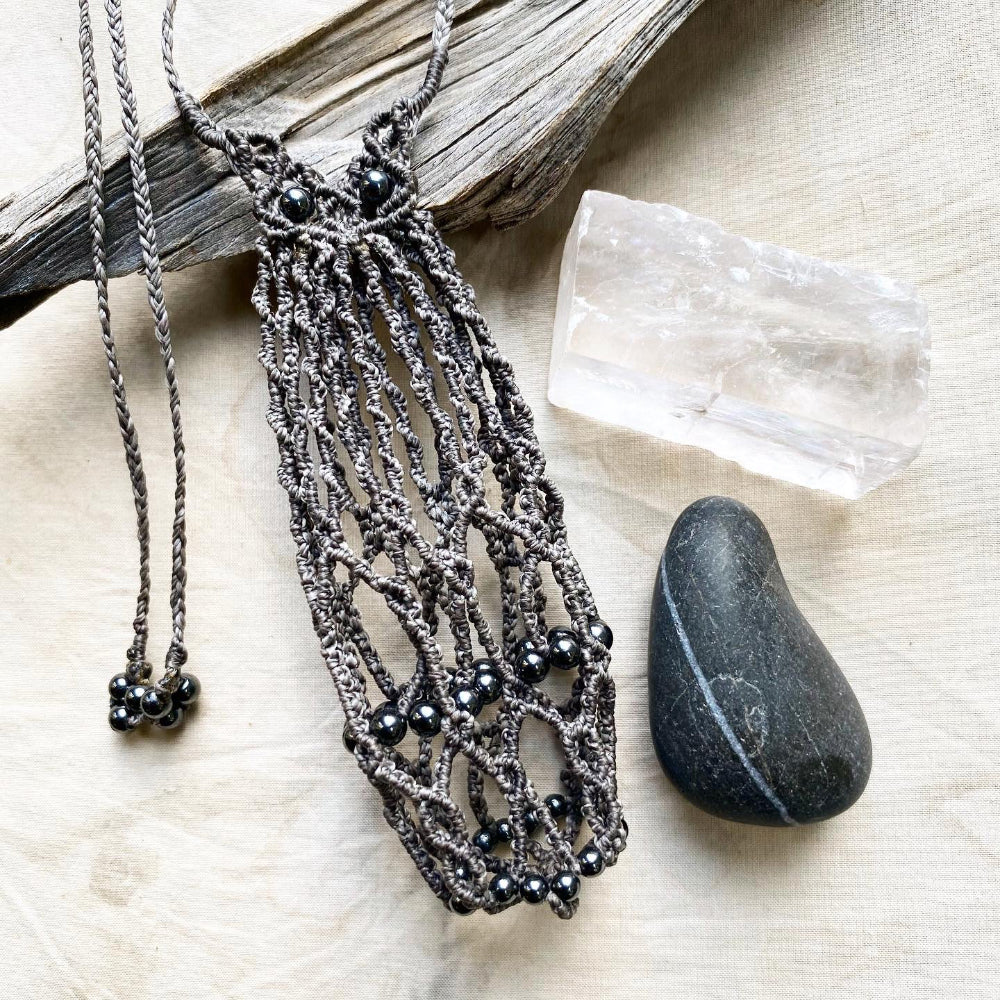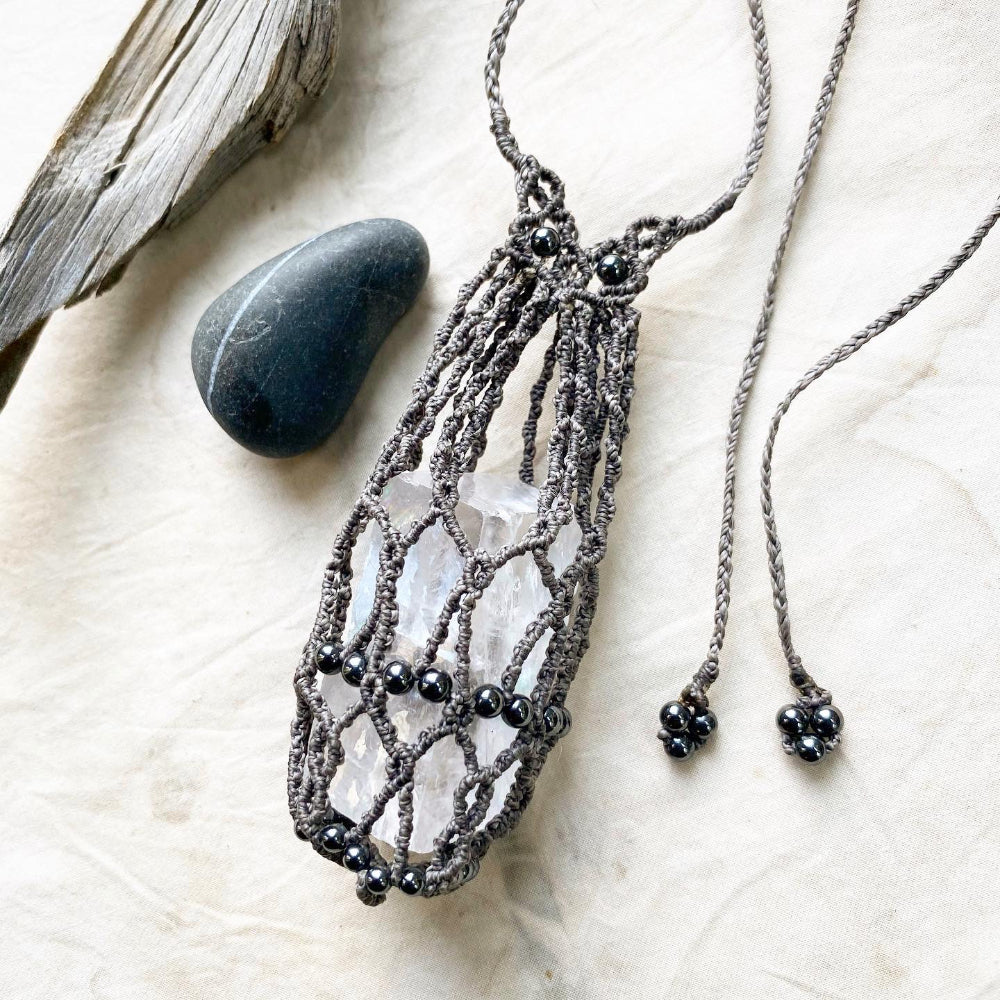 Crystal pod necklace with Iceland Spar & Wishing Rock
DESCRIPTION
Decorative, intricately knotted 'pod', which I've specifically designed to carry and wear your own chosen crystals, even though I'll be including the two stones in the photos (Shale "Wishing Rock" and Optical Calcite) but if you have other similar size crystals, you can of course slip those in through the beaded strands and change what you carry when you feel like it. (You insert a crystal by gently pulling two of the long beaded strings apart and sliding your crystal into the pod. You then move the cluster of strings to be spaced evenly.
Important size info:
This pod has a base diameter of 2 cm (0.8") and the width of the pod when empty is 3.5 cm (1.4"). Although the total length of the pod is 8.5 cm (3.3"), a suitable crystal to be carried in this pod would be at largest 6 cm (2.4") in height. The pod isn't suitable for very long and thin crystals, such as laser wands or similar, due to the pod's structure - the holes that let the crystal 'breathe' and show from inside the pod, are at their largest measurement 1.5 cm (0.6") so any thin points might poke through the spaces between the strings through which you insert crystals into the pod. Please be sure to understand the measurements of this crystal pod before purchasing, if you intend to use it for other crystals than the two that come with it.
The size of the Iceland Spar is approx. 4.5 cm (1.8") in its largest dimension, and the Wishing Rock is slightly under 4 cm (1.6") as its longest. The necklace length is adjustable from as short as you wish down to just above solar plexus level. The crystal pod is knotted in thin, dark grey micro-macrame cord and highlighted with small Hematite crystals.
You'll receive this one-of-a-kind crystal pod necklace delicately wrapped to maintain its shape, and securely packaged for its postal journey. 
~
HEMATITE
Creates a strong sense of self and enhances the creative flow. Relieves stress. Revitalises, enhancing personal magnetism and optimism. Helps in releasing self-imposed limitations to find your own unique gifts. A stone of balance and equilibrium. Grounds when feeling scattered, allows one to maintain a natural alertness while remaining calm.
ICELAND SPAR (aka Viking Sunstone, Optical Calcite)
Clears and activates all chakras, improving energy flow through subtle bodies. Improves perception and clarity of vision. Increases optimism and removes fear-based emotions. Energy purifier and amplifier. Shows new ways of looking at situations and helps move past obstacles into new beneficial future.
SHALE
Soothing tool when wanting to change how you feel, making it easier to let go of stress, sadness or anxiety. Helpful when wanting to expand your horizons, to have a go at different things, try something new. Opens up possibilities and a bigger future. Enhances creativity and productivity. Supports you in perseverance to accomplish things. Assists your intuition in guiding you away from what isn't good for you and directs towards positive outcomes.

'WISHING ROCK' ~ a beach stone with a single white stripe all the way around the circumference of the rock. Only a perfectly solid white Quartz line around the rock, with no broken areas, makes it a true wishing rock. According to old stone lore, if you make wishes on a wishing rock and keep it close to you, it will help your wishes come true.
Recently Viewed