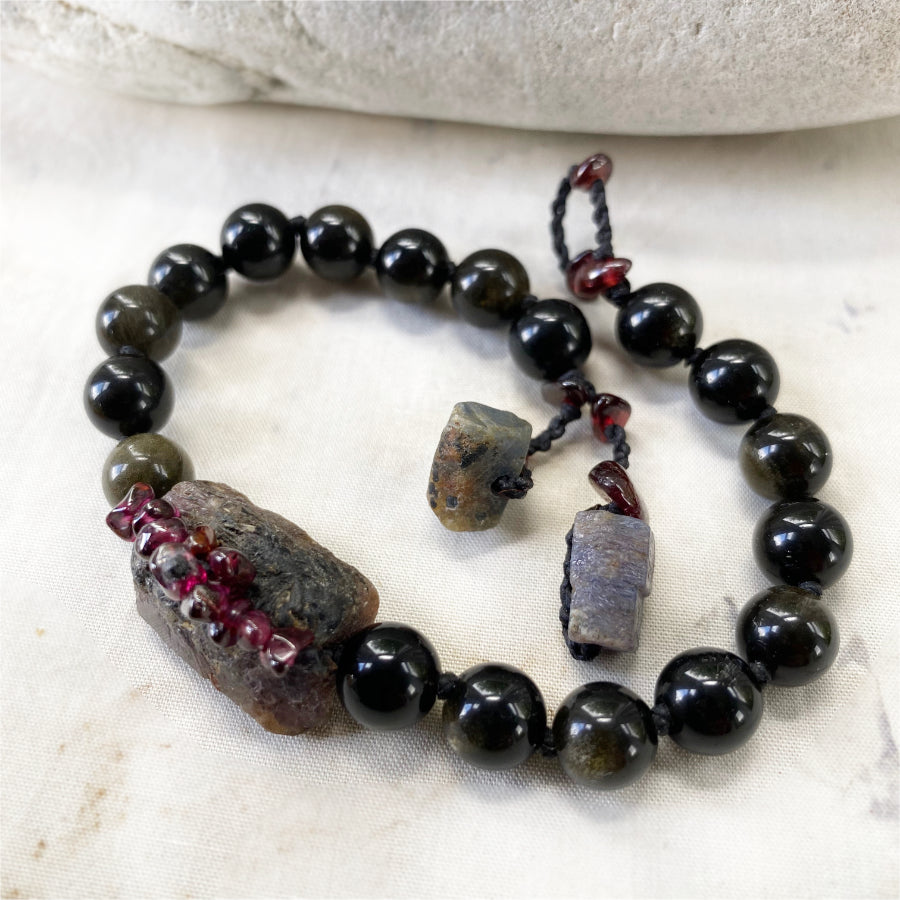 18-bead mala bracelet with Golden Sheen Obsidian
DESCRIPTION
Crystal mala bracelet with 18 Golden Sheen Obsidian counter beads with a divider of raw Sapphire combined with small Almandine Garnet crystals. The closing toggle stones are Sapphire. You can slip both through the knotted loop to fasten the bracelet securely. The counter beads are knotted individually for strength and flexibility, using black micro-macrame cord. 
This is a handy meditation / mantra aid for times when you'd like something smaller than a full mala. You can still count up to 108 with these bracelet beads - or in multiples of 27 if you prefer. Simply count back and forth over the divider as many rounds as needed. Use the toggle crystals as the guru bead.
The counter bead diameter in this mala bracelet is 0.8 cm (0.3") and the Sapphire is approx. 2 cm (0.8") wide. Whilst the total length of this bracelet, including the toggle, is 21 cm (8.3") it would make a good fit for up to an 7.5" wrist circumference. However, if you prefer a more loose style bracelet, this can happily be worn on a 6.5" wrist as well.
This mala comes in one of my handmade 'vegan leather' (cork) pouches for safe-keeping. Gift-wrapped at no extra charge.

Read more about Spirit Carrier mala beads
CRYSTAL PROPERTIES
GOLDEN SHEEN OBSIDIAN
Protective stone that helps one achieve harmony and solve problems relating to past, present and future. Helps in settling inner emotional conflicts and keeps one from entering into outer conflicts so one is free to follow one's spiritual path. Shielding stone that encourages one to stay positive. Transmuting stone to keep negativity at bay. Said to open a window to one's soul and brings out any hidden talents one may have. 
SAPPHIRE
A stone of psychic activation, enhances insight and focus. Helps the throat and third eye chakras to work in unison to strengthen and express one's inner vision. Grounds higher knowledge and helps one to stay centred. Evokes the wisdom needed to see past any situation into the underlying truth. Helpful in channeling healing energy from the highest source, facilitating access to deeper levels of consciousness.
ALMANDINE GARNET
Stimulates one's life force. Opens the root chakra while drawing earth energy into the body, helping you to feel secure and centred. Awakens the "inner fire" of creativity. Highly protective stone and a great companion to keep you energised. Excellent good fortune and 'success' stone in both social and career ventures, adding positive vibes both in your personal or business life. Stone of purification and cleansing. Symbolises passionate, devoted love.
Recently Viewed