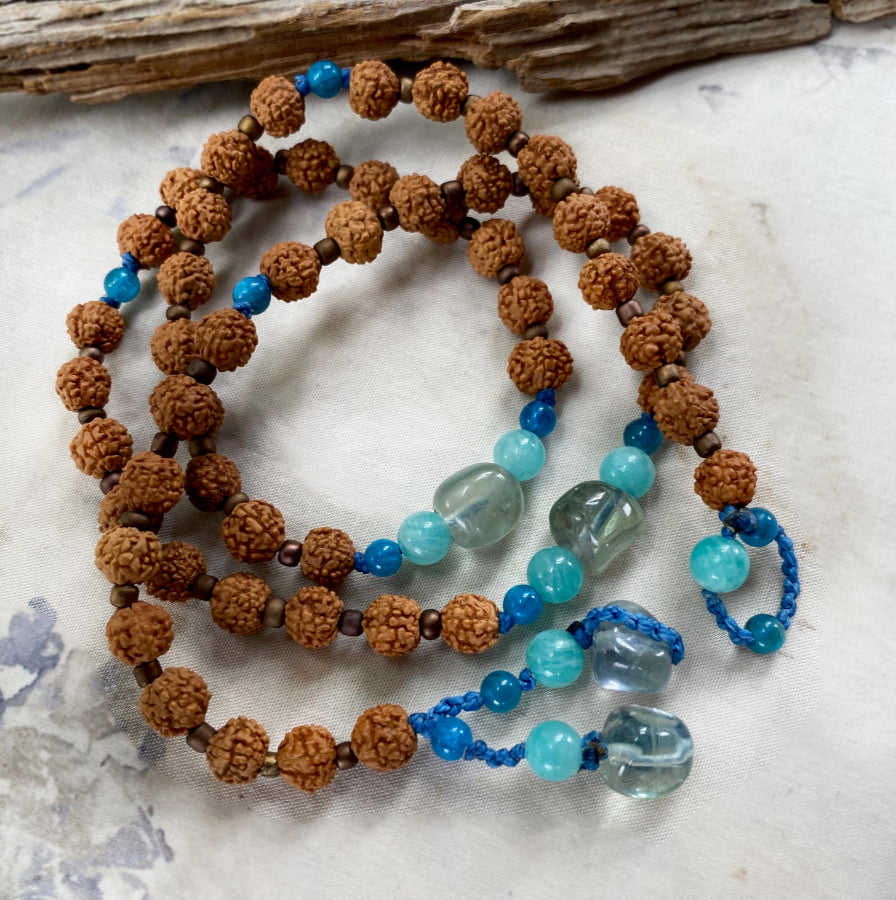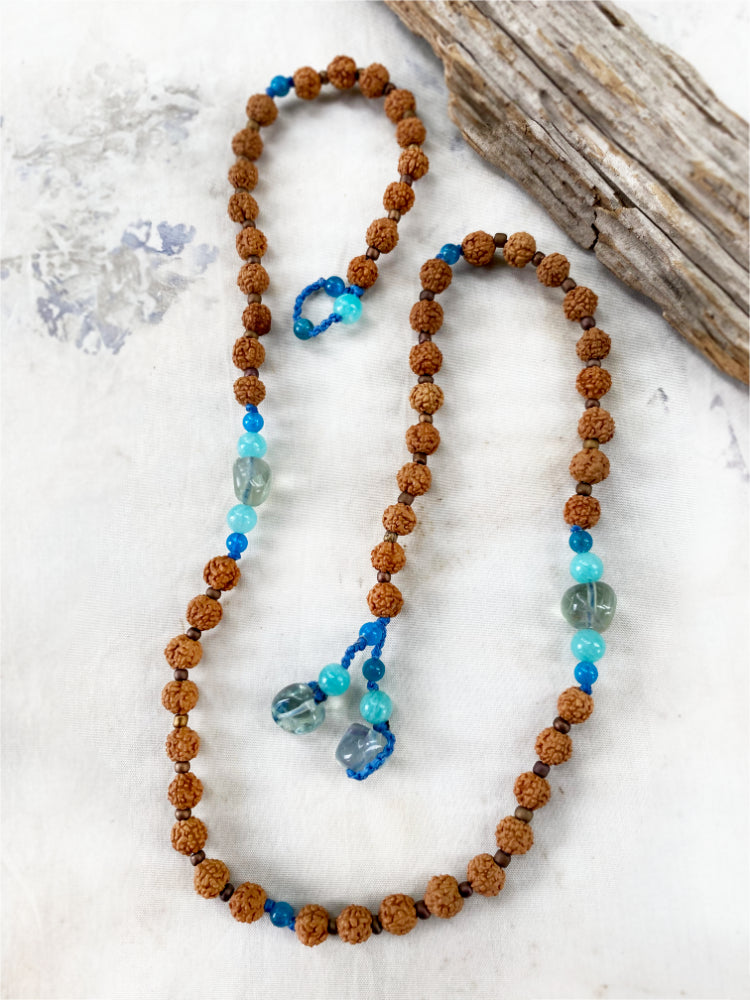 54-bead mala wrap bracelet / short necklace
DESCRIPTION
Mala triple wrap bracelet with 54 Rudraksha counter beads with two dividers at eighteen bead intervals, crystals include Fluorite, Amazonite and Apatite. The toggle closure has two strands - you can slip one or both toggle stones through the knotted loop to fasten the bracelet. Rudraksha seeds are traditionally used in Tibetan Buddhist malas. These counter beads are spaced with matt brown glass seed beads, knotted and strung with blue micro-macrame cord.
This is a handy meditation / mantra aid for times when you'd like something smaller and more light weight than a full mala. You can still count up to 108 with these bracelet beads - simply count twice through the beads. Use the toggle closure crystals as the guru bead.
Whilst the total length of this bracelet, including the toggle loop, is 55 cm (21.5") it would make a good fit for up to a 6.5" wrist circumference, or you can of course use this as a short necklace instead. Being natural, dried seeds, the Bodhi seed beads are not uniformly shaped. Their diameter is approx. 0.6 cm (0.2").
This mala bracelet comes in one of my handmade drawstring cork pouches for safe-keeping. Gift-wrapped at no extra charge.

Read more about Spirit Carrier mala beads
CRYSTAL PROPERTIES
BLUE FLUORITE
Attuned to the Third Eye chakra, enhancing intuitive visions and their accuracy. Promotes calm, rational thinking, directing one's activities toward an intended purpose. Fosters clear communication skills, inspiring honesty and sense of justice. Heals soul fragmentation through life times and aids cellular memory healing.
AMAZONITE
A stone of self-respect, confidence and grace. Soothes the spirit and calms the soul. Assists in connecting with one's intuition. Enhances creativity and self-expression. Empowers to move beyond fear, to live in alignment with your truth. A talisman for healing and prosperity, also said to bring in new business.
APATITE
Enhances one's insight and imagination, and gives increased self-confidence. Connects to high level of spiritual guidance and is helpful in letting go of anything that no longer serves your highest good. Helpful in bringing one's vision into reality and overcoming difficulties. Useful for energy workers, helping to maintain a clear energy field and balanced focus. Apatite crystal is also said to be a good aid in curbing one's appetite!
Recently Viewed