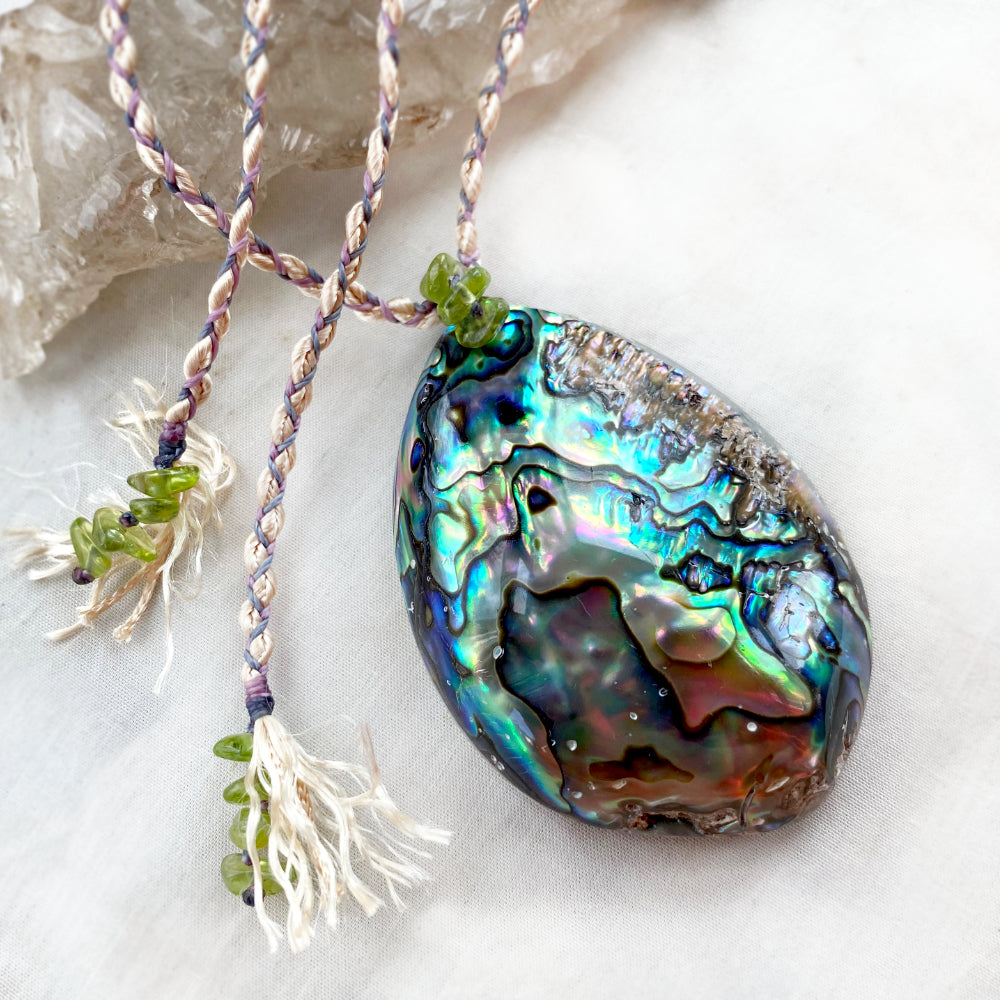 Abalone shell healing energy amulet
DESCRIPTION
Lovely iridescent Abalone shell with a flat mother of pearl backing. The shimmery shell has a gently curved shape and the natural shades resemble an abstract watercolour painting. This stunning pendant piece, although not small, is very light in weight and attaches with small Peridot crystals to a minimal braid of shimmery cream tone satin, combined with pale pink and muted blue micro-macrame cords. The ends of the braids are also adorned with small Peridot crystals. 
The length of the necklace is adjustable from very short down to around solar plexus level. The size of the Abalone shell is approx. 6.5 cm (2.6") tall and 4.5 cm (1.8") at its widest.
There are no metals in this necklace so would be particularly suitable for those with metal sensitivities, energy workers and those who simply prefer not to wear metal.
You'll receive this crystal healing necklace in one of my fabric draw-string pouches, great for the safe-keeping of the necklace. Gift-wrapped at no extra charge.

Read here how to take care of your crystal jewellery.
CRYSTAL PROPERTIES
ABALONE SHELL
Associated with peace, beauty, compassion and love. Instills feelings of harmony and balance. Stimulates intuition and encourages the use of imagination. Said to be a perfect gift for those who have been tossed and turned by life, to be a reminder that one's inner beauty will always shine through.
PERIDOT
Upbeat and comforting, Peridot reduces stress and amplifies intuitive awareness. Soothes hurt feelings, supporting renewal and personal growth. Brings in-depth heart based awareness, extending from healing to understanding and offering protection against negative emotions. Known also as the stone of prosperity and happiness.
Recently Viewed