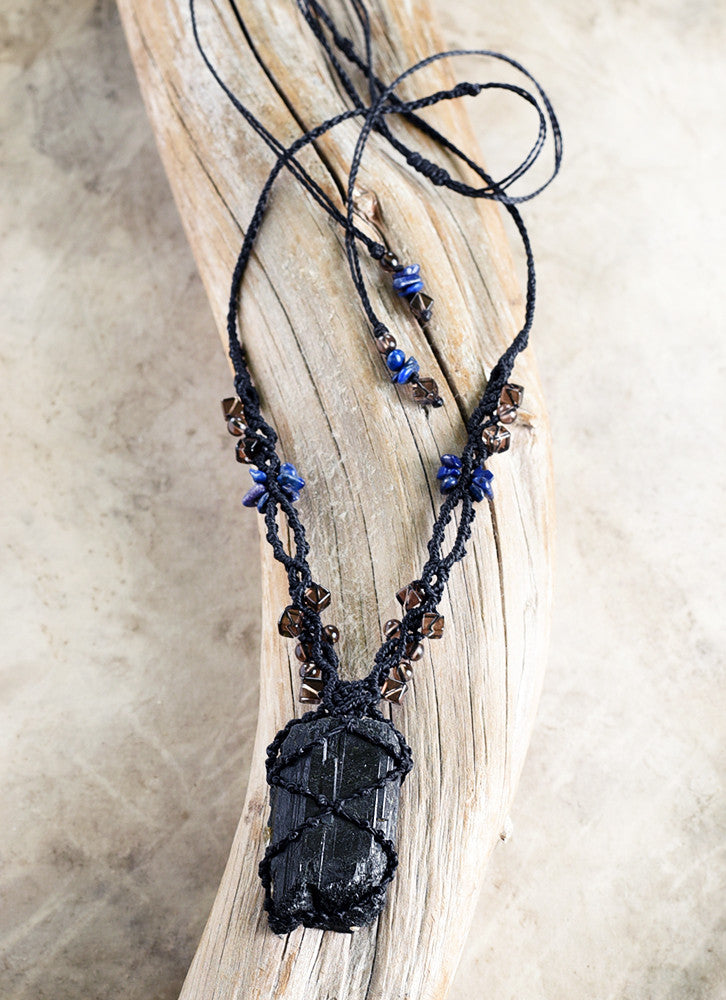 Aegirine crystal amulet with Smokey Quartz & Lapis Lazuli
DESCRIPTION
Crystal healing amulet with raw, un-drilled Aegirine crystal, among the less well-known but highly efficient protective stones. The necklace is intricately knotted in black micro-macrame cord in a lace-like pattern, highlighted with  Smokey Quartz and Lapis Lazuli crystals.
The length of the necklace is adjustable from very short down to solar plexus level. The Aegirine is approx. 4 cm (1.6") tall and 2.5 cm (1") at its widest.
There are no metals in this necklace so would be particularly suitable for those with metal allergy or sensitivity, for energy workers and those who simply prefer not to wear metal.
You'll receive this crystal healing necklace in one of my fabric draw-string pouches, great for the safe-keeping of the necklace. Gift-wrapped at no extra charge.
CRYSTAL PROPERTIES
AEGIRINE
Highly protective by sealing your energetic space against intrusion. Helps in finding the courage to shine one's inner light into the world. A stone of confidence and strength. Effective in breaking away negative attachments from one's etheric body.
SMOKEY QUARTZ
A grounding and calming stone that elevates moods and dissipates negative emotions. "A Stone of Serenity", it is comforting and protective for one's aura. Smokey Quartz is thought to assist in creative endeavours and also in setting personal boundaries. Offers protection against electromagnetic rays. A good healing stone for improving general feeling of well-being. Relieves anxiety and worry, wards off confusion. Shielding crystal to create a calm, safe environment.
LAPIS LAZULI
Creativity super charger stone. Ignites new ideas and encourages different creative ways of thinking. Stone of truthfulness, openness, inner power, intuition and manifestation. Thought to increase self-confidence as well as to promote spiritual healing, mental calmness and strength of will. Powerful tool for dream work. Historically a stone of royalty.
Recently Viewed