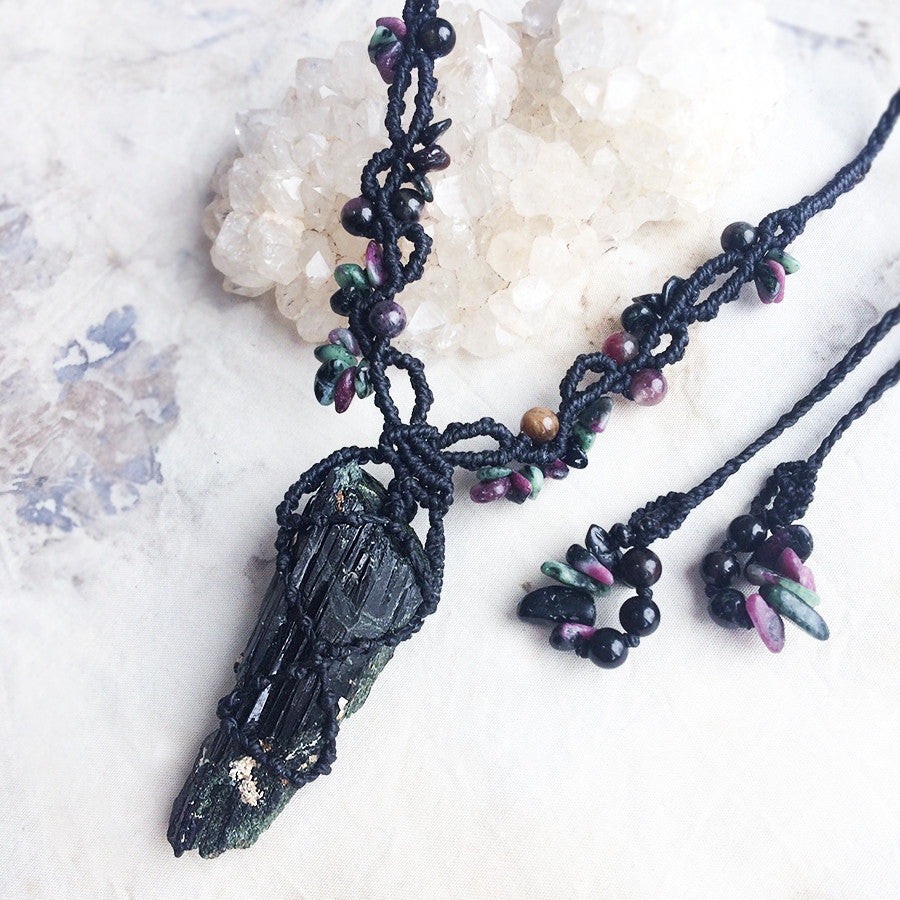 Aegirine crystal healing amulet
DESCRIPTION
Crystal healing amulet with raw, un-drilled Aegirine crystal, among the less well-known but highly efficient protective stones. The necklace is knotted in black micro-macrame cord, highlighted with Tourmaline (including Black) and Ruby in Zoisite crystals.
The length of the necklace is adjustable from very short down to solar plexus level. The Aegirine is just under 5 cm (2") tall and 2 cm (0.8") at its widest.
There are no metals in this necklace so would be particularly suitable for those with metal allergy or sensitivity, for energy workers and those who simply prefer not to wear metal.
You'll receive this crystal healing necklace in one of my fabric draw-string pouches, great for the safe-keeping of the necklace. Gift-wrapped at no extra charge.

Read here how to take care of your crystal jewellery.
CRYSTAL PROPERTIES
AEGIRINE
Highly protective by sealing your energetic space against intrusion. Helps in finding the courage to shine one's inner light into the world. A stone of confidence and strength. Effective in breaking away negative attachments from one's etheric body.
RUBY IN ZOISITE (aka ANYOLITE)
Powerful heart based crystal that stimulates positive feelings and gratitude for all you have in your life. Facilitates soul memory to bring more spiritual learning into your life. Increases feelings of empathy towards yourself and others. Connects the heart chakra to work in unison with the third eye chakra, but also activating the base and the crown chakras, creating a strong life-force energy.
TOURMALINE (multi-coloured)
Stone of abundance, protection and healing. Aids understanding oneself and others. Soothing and supportive. Reduces fears and promotes self-confidence. Removes energetic blockages, balancing the male/female energy within the body.
BLACK TOURMALINE (aka SCHORL)
One of the most well-known protective stones, shielding its user from negativity. A shamanic stone used for grounding during vision quests. Empowering for those who work in challenging environments. Purifies and transforms denser energies into lighter vibrations and is also detoxifying for the body. If you're sensitive to electromagnetic smog, you may get relief by wearing black Tourmaline.
Recently Viewed