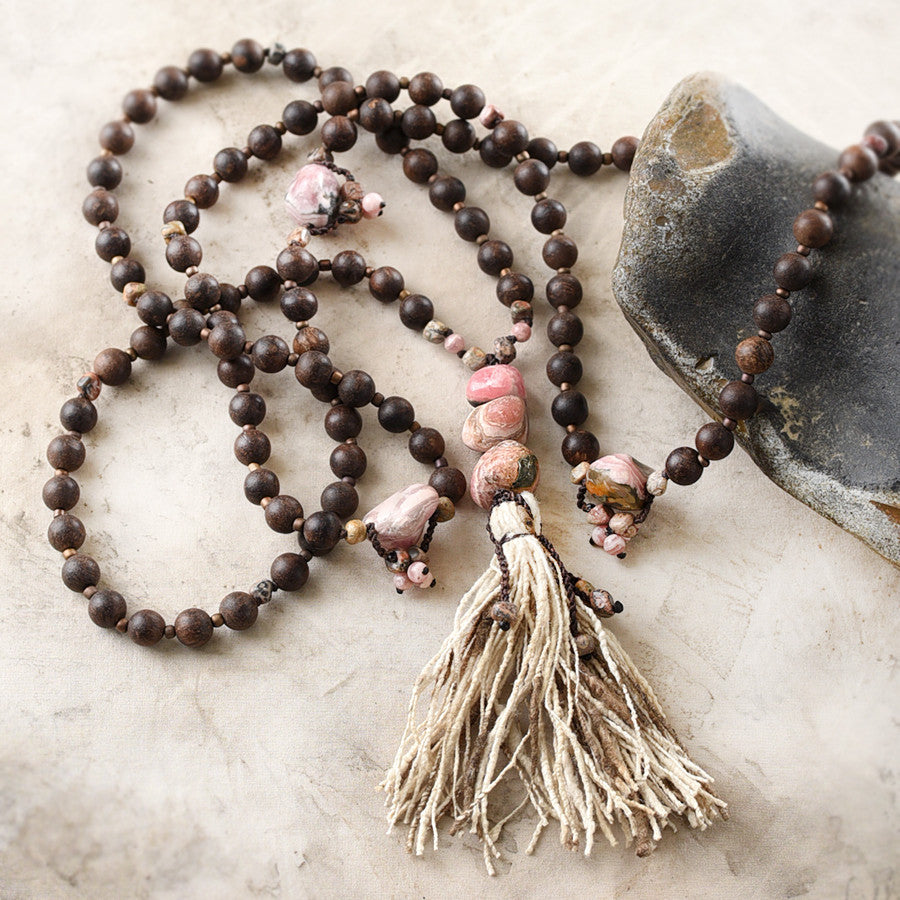 Agarwood mala with Rhodochrosite & Leopardskin Jasper
DESCRIPTION
One of a kind, contemporary 108 bead meditation mala with agarwood counter beads. 
The three dividers are a combination of Rhodochrosite and Leopardskin Jasper. The guru bead consists of three pebbles of Rhodochrosite and a tassel made of organic peace silk combined with short knotted strands ending in small Leopardskin Jasper beads.
Agarwood is traditionally regarded as a valuable aid on one's spiritual journey, bringing enlightenment and clarity as well as a sense of deep inner peace. Experienced practitioners recommend agarwood for providing motivation and devotion for meditation.
The wooden counter beads are spaced with matte brown glass seed beads, and knotted with dark brown micro-macrame cord at every nine bead interval around a small Leopardskin Jasper bead. This mala has a warm, 'flowing' feel, with the wooden beads softly following the contours of your hand when handled.
All around length of mala: 122 cm (48")
Counter bead diameter: 0.8 cm (0.3")
The width of the divider combination: approx. 2.5 cm (1") 
Length of guru bead & tassel combination: 11 cm (4.3")
This mala comes in one of my handmade soft leather pouches for safe-keeping. If you would rather have a fabric pouch, please let me know at the time of purchase. 
You'll receive this mala gift-wrapped at no extra charge.
Read more about Spirit Carrier mala beads
CRYSTAL PROPERTIES
RHODOCHROSITE
A stone of deep emotional healing. Comforting and positive, strengthening feelings of self-love, self-worth and self-forgiveness. Supportive heart-healer stone for those who are grieving or might feel stuck in the process. Repairs damages to one's subtle energy bodies. Helps in recovering lost talents you might have given up on due to past hurts, in order to discover your true purpose in this life.
LEOPARDSKIN JASPER
Powerful protection stone, associated with strength and vitality. Facilitates self-healing and is very supportive and nurturing. Attracts harmonious vibrations to one's life. Brings tranquility and a feeling of wholeness.
Recently Viewed