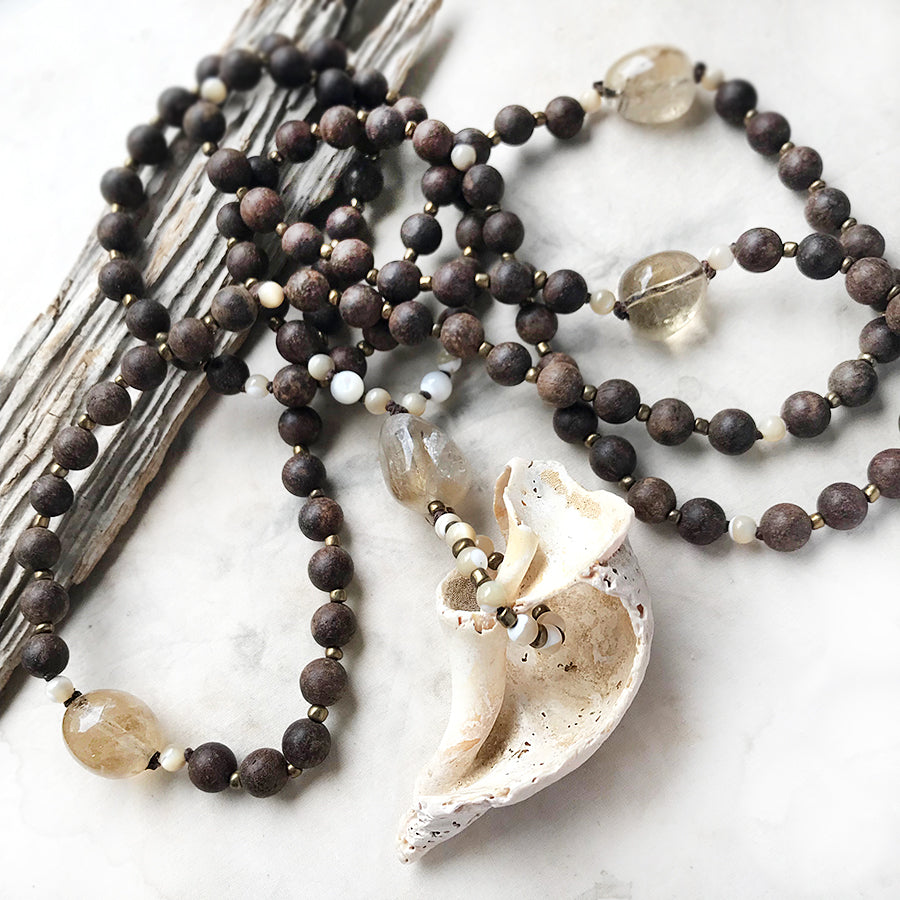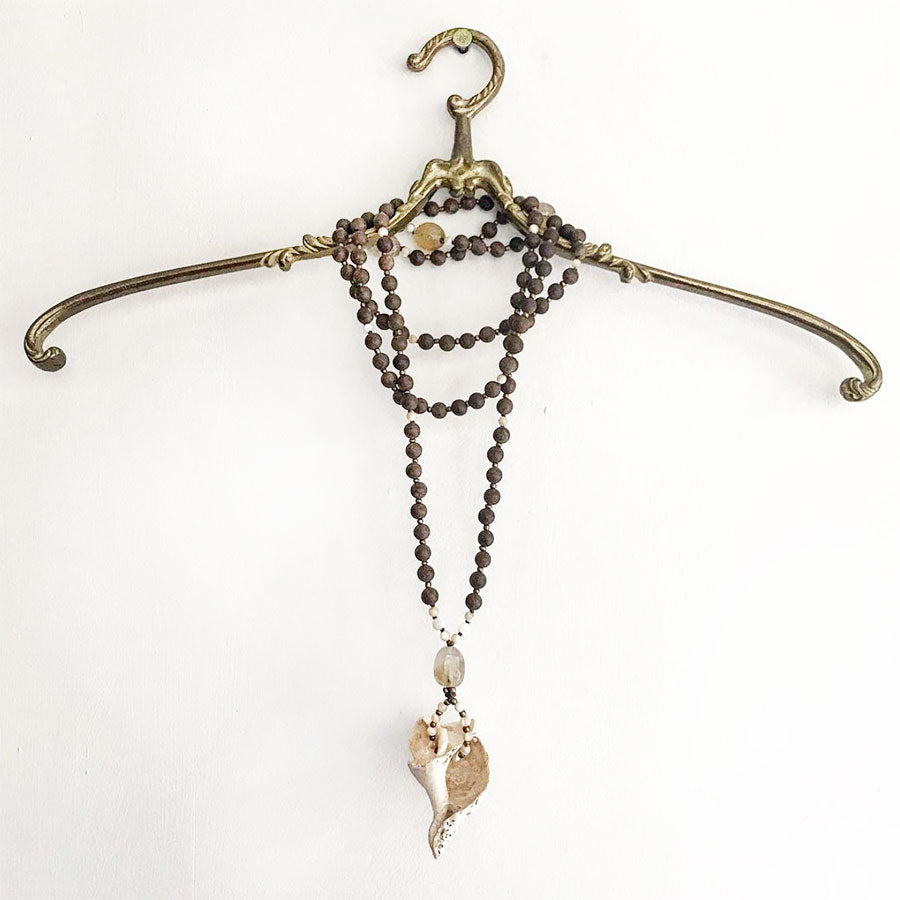 Agarwood meditation mala
DESCRIPTION
One of a kind, contemporary 108 bead meditation mala with brown Agarwood beads. The three dividers are a combination of smooth Citrine pebbles with tiny Mother of Pearl beads. The guru consists of a further Citrine pebble, strung with small Mother of Pearl beads to a rough seashell in cream tones.
The wooden counter beads are spaced with small matte golden sheen ceramic seed beads in asymmetrical organic shapes, and knotted with dark brown micro-macrame cord at every nine bead interval around a small Mother of Pearl bead. This mala has a stylish, 'flowing' feel, with the wooden beads softly following the contours of your hand when handled, and would make a beautiful meditation companion for someone who prefers a mala that's very light in weight with a gentle vibe and neutral colours.
All around length of mala: 120 cm (47") 
Counter bead diameter: 0.8 cm (0.3") 
The width of the divider combination: approx. 2.5 cm (1") 
Length of guru bead combination: just over 9 cm (3.5")
Please note that Spirit Carrier malas come usually in three sizes, determined by the diameter of the main counter beads - either 8 mm, 10 mm or 12 mm. This mala is the smallest size with 8 mm counter bead diameter (particularly suited for wearing as a necklace due to being lighter in weight and shorter in length than the larger meditation malas).
This unique mala comes in one of my handmade soft leather pouches for safe-keeping. If you would rather have a fabric pouch, please let me know at the time of purchase. You'll receive this mala gift-wrapped at no extra charge.

Read more about Spirit Carrier mala beads
CRYSTAL PROPERTIES
CITRINE
Affects a powerful alignment with the higher self. Balances the emotions and helps in uplifting one's mood to be more sunny and cheerful. Brings clarity of thought, and attracts abundance and prosperity through joy. Powerful transformer in healing work. Increases self-confidence and optimism, cleanses the surrounding energies and promotes creative thinking. Releases, dissipates and transforms denser energies on all levels, mental, emotional and physical. Works to release limitations and blockages particularly around the sacral / solar plexus area.
MOTHER OF PEARL
Associated with peace, beauty, compassion and love. Instills feelings of harmony and balance. Stimulates intuition and encourages the use of imagination. Said to be a perfect gift for those who have been tossed and turned by life, to be a reminder that one's inner beauty will always shine through.
Recently Viewed