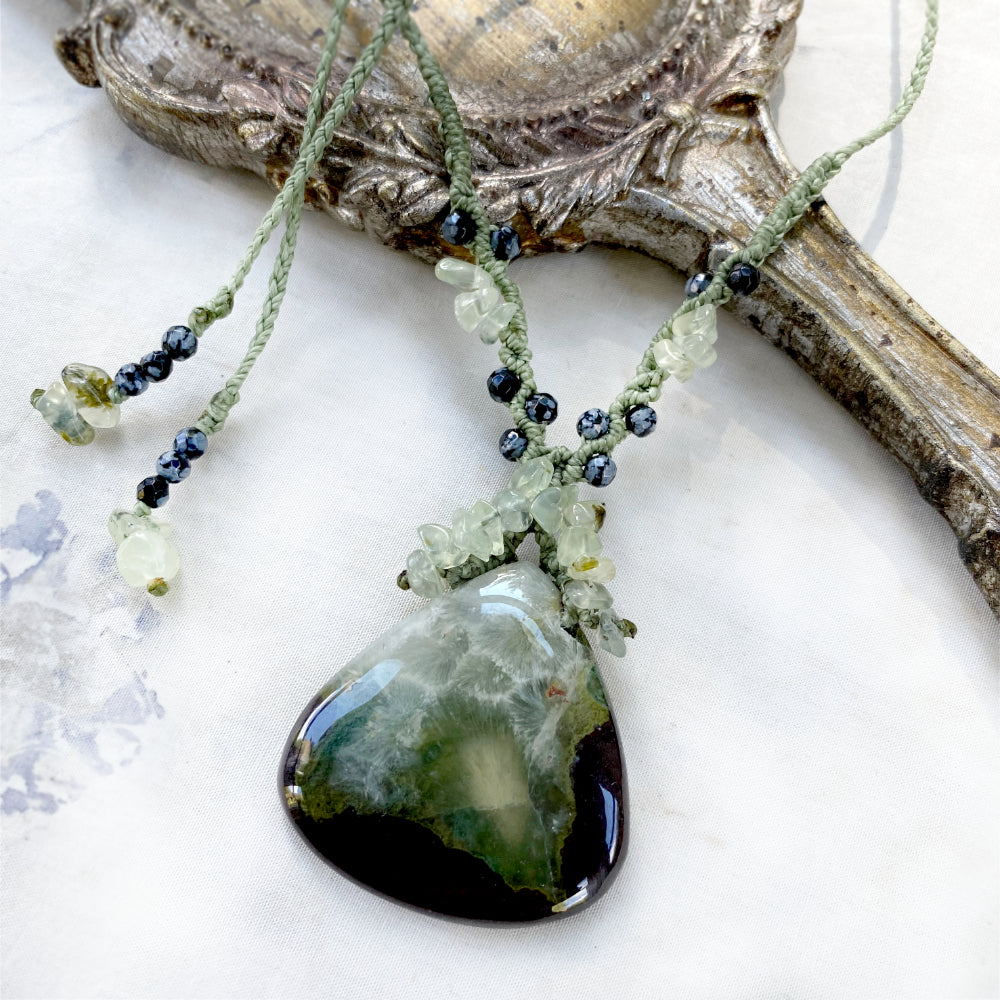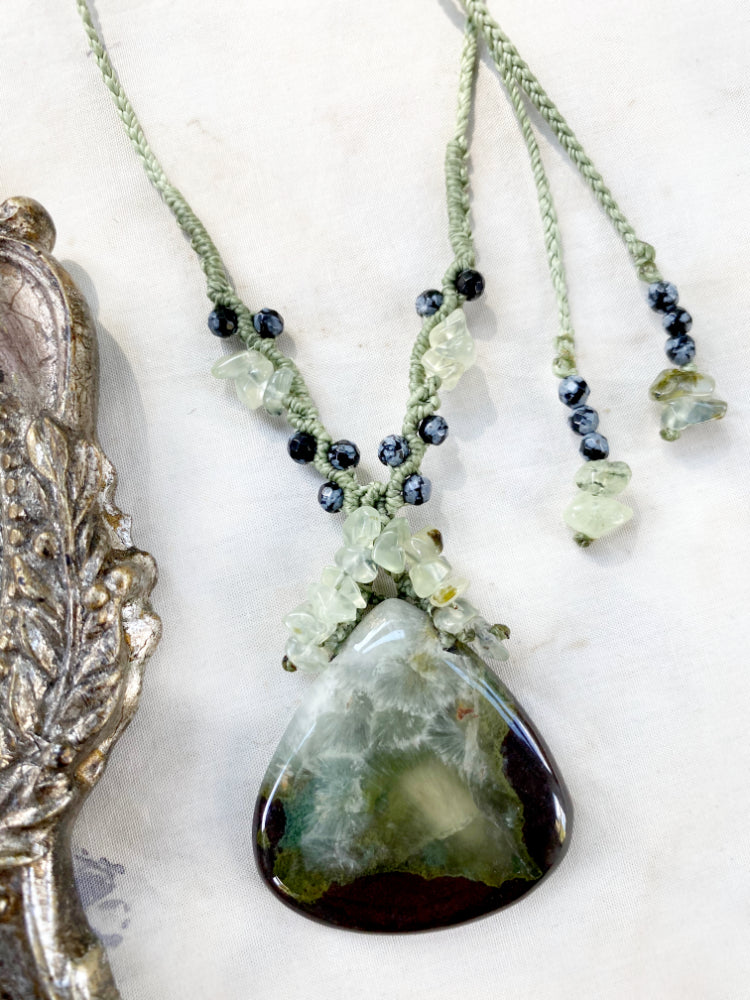 Agate crystal healing amulet
DESCRIPTION
A stylish crystal energy amulet with a smooth, drop-shaped, partly translucent Agate. The Agate shows beautiful natural patterning - with Agates, their different unique patterns are a sign of the crystal's specific healing energy so you may like to observe what this particular patterning is telling you about the skills of this stone.

The necklace is knotted with light green micro-macrame cord, strong and durable but soft and comfortable to wear, and highlighted with Prehnite and Snowflake Obsidians. Matching crystals also adorn the ends of the adjustable necklace cords.
The length of the necklace is adjustable from very short down to solar plexus level. The Agate slice is 4 cm (1.6") tall and approx. 4 cm (1.6") at its widest.
There are no metals in this necklace so would be particularly suitable for those with metal sensitivities / metal allergy, energy workers and those who simply prefer not to wear metal jewellery.
You'll receive this crystal healing necklace in one of Spirit Carrier's fabric draw-string pouches, great for the safe-keeping of the necklace. Gift-wrapped at no extra charge.

Read here how to take care of your crystal jewellery.
CRYSTAL PROPERTIES
AGATE
The oldest good luck amulet. In ancient times Persian magicians were, according to legend, diverting storms with the powers of Agate. Considered a protective stone (especially for travel), said to shield its keeper against dangers. Increases inner stability, enhances personal courage and fosters self-confidence. Grounding and soothing. Balancing stone for one's energy system to experience oneness instead of duality.
PREHNITE
Protective on all levels, strengthening one's life force. Fosters a sense of trust in the Universe and helps you protect your boundaries so it's easier to say "no" when needed. Stimulates inner knowing of oneself and guides in fulfilling one's potential. Helps to let go of unpleasant memories. Enhances spiritual "knowing". Revitalising and said to bring inner peace. Also said to be "a healer's healer".
SNOWFLAKE OBSIDIAN
Promotes a sense of calm and inner equilibrium, bringing balance to body, mind and spirit. A grounding, protective stone. Eases worries and when carried/worn helps one to stay balanced and centred throughout the day. Native American shamans often carried Snowflake Obsidian as a powerful talisman to avert evil and bring good fortune, also considering it to be the guardian of the Great Spirit.
Recently Viewed