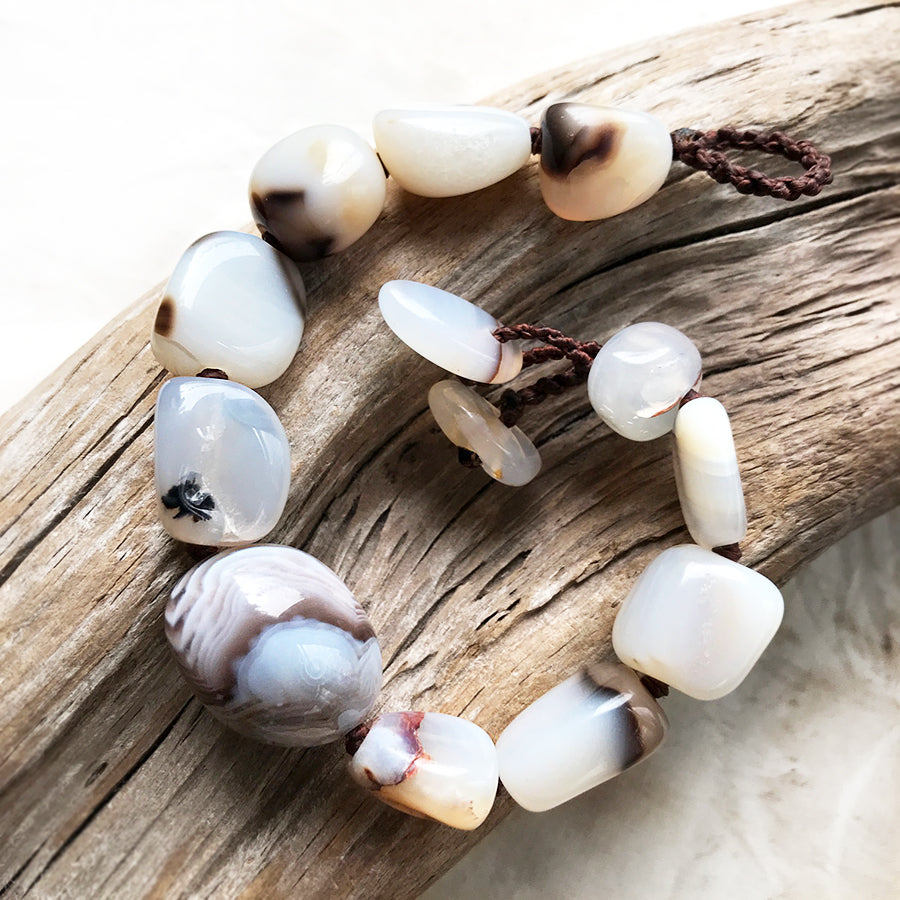 Agate crystal healing bracelet ~ for up to 6.5" wrist size
DESCRIPTION
Unusual chunky crystal healing bracelet, with smooth nuggets of Agate. The stones are mainly white and brown. The largest Agate in the middle shows a lovely natural pattern of banded lines and a slight hint of pink hue in parts. Knotted with a double thickness of brown micro-macrame cord with the toggle clasp of two Agates, both of which can be slipped through the knotted loop to secure the bracelet close. An eye-catching talisman accessory for an individual look.
The measured length of the bracelet is 7.7" (19.5 cm) including the toggle loop, the chunky stones make this a good fit for a 6.5" (16.5 cm) wrist.
The size of the Agates varies slightly, but on average they make for a bracelet width of approx. 0.6" (1.5 cm). The central Agate has a width of 2 cm (0.8").
There are no metals used in this bracelet, so it would be suitable for those with sensitivities to metals.
You'll receive this crystal healing bracelet in one of my fabric draw-string pouches, great for its safe-keeping.
Gift-wrapped at no extra charge.

Read here how to take care of your crystal jewellery.
CRYSTAL PROPERTIES
AGATE
The oldest good luck amulet. In ancient times Persian magicians were, according to legend, diverting storms with the powers of Agate. Considered a protective stone (especially for travel), said to shield its keeper against dangers. Increases inner stability, enhances personal courage and fosters self-confidence. Grounding and soothing. Balancing stone for one's energy system to experience oneness instead of duality.
Recently Viewed