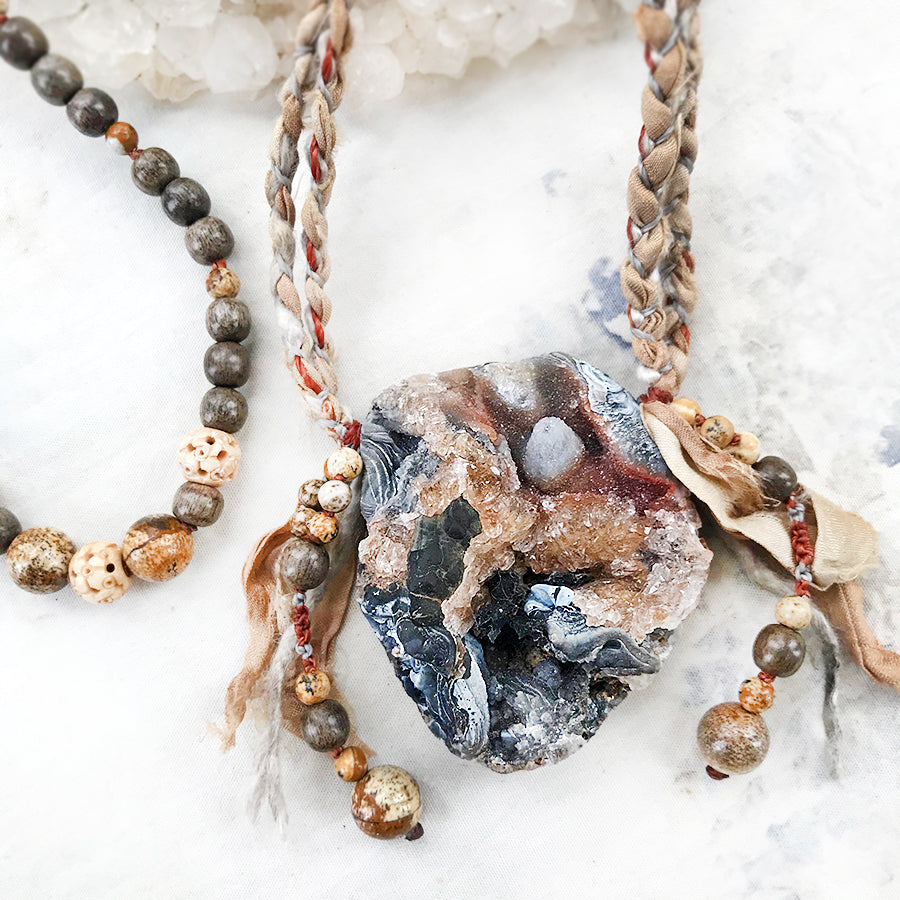 'Traveller's Strength' ~ Agate crystal healing talisman
DESCRIPTION
Crystal healing talisman with an unusual, natural Agate slice that shows a sculptural surface in various earthy tones, like a tactile, topographic map. Whether you travel in the physical world or in the energy realms, this unique stone could become a trusted companion.
Part of the necklace is braided with botanically eco-dyed recycled sari silk, combined with rusty brown micro-macrame cord. The top part of the necklace is knotted with Picture Jasper crystals, carved horn beads and grey wood beads - this strand connects the double braids on both sides and settles behind the neck when worn.
The necklace is set length with an all-around measurement of 62 cm (24.4"). The Agate is just over 4.5 cm (1.8") tall and approx. 4 cm (1.6") at its widest.
You'll receive this crystal healing talisman in one of Spirit Carrier's handmade fabric draw-string pouches - great for the safe-keeping of the necklace. Gift-wrapped at no extra charge.

Read here how to take care of your crystal jewellery.
CRYSTAL PROPERTIES
AGATE
The oldest good luck amulet. In ancient times Persian magicians were, according to legend, diverting storms with the powers of Agate. Considered a protective stone (especially for travel), said to shield its keeper against dangers. Increases inner stability, enhances personal courage and fosters self-confidence. Grounding and soothing. Balancing stone for one's energy system to experience oneness instead of duality.
PICTURE JASPER
Nurturing, comforting stone, associated with expanded creativity, invention and initiative. Helps in grounding one's ideas into reality. Believed to contain hidden messages from the past, connecting and grounding into the earth energies. Harmonious stone offering psychic protection during shamanic journeying as well as activating the third eye chakra. Inspires creative visualisation and is excellent for overcoming any creative blocks and clear away past hurts. Good for confidence, particularly helpful in business pursuits. Revered in many native cultures as a sacred stone of courage and wisdom.
Recently Viewed