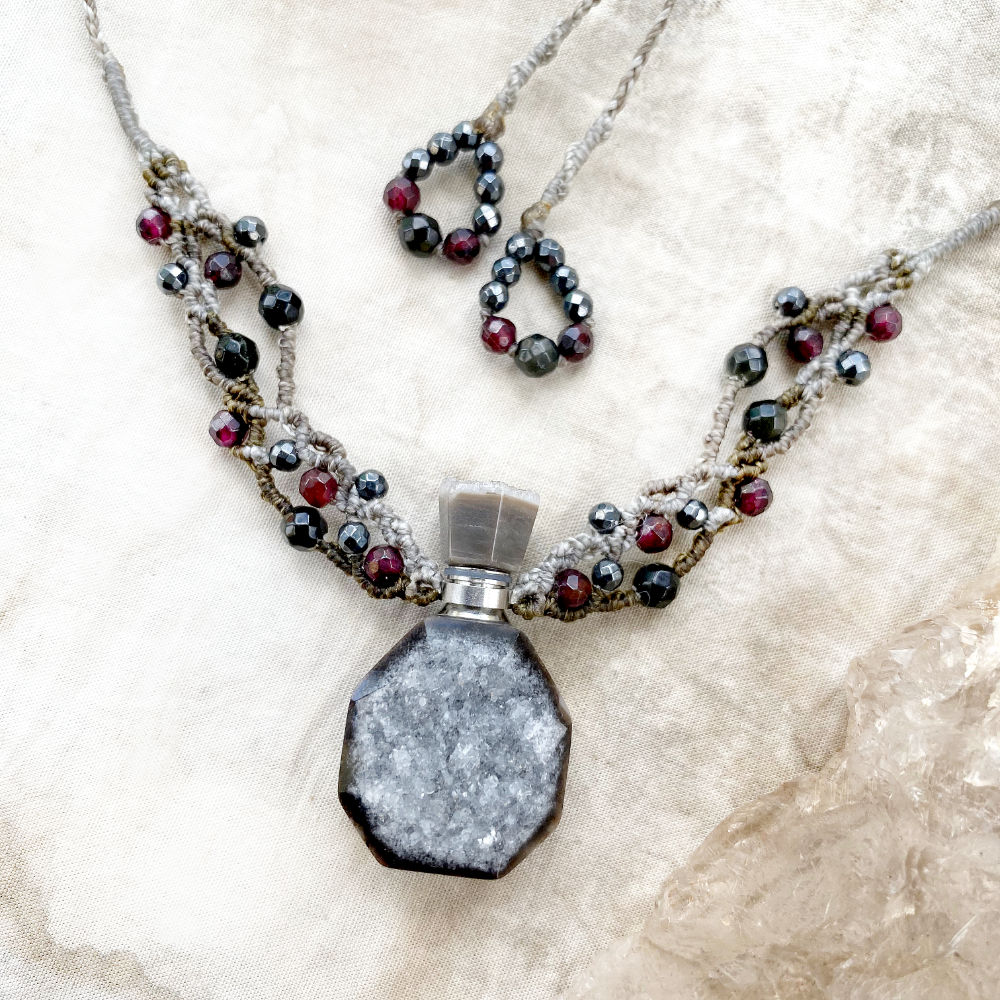 Agate Geode crystal scent bottle necklace
DESCRIPTION
Crystal healing talisman with a tiny bottle made out of Agate Geode - perfect for inserting your favourite perfume or essential oil to carry with you by wearing it. The necklace braid is a combination of two tones of micro-macrame cord, grey and muted earthy green, with highlighting crystals or Almandine Garnet, Golden Sheen Obsidian and Hematite.

Please note in case you have metal allergy: there is a small metal part around the neck of this bottle, from which it is attached to the necklace braid.

The necklace has a knotted channel through which you can pull the braided cords to change the length and have the bottle hang at your desired level. The Agate bottle is just under 3.5 cm (1.4") tall from the top of the cap to the base of the bottle, meaning the bottle part itself is just over 2 cm (0.9") tall. The bottle comes with a small pipette that you can use to insert your chosen scented liquid into the bottle.
You'll receive this crystal healing necklace in one of Spirit Carrier's fabric draw-string pouches, great for the safe-keeping of the necklace. Gift-wrapped at no extra charge.

Read here how to take care of your crystal jewellery.
CRYSTAL PROPERTIES
AGATE GEODE
Calms and strengthens body and mind. Soothing, instilling one with courage. Enhances creativity and stimulates the intellect. Great for increasing one's sense of self-worth and self-acceptance. Protective, grounding, purifying. Wonderful healing support for anything to do with feminine energies.
ALMANDINE GARNET
Stimulates one's life force. Supports the root chakra while drawing earth energy into the body, helping you to feel secure and centred. Awakens the "inner fire" of creativity. Highly protective stone and a great companion to keep you energised. Excellent good fortune and 'success' stone in both social and career ventures, adding positive vibes both in your personal or business life. Stone of purification and cleansing. Symbolises passionate, devoted love.
HEMATITE
Creates a strong sense of self and enhances the creative flow. Relieves stress. Revitalises, enhancing personal magnetism and optimism. Helps in releasing self-imposed limitations to find your own unique gifts. A stone of balance and equilibrium. Grounds when feeling scattered, allows one to maintain a natural alertness while remaining calm.
GOLDEN SHEEN OBSIDIAN
Protective stone that helps one achieve harmony and solve problems relating to past, present and future. Helps in settling inner emotional conflicts and keeps one from entering into outer conflicts so one is free to follow one's spiritual path. Shielding stone that encourages one to stay positive. Transmuting stone to keep negativity at bay. Said to open a window to one's soul and brings out any hidden talents one may have.
Recently Viewed