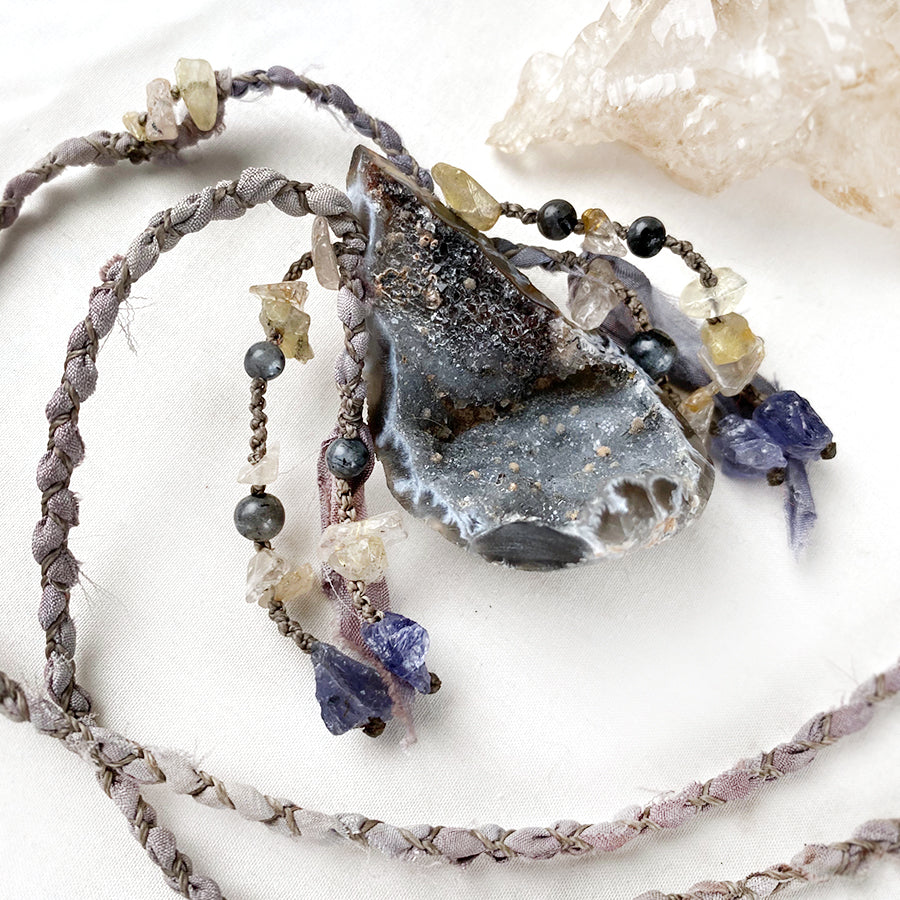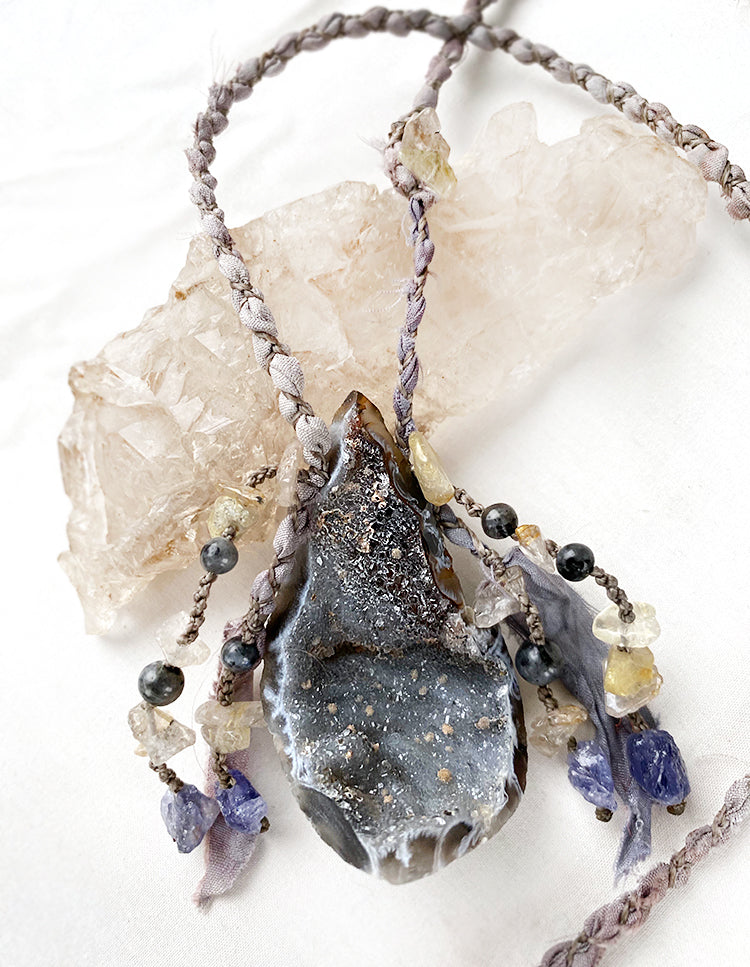 Agate Geode crystal healing talisman
DESCRIPTION
Naturally curving, sculptural Agate geode slice, mainly in tones of grey. The necklace is braided with a combination of faded greyish purple recycled sari silk and grey micro-macrame cord. The talisman is highlighted with raw Iolite crystals, Gold rutile Quartz and small Norwegian Moonstone crystal adorning both sides of the geode. 
The necklace braid is set length, allowing the Agate to hang down approx. 37.5 cm (11.5") measured from the back of the neck to the top edge of the Agate. The all-around length of the necklace braid is 75 cm (29.5"). The necklace will simply slip over your head so there is no need for any closing clasps.
The Agate geode is approx. 5 cm (2") tall and 3 cm (1.2") at its widest.
There are no metals in this necklace so would be particularly suitable for those with metal sensitivities / metal allergy, energy workers and those who simply prefer not to wear metal.
You'll receive this crystal healing necklace in one of my handmade fabric draw-string pouches - great for the safe-keeping of the necklace. Gift-wrapped at no extra charge.

Read here how to take care of your crystal jewellery.
CRYSTAL PROPERTIES
AGATE GEODE
Calms and strengthens body and mind. Soothing, instilling one with courage. Enhances creativity and stimulates the intellect. Great for increasing one's sense of self-worth and self-acceptance. Protective, grounding, purifying. Wonderful healing support for anything to do with feminine energies.
IOLITE
Aids in making inner visions more vivid, dissolving fear of the unknown. Helps in blending everyday conscious thinking with intuitive inner knowing. Awakens psychic gifts, activating and clearing the third eye. Helps accessing communication from higher vibratory realms. Helps one to act and respond to situations from one's higher guidance.
GOLD RUTILE QUARTZ
A master assistant in self-discovery, a companion in finding one's inner truth, purpose and destiny. Joyful and energising. Thought to offer protection against psychic attacks and helps in opening up to one's Divine strength. Assists in activating one's creativity and manifesting dreams into reality.
NORWEGIAN MOONSTONE (aka Black Labradorite, Larvikite)
Repels negative energy and can make you more adaptable to life's situations. It also stimulates inner visions so it's very suited to meditation. Black Labradorite is also said to connect with nature spirits. On physical level, it is said to be good for renewing and maintaining vitality and youthfulness.
Recently Viewed