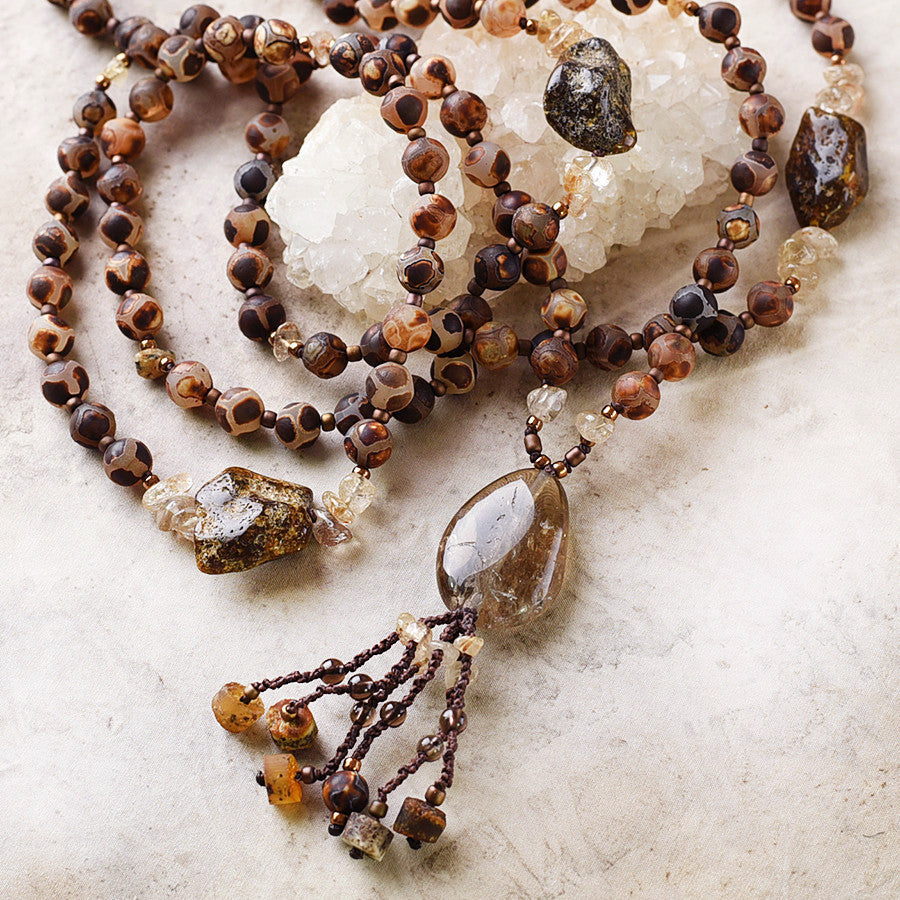 Agate mala with raw Baltic Amber, Gold Rutile Quartz & Smokey Quartz
DESCRIPTION
One of a kind, contemporary 108 bead meditation mala with dzi Agate counter beads. The three dividers are a combination of raw Baltic Amber and Gold Rutile Quartz. The guru bead consists of Smokey Quartz and a 'tassel' of six knotted strands, five of them ending in Amber, one in Agate. The three raw Amber pieces came to me from a rare vintage lot, originating from the Latvian coast. Having saved them for quite a few years for the right moment, this mala finally claimed their presence!
The Agate counter beads are spaced with small, matte brown glass seed beads in asymmetrical organic shapes. The mala is knotted with dark brown micro-macrame cord, including a small Gold Rutile Quartz crystal, highlighted with bronze tone spacers, at every nine bead intervals. Whilst this mala is long, it's not too heavy, so would suit wearing wrapped around either longer or shorter. There's a earthy yet luxurious feel to this unique mala. 
All around length of mala: 132 cm (52")
Counter bead diameter: 0.8 cm (0.3")
The size of the dividers: approx. 4 cm (1.6") at longest measurement 
Length of guru bead combination: 7 cm (2.75")
This mala comes in one of my handmade soft brown leather pouches for safe-keeping. If you would rather have a fabric pouch, please let me know at the time of purchase. 
You'll receive this mala gift-wrapped at no extra charge.
Read more about Spirit Carrier mala beads
CRYSTAL PROPERTIES
AGATE
The oldest good luck amulet. In ancient times Persian magicians were, according to legend, diverting storms with the powers of Agate. Considered a protective stone (especially for travel), said to shield its keeper against dangers. Increases inner stability, enhances personal courage and fosters self-confidence. Grounding and soothing. Balancing stone for one's energy system to experience oneness instead of duality.
SMOKEY QUARTZ
A grounding and calming stone that elevates moods and dissipates negative emotions. "A Stone of Serenity", it is comforting and protective for one's aura. Smokey Quartz is thought to assist in creative endeavours and also in setting personal boundaries. Offers protection against electromagnetic rays. A good healing stone for improving general feeling of well-being. Relieves anxiety and worry, wards off confusion. Shielding crystal to create a calm, safe environment.
BALTIC AMBER
Amber is like sunshine solidified, offering a wonderful sense of health and wellbeing. Transmutes negative energies into positive, excellent for psychic protection. Cheers you up and helps you take action to make your ideas reality - ideal manifestation aid. Cleansing effect on the body, mind and spirit, promoting self-confidence and creative self-expression. Encourages spontaneity, patience and inner wisdom.
GOLD RUTILE QUARTZ
A master assistant in self-discovery, a companion in finding one's inner truth, purpose and destiny. Joyful and energising. Thought to offer protection against psychic attacks and helps in opening up to one's Divine strength. Assists in activating one's creativity and manifesting dreams into reality.
Recently Viewed