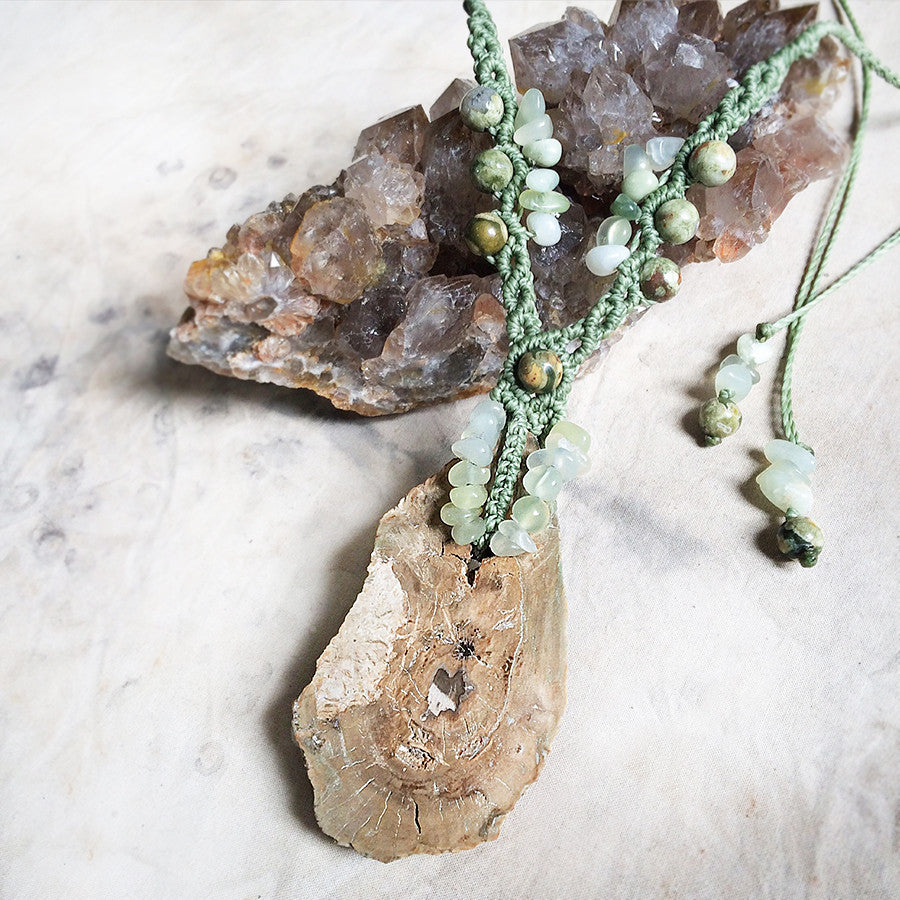 Petrified Wood crystal healing necklace
DESCRIPTION
Crystal healing amulet combining the energies of Petrified Wood (aka Agatised Wood) with green Calcite and Rhyolite. The main stone is a 'hagstone', i.e. with a natural hole, through which it attached to the light green, intricately knotted. This is a perfect daily wear crystal amulet in neutral tones, easy to just sling on and go, to carry these supportive vibes with you. 
The length of the necklace is adjustable from very short down to solar plexus level. The Petrified Wood is approx. 5.5 cm (2.2") tall and approx. 3 cm (1.2") at its widest.
There are no metals in this necklace so would be particularly suitable for those with metal sensitivities, energy workers and those who simply prefer not to wear metal.
You'll receive this crystal healing necklace in one of my fabric draw-string pouches, great for the safe-keeping of the necklace. Gift-wrapped at no extra charge.
Read here about how to take care of your natural crystal jewellery.
CRYSTAL PROPERTIES
PETRIFIED WOOD (Agatised wood)
Stone of transformation, assisting its keeper to advance to their highest chosen soul level. Helps in distinguishing between things that matter and those that don't. Strengthening to one's will power as well as physical stamina. Grounding and protective, calms the nerves and encourages feelings of well-being. A stone of ancient energies that in meditation can reveal wisdom about past lives.
CALCITE
Calming and peaceful, amplifies and increases energy in general. Protects and purifies. Helps in remaining detached from chaos and in dealing with challenges. Increases one's sense of self-worth. Green Calcite is supportive for emotional balance and stress relief. Known as stone of manifestation, especially useful in manifesting prosperity and success. Associated with the heart chakra, releasing beliefs that might be holding you back.
RHYOLITE
Balancing stone on all levels, alleviating anxiety and worries. Builds emotional strength in view of fulfilling ones dreams and goals. Shifts energy towards moving forward, assists in visualising desired change. Ignites creativity, helping to make things happen in one's life and to tap into one's innate abilities. Also thought to help its keeper to look and feel younger!
Recently Viewed