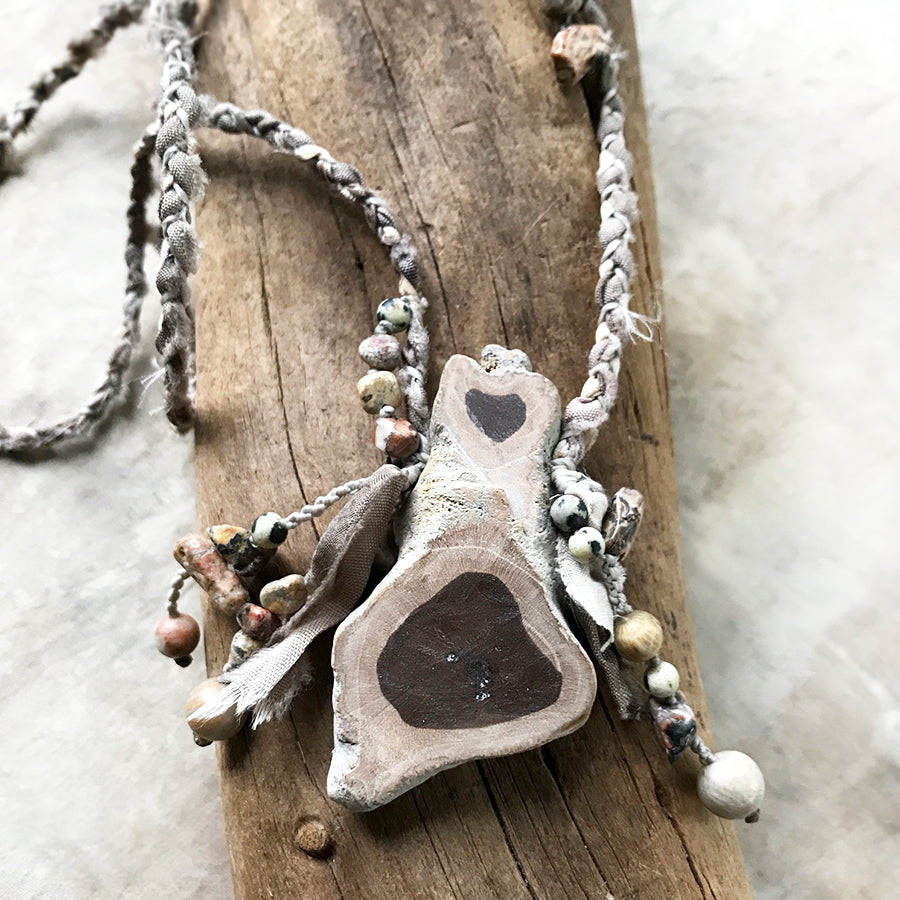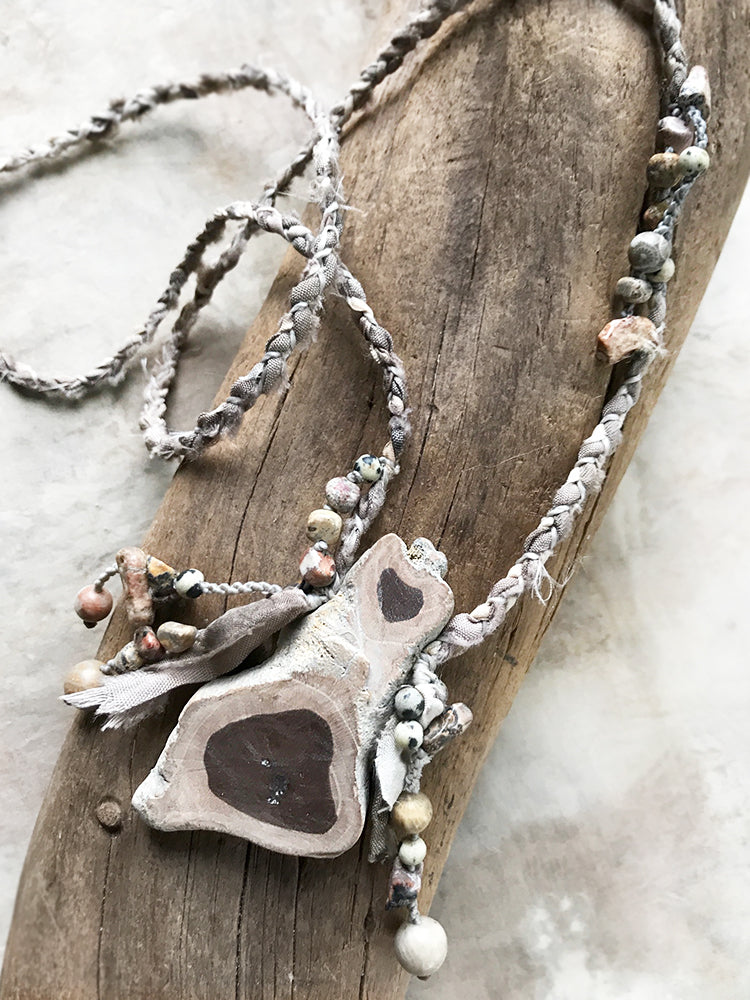 Wood Agate stone talisman
DESCRIPTION
Rough slice of Wood Agate in a natural subtle tones and organic shape. The necklace is braided with a combination of botanically eco-dyed sari silk and grey micro-macrame cord, giving this talisman a very earthy, 'wabi sabi' look. The talisman is highlighted with Leopardskin Jasper, Dalmatian Jasper and Petoskey Stone strands that are adorning the sides of the main stone. There is also a strand of these crystals dangling higher up one side of the necklace braid.
The necklace braid is set length, allowing the Wood Agate to hang down 32 cm (12.6") measured from the back of the neck to the top edge of the stone - i.e. the all-around length of the necklace braid is approx. 64 cm (25"). The Wood Agate is approx. 5.5 cm (2.2") at its tallest and 3 cm (1.2") at its widest.
There are no metals in this necklace so would be particularly suitable for those with metal sensitivities, energy workers and those who simply prefer not to wear metal.
You'll receive this crystal healing necklace in one of my handmade fabric draw-string pouches - great for the safe-keeping of the necklace. Gift-wrapped at no extra charge.

Read here how to take care of your crystal jewellery.
CRYSTAL PROPERTIES
WOOD AGATE (also called Petrified Wood & Agatized Wood)
Stone of transformation, assisting its keeper to advance to their highest chosen soul level. Helps in distinguishing between things that matter and those that don't. Strengthening to one's will power as well as physical stamina. Grounding and protective, calms the nerves and encourages feelings of well-being. A stone of ancient energies that in meditation can reveal wisdom about past lives.
LEOPARDSKIN JASPER
Powerful protection stone, associated with strength and vitality. Facilitates self-healing and is very supportive and nurturing. Attracts harmonious vibrations to one's life. Brings tranquility and a feeling of wholeness.
DALMATIAN JASPER
Helps in removing barriers that prevent you from moving forward in life, and to discover your true purpose of being in the world. Brings joy and playfulness into one's life. The black spots in this stone are Black Tourmaline, which adds to this stone's protective qualities.
PETOSKEY STONE
A supportive companion at times of transformation and major shifts in one's being. Encourages the integration of new positive changes into our life. Helps in developing one's intuitive senses and to feel the connection with subtle energies. Enhances imagination and creativity. Calls its keeper to recognise and appreciate their own unique individuality which makes life even richer.
Recently Viewed