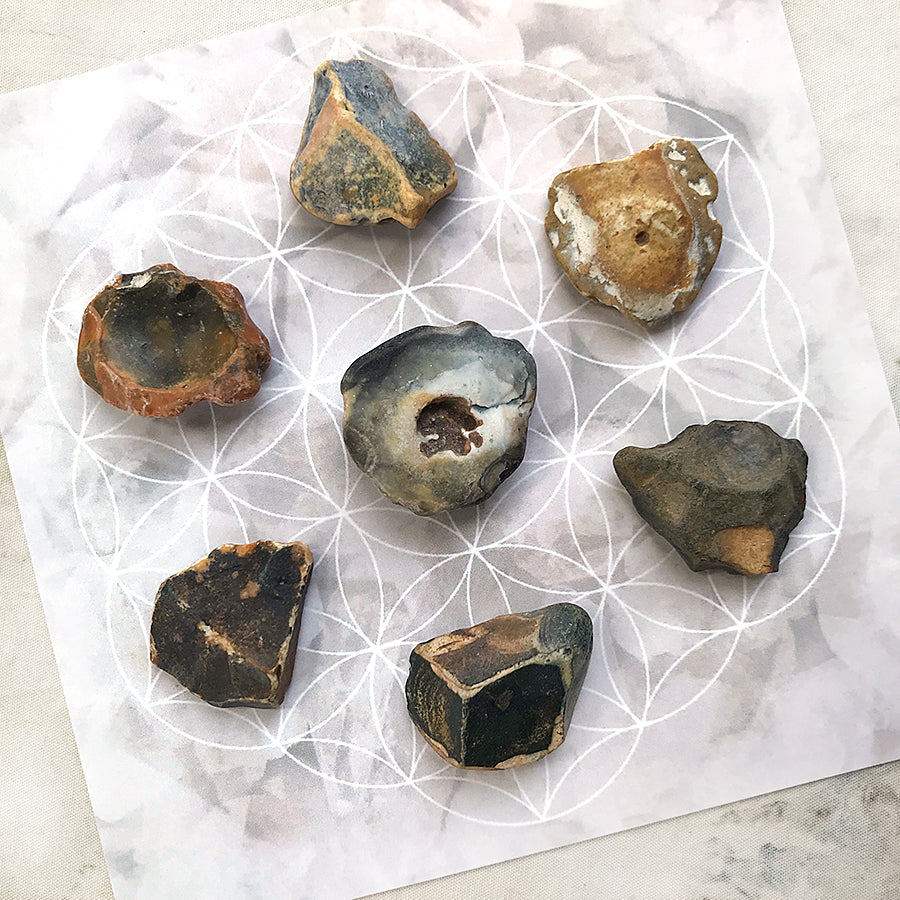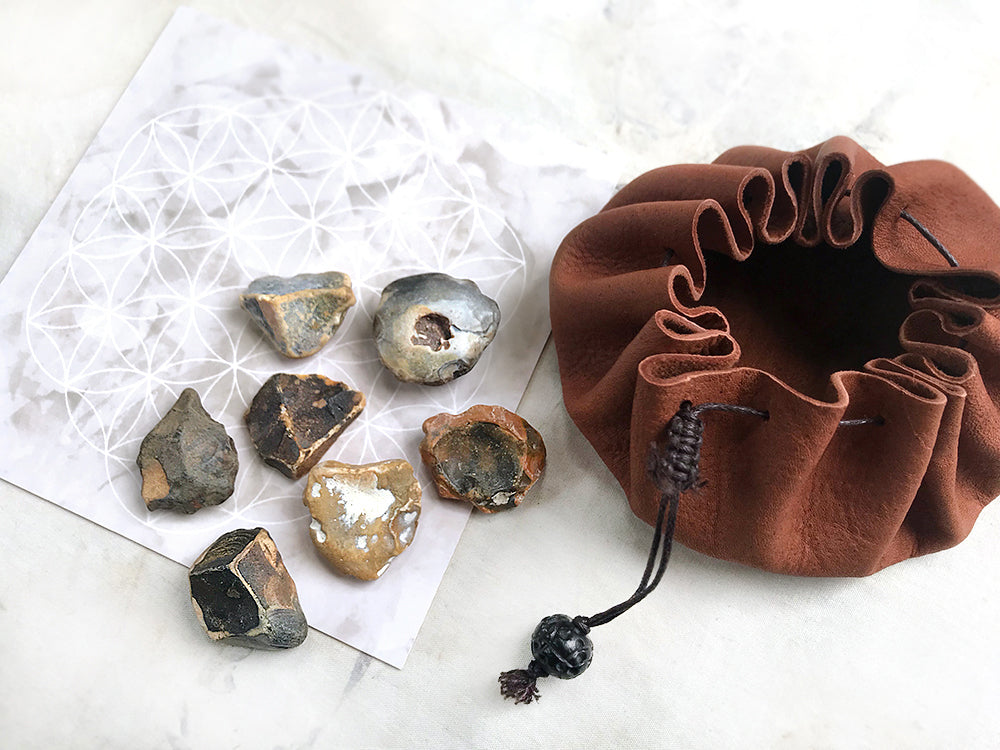 'Alignment & Manifestation' ~ crystal grid set
DESCRIPTION 
Crystal grid set with 7 rough Flint pebbles in a soft brown leather drawstring pouch, comes with Spirit Carrier's 'Flower of Life' sacred geometry base. You can use the photo here as a guide how to set the stones on the grid when you receive it, or you may choose to change the positions according to your own intuitive guidance - as well as substituting some with or adding crystals from your own collection.
The stones in this grid (pictured) that you receive, come to you energetically purified and empowered to fully embody their own potential and crystal soul essence. Flint is a wonderfully multi-faceted stone with several skills. It is most suitable for grounding higher light vibrations to the physical plane (and as such, manifesting into the physical something that as of yet only exists as a vision), calling your spiritual allies, acting as a portal to higher dimensions and as a grounding help in shamanic journeying.
Once your grid is set in your chosen calm place, focus on your intention that would be supported by the natural skills of Flint. If you have adopted your own methods for activating a crystal grid, do what feels natural to you. If you're new to crystal grids, there's no complexity needed. Simply hold your focus, state your intention clearly and feel a heart connection with the grid. You may use your hand/fingers to touch the centre stone (and the others) if this helps your focus. You will feel a flow of energy and learn to notice whether through a physical sensation in your body or a general feeling within when the grid resonates as complete and you can allow it to be.
Most of all relax, follow your own intuition and enjoy!
The leather of the pouch is vegetable tanned reindeer hide from Lapland, and includes a carved rosewood accent on the drawstring closure. The pouch diameter when empty and closed is approx. 8.5 cm (3.3").
Gift-wrapped at no extra charge.

CRYSTAL PROPERTIES
FLINT
Ancient protection amulet, calling in spiritual guides and allies. Helps cut away anything that is not in your highest good, dissolving energetic blockages and detaching negative etheric ties from the aura and chakras. Increases self-esteem and courage. Purifies its environment. Said to prevent nightmares. Known as a "Portal Stone", facilitating your connection with higher dimensions and with your true self. Grounding vibe, which resonating with the Earth Star chakra, yet also corresponds to the Soul Star chakra, offering spiritual expansion and allowing you to ground higher spiritual knowledge into your physical existence. Excellent electromagnetic conductor, thus useful for those who are sensitive to EMF pollution. 
Recently Viewed