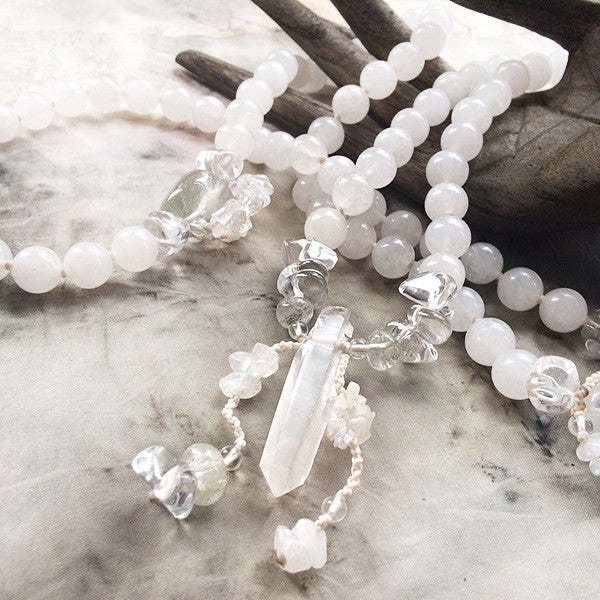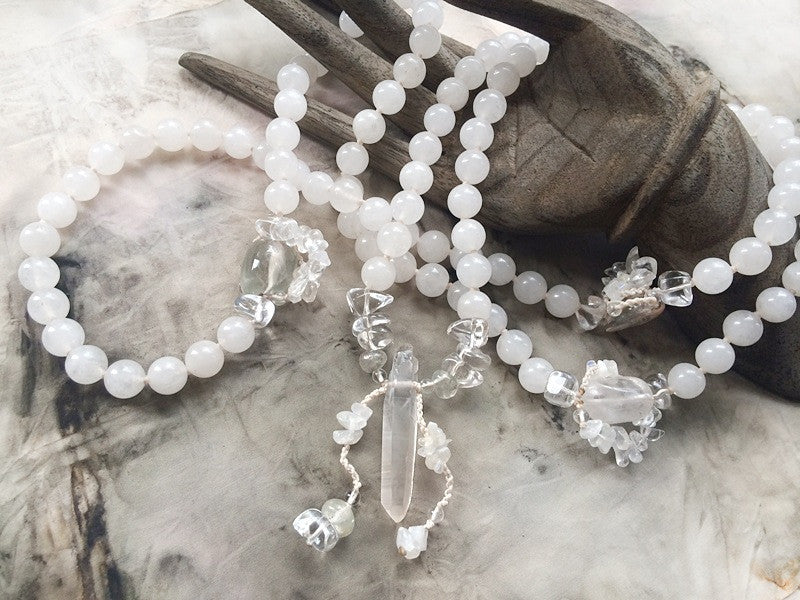 All white mala with Agate, Quartz, Shaman Dream Stone Quartz & Rainbow Moonstone
DESCRIPTION
One of a kind, contemporary 108 bead meditation mala with white Agate counter beads. The three dividers are a combination of Shaman Dream Stone Quartz, clear Quartz and Rainbow Moonstone. The guru bead consists of a slender Lemurian Quartz point and strands decorated with the same crystals as the dividers.
Each counter bead is knotted one by one for durability and ease of handling, using natural white micro-macrame cord. This mala comes in one of my handmade soft brown leather pouches for safe-keeping. If you would rather have a fabric pouch, please let me know at the time of purchase.
All around length of mala: 134 cm (52.5")
Counter bead diameter: 1 cm (0.4")
Length of guru bead crystal combination: 6 cm (2.4")
The Lemurian Quartz point is 5 cm (2") tall.
I draw artistic inspiration for these contemporary yoga meditation beads from the ancient decorative Buddhist malas from Tibet that were often given as gifts to Chinese courts and called "Chinese court necklaces". I match the stones and crystals carefully to create an energetic combination in the mala that will benefit the keeper in an individual way. All of my malas are one-of-a-kind.
Whilst this mala is made with Tibetan Buddhist bead count (108 beads), all Spirit Carrier malas are dedicated to the Highest Good of All – its future keeper may bless the mala for their own purpose and use it for their own personal way of meditation.
CRYSTAL PROPERTIES
Crystal healing properties:
WHITE AGATE
Stone of spiritual development, associated with the crown chakra. Agate is protective, assists in discerning the truth, enhances personal courage, helps awaken inherent natural talents, brings prosperity.
LEMURIAN QUARTZ
Helps in retrieving ancient knowledge and wisdom to create spiritual healing in one's life. Activates its keeper's intuitive energy. Assists in resolving complex issues, often bringing "instant knowing". A wise teacher crystal with feminine energy, for those committed to their spiritual path.
SHAMAN DREAM STONE (aka Lodolite, Garden Quartz)
Associated with the crown chakra, enhances one's sensitivity to invisible energies, helps in manifesting one's desires, brings harmony to one's aura, emanates strong yet gentle healing energies.
CLEAR QUARTZ
The universal master crystal that has a harmonising effect on all levels of being. Programmable by intention, so can be used for versatile purposes. Quartz can clear, enhance, amplify, transmute, balance, focus and transmit energy. Raises one's energetic vibration. Attunes its keeper to their higher self. Known as the "Stone of Power" and "Master Healer".
RAINBOW MOONSTONE
Calming and soothing with protective qualities. Assists in finding one's true path in life and embrace one's innate gifts. Helps in providing insights and sheds light into unclear issues. Thought to facilitate communication with spiritual and physical world, and to bring out psychic abilities. Intensifies one's feminine 'Goddess' energy, assisting women to embrace their innate personal strength.
Recently Viewed