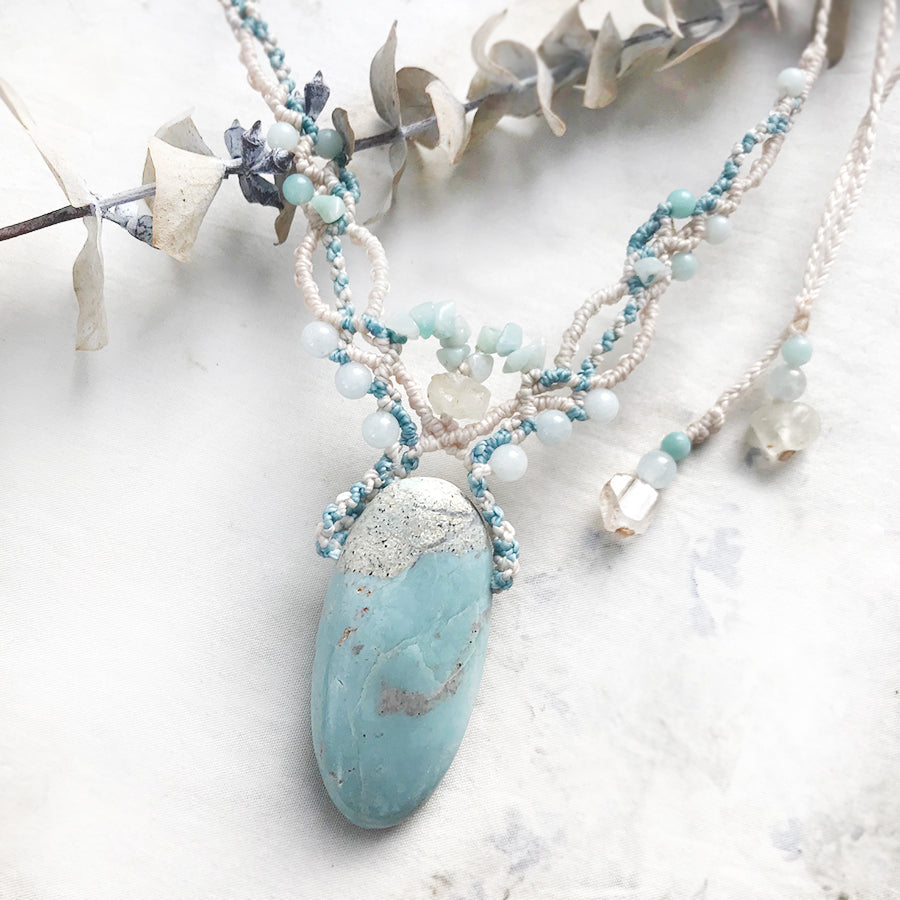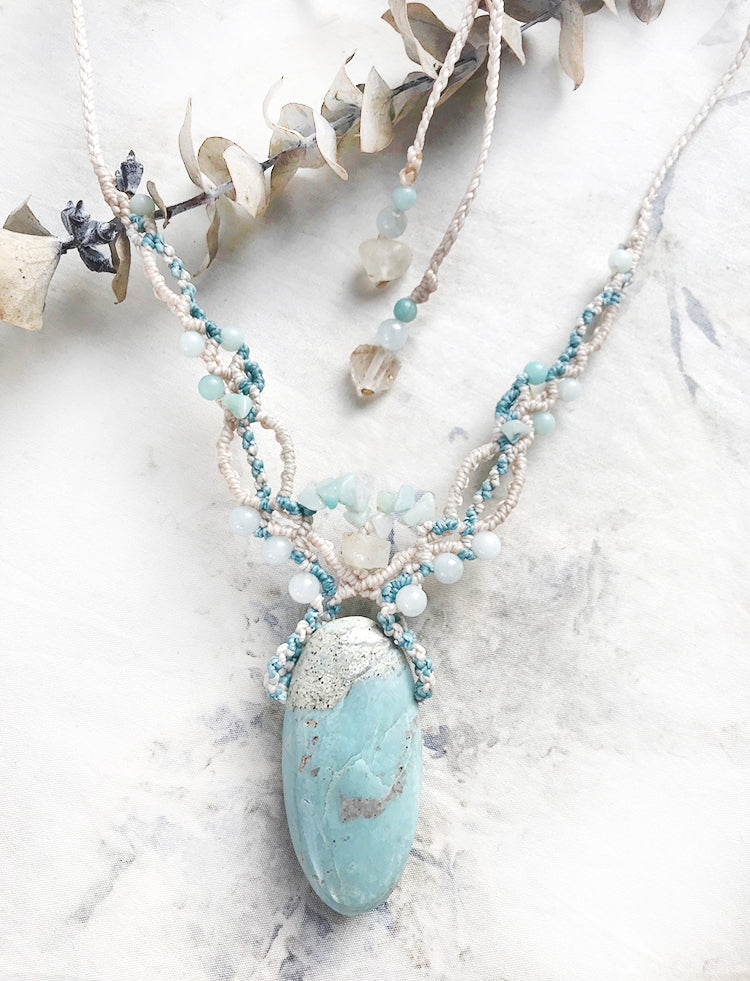 Amazonite crystal healing amulet
DESCRIPTION
Crystal healing necklace with a stunning smooth Amazonite oval, displaying a unique pattern of cream and sky blue. The necklace is knotted with a combination of cream tone and light sky blue micro-macrame cords. The intricate knotting is accented with a rough cut Topaz just above the Amazonite, and Aquamarine and further small Amazonites. The ends of the adjustable necklace cords are decorated with matching crystals.
The length of the necklace is adjustable from very short down to solar plexus level. The Amazonite is just over 5 cm (2") tall and just under 2.5 cm (1") at its widest.
There are no metals in this necklace so would be particularly suitable for those with metal sensitivities / metal allergy, energy workers and those who simply prefer not to wear metal.
You'll receive this crystal healing necklace in one of my fabric draw-string pouches, great for the safe-keeping of the necklace. Gift-wrapped at no extra charge.
Read here how to take care of your crystal jewellery.
CRYSTAL PROPERTIES
AMAZONITE
A stone of self-respect, confidence and grace. Soothes the spirit and calms the soul. Assists in connecting with one's intuition. Enhances creativity and self-expression. Empowers to move beyond fear, to live in alignment with your truth. A talisman for healing and prosperity, also said to bring in new business.
TOPAZ
Stone of success and good fortune. Aligns and recharges body's meridians.  Clear Topaz aids in spiritual development and in clarifying one's life purpose. With the strong magnification energy of Topaz, you may reach your heart's goals and desired manifestations faster. Increases energy and vitality. Increases cosmic awareness by activating the crown and the soul star chakras. In ancient legends, Topaz was said to make its wearer invisible if needed at times of emergency.
AQUAMARINE
Connected with the throat chakra, easing verbal self-expression. Helps you communicate your own truth and find your voice. Helps in looking at emotional situations from other perspectives, assists in opening up intuition and to calmly be in the flow of life. Aquamarine also aids in reaching deep meditative states. Resonates with the energy of the ocean. Stone of courage and protection.
Recently Viewed