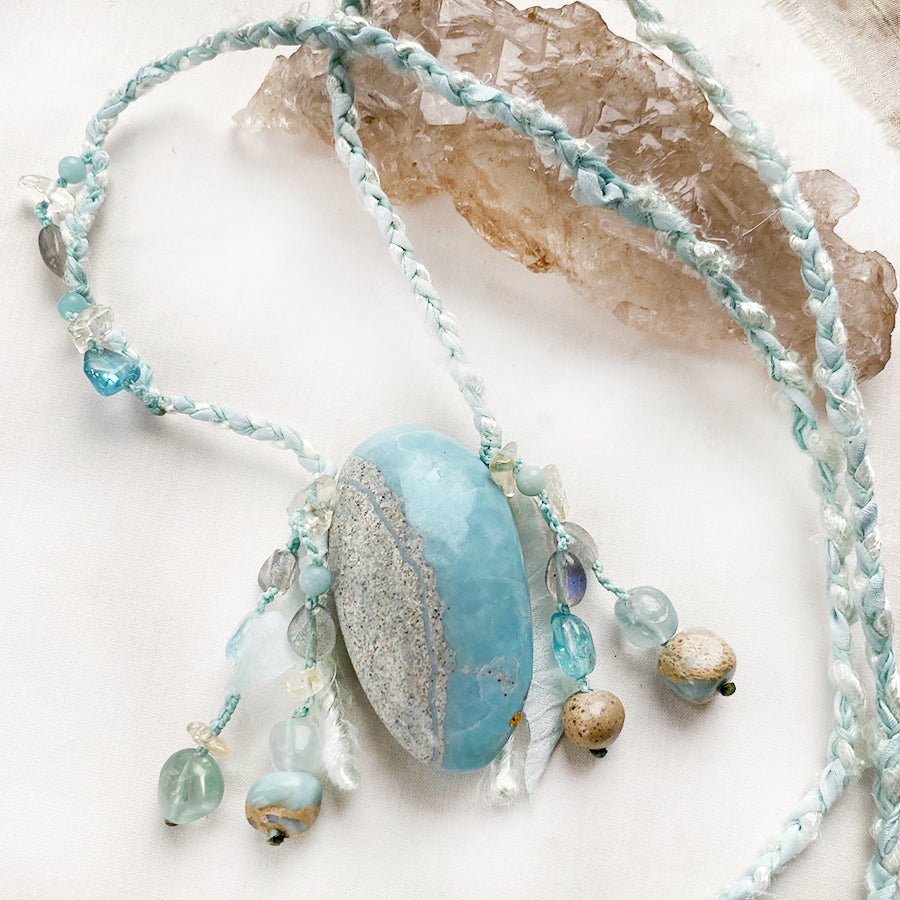 Amazonite crystal healing talisman
DESCRIPTION
Crystal healing talisman with smooth oval-shaped pebble of Amazonite. A tiny little dent in the polished surface of the Amazonite oval is filled with 24 carat gold, adding a tiny touch of luxury. The highlighting crystals dangling by the sides of the main stone are Labradorite, Variscite, Apatite, blue Fluorite, Citrine and further smaller Amazonites. There is a matching crystal strand also adorning one side of the necklace braid. The necklace braid is softly spun banana silk in pale green combined with aqua tone silk ribbon and light blue micro-macrame cord. Banana silk is so divinely soft, wearing this necklace feels like a hug.
The Amazonite is approx. 5 cm (2") tall and just over 2.5 cm (1") at its widest. The necklace braid is set length, allowing the Amazonite to hang down approx. 38 cm (15") measured from the back of the neck to the top edge of the pebble. The all-around length of the necklace braid is 76 cm (30").
You'll receive this crystal healing necklace in one of my handmade fabric draw-string pouches - great for the safe-keeping of the necklace. Gift-wrapped at no extra charge.

Read here how to take care of your crystal jewellery.
CRYSTAL PROPERTIES
AMAZONITE
A stone of self-respect, confidence and grace. Soothes the spirit and calms the soul. Assists in connecting with one's intuition. Enhances creativity and self-expression. Empowers to move beyond fear, to live in alignment with your truth. A talisman for healing and prosperity, also said to bring in new business.
APATITE
Enhances one's insight and imagination, and gives increased self-confidence. Connects to high level of spiritual guidance and is helpful in letting go of anything that no longer serves your highest good. Helpful in bringing one's vision into reality and overcoming difficulties. Useful for energy workers, helping to maintain a clear energy field and balanced focus. Apatite crystal is also said to be a good aid in curbing one's appetite!
BLUE FLUORITE
Attuned to the Third Eye chakra, enhancing intuitive visions and their accuracy. Promotes calm, rational thinking, directing one's activities toward an intended purpose. Fosters clear communication skills, inspiring honesty and sense of justice. Heals soul fragmentation through life times and aids cellular memory healing.
LABRADORITE
One of the most powerful, versatile crystal tools for healing. Creates an auric shield and strengthens your innate energy and life force, preventing energy leakages. Enhances intuitive abilities and assists in spiritual transformation. Helps the wearer align with their highest destiny and discover their inner worth. Strengthens willpower and brings in new ideas. Often referred to as the 'Stone of Destiny', believed to help you to find your true path in life, and as 'Temple of the Stars', anchoring higher dimensional light into your being.
VARISCITE (aka Aqua Terra Jasper)
Stone of inner peace and clarity. It has a loving and compassionate vibe. Helps with the alignment of one's 'Light' bodies and assists with emotional healing.
CITRINE
Affects a powerful alignment with the higher self. Balances the emotions and helps in uplifting one's mood to be more sunny and cheerful. Brings clarity of thought, and attracts abundance and prosperity through joy. Powerful transformer in healing work. Increases self-confidence and optimism, cleanses the surrounding energies and promotes creative thinking. Releases, dissipates and transforms denser energies on all levels, mental, emotional and physical. Works to release limitations and blockages particularly around the sacral / solar plexus area.
Recently Viewed