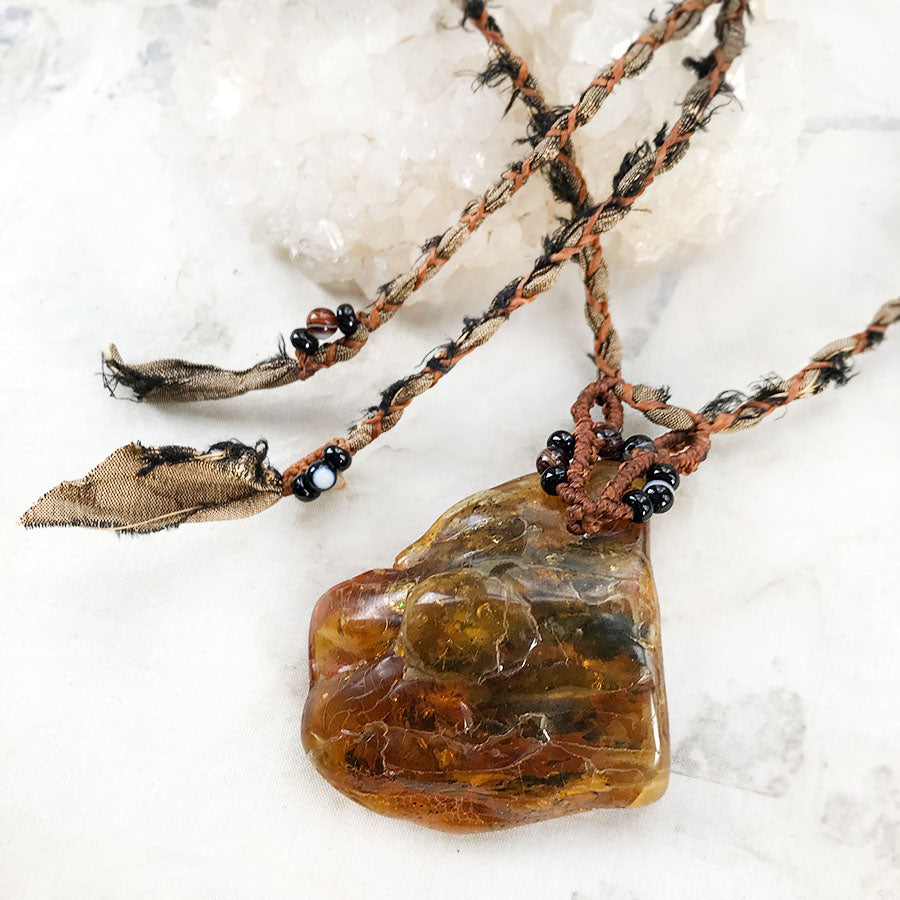 Amber crystal healing talisman
DESCRIPTION
Natural, sea-tumbled Amber, joining with small Agate crystals to a necklace braid of earthy platinum sheen raw silk and reddish brown micro-macrame cord. Even though the Amber is large, this talisman is very light in weight and minimalist in style - perfect daily wear that's easy to just slip on and go.
The Amber is just over 5 cm (2") tall and 4.5 cm (1.8") at its widest. The long braid ends are left open so you can tie the talisman to hang at a higher or lower level according to your preference. The length of the necklace braids is approx. 40 cm (15.5") each.
There are no metals in this necklace so would be particularly suitable for those with metal sensitivities or metal allergy, energy workers and those who simply prefer not to wear metal.
You'll receive this crystal healing necklace in one of my fabric draw-string pouches, great for the safe-keeping of the necklace. Gift-wrapped at no extra charge.

Read here how to take care of your crystal jewellery.
CRYSTAL PROPERTIES
AMBER
Amber is like sunshine solidified, offering a wonderful sense of health and wellbeing. Transmutes negative energies into positive, excellent for psychic protection. Cheers you up and helps you take action to make your ideas reality - ideal manifestation aid. Cleansing effect on the body, mind and spirit, promoting self-confidence and creative self-expression. Encourages spontaneity, patience and inner wisdom.
AGATE
The oldest good luck amulet. In ancient times Persian magicians were, according to legend, diverting storms with the powers of Agate. Considered a protective stone (especially for travel), said to shield its keeper against dangers. Increases inner stability, enhances personal courage and fosters self-confidence. Grounding and soothing. Balancing stone for one's energy system to experience oneness instead of duality.
Recently Viewed