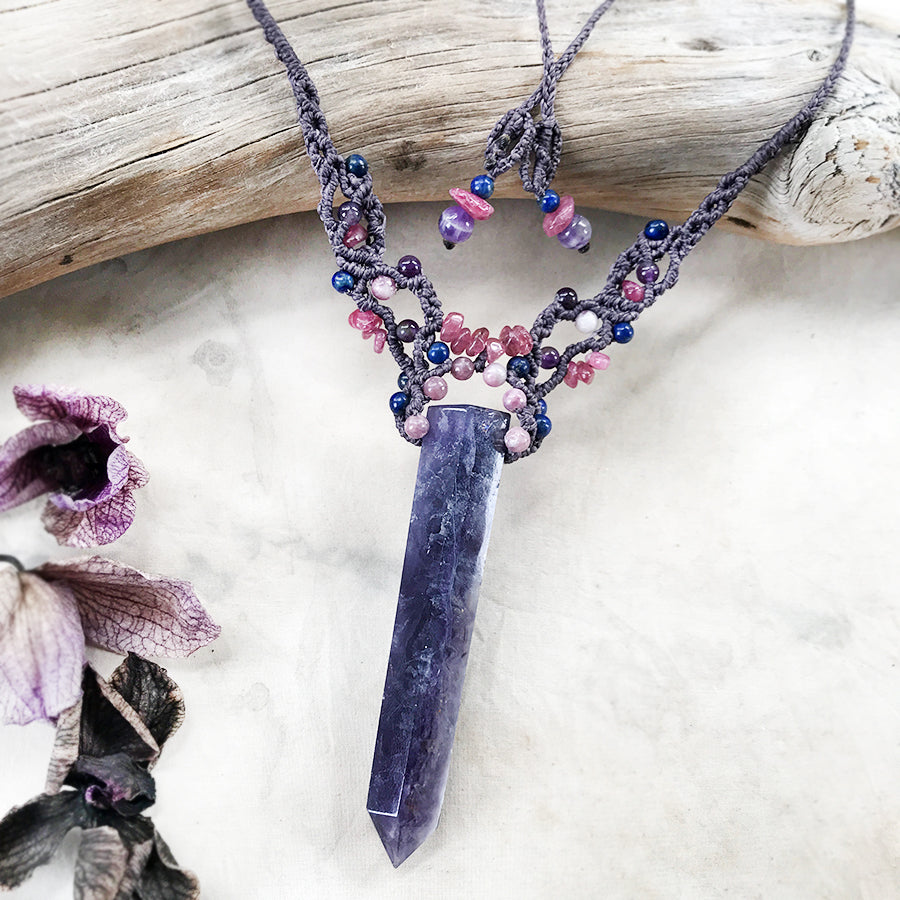 Amethyst crystal healing amulet
DESCRIPTION
Crystal healing amulet with polished Amethyst tower point, highlighted with small Rubellite, Lepidolite and Lapis Lazuli crystals. The necklace is intricately knotted with muted purple micro-macrame cord. The ends of the adjustable necklace cords are decorated with matching crystals. 
The length of the necklace is adjustable from very short down to solar plexus level. The Amethyst point is long at approx. 8 cm (3") and it's 1.5 cm (0.6") at its widest
There are no metals in this necklace so would be particularly suitable for those with metal sensitivities, energy workers and those who simply prefer not to wear metal.
You'll receive this crystal healing necklace in one of my fabric draw-string pouches, great for the safe-keeping of the necklace. Gift-wrapped at no extra charge.

Read here how to take care of your crystal jewellery.
CRYSTAL PROPERTIES
AMETHYST
Instils inner peace, promotes self-discovery and aids in relaxation. Associated with the crown chakra, known as a "stone of balance" and positive transformation. Thought to increase spiritual awareness and psychic abilities, initiating higher knowing and greater understanding. Helps in assimilating new ideas and manifesting thoughts into action. Symbolises a connection to the Divine. A well-known support stone for those wanting to break old patterns to create a new, harmonious life.
RUBELLITE (aka Pink Tourmaline)
Considered a rare, valuable crystal, Rubellite (pink Tourmaline) stimulates the heart chakra and life-force energy. A stone of quiet authority, instilling peaceful vibes in the midst of disputes. Harmonises one's feminine energies and has a nurturing energy. Helps in overcoming fears of lack and supports those who might not feel like belonging in this world to find joy of life.
LEPIDOLITE
An open, inviting stone, offering its gentle love readily when you just hold it in your hand. Useful in reducing depression and stress, it can assist in moving calmly through life transitions. In crystal healing practice, Lepidolite has been used to ease emotional traumas, panic attacks and addictions. Lepidolite is said to help you to nurture yourself and be optimistic, and to clear out ties to the past, assisting you in moving freely forward in joy and happiness.
LAPIS LAZULI
Creativity super charger stone. Ignites new ideas and encourages different creative ways of thinking. Stone of truthfulness, openness, inner power, intuition and manifestation. Thought to increase self-confidence as well as to promote spiritual healing, mental calmness and strength of will. Powerful tool for dream work. Historically a stone of royalty.
Recently Viewed