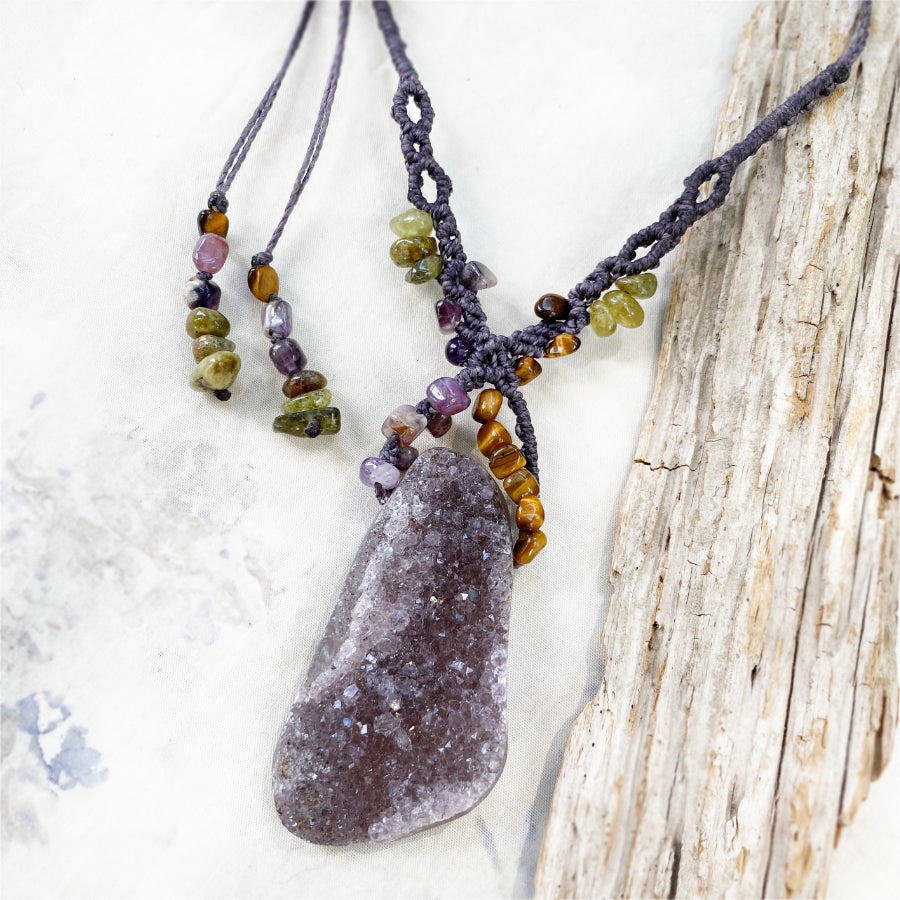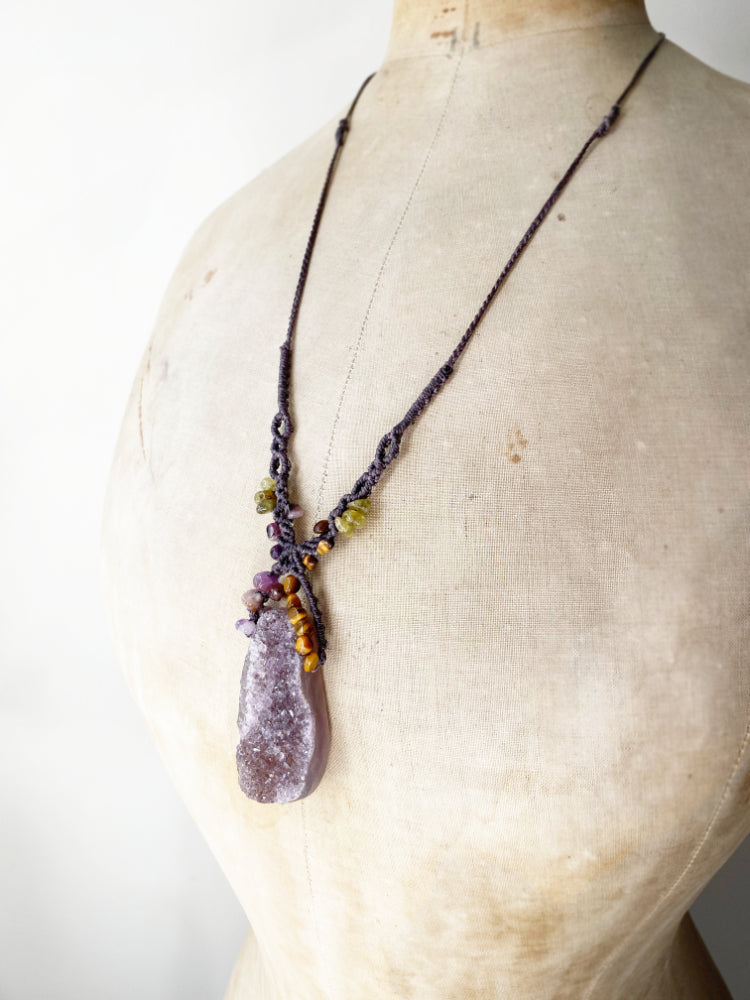 Amethyst geode crystal healing amulet
DESCRIPTION
Crystal healing talisman with an organically shaped slice of an Amethyst geode, quite thin which makes it hang nicely flat when worn. The main stone is combined with the accent crystals of Tiger Eye, Verdelite and further small Amethysts, which also adorn the ends of the adjustable necklace cords. The necklace is knotted and braided with dark purple micro-macrame cord.
The necklace braid is adjustable from as short as you wish down to solar plexus level. The Amethyst is approx. 6 cm (2.4") tall and 3 cm (1.2") at its widest. 
There are no metals in this necklace so would be particularly suitable for those with metal sensitivities or metal allergy, energy workers and those who simply prefer not to wear metal.
You'll receive this crystal healing talisman in one of my handmade fabric draw-string pouches - great for the safe-keeping of the necklace. Gift-wrapped at no extra charge.

Read here how to take care of your crystal jewellery.
CRYSTAL PROPERTIES
AMETHYST
Instils inner peace, promotes self-discovery and aids in relaxation. Associated with the crown chakra, known as a "stone of balance" and positive transformation. Thought to increase spiritual awareness and psychic abilities, initiating higher knowing and greater understanding. Helps in assimilating new ideas and manifesting thoughts into action. Symbolises a connection to the Divine. A well-known support stone for those wanting to break old patterns to create a new, harmonious life.
GEODE
Helpful in endeavours that require creativity and imagination. Good for family harmony, and anything to do with the reproductive systems. Where placed, stimulate the flow of chi (life energy). Geodes represent the divine feminine aspect. Strengthening, purifying and protective for the aura.
TIGER EYE
Helpful stone for learning to feel connected to one's personal strength. Excellent stone for attracting prosperity. But it has also a highly spiritual energy and is useful in understanding any life cycle that one is living through. Helps in seeing through illusions and discerning the truth in any situation. A highly protective stone. Good for strengthening the solar plexus (3rd) chakra and developing one's will power and courage.
VERDELITE (aka Green Tourmaline)
Connects to the energy of compassion, opening up pathways to self-healing and letting go of old heart wounds. Helpful in implementing new projects with the aim of bringing your true desires to fruition. Balancing and rejuvenating, attracting luck and prosperity.
Recently Viewed