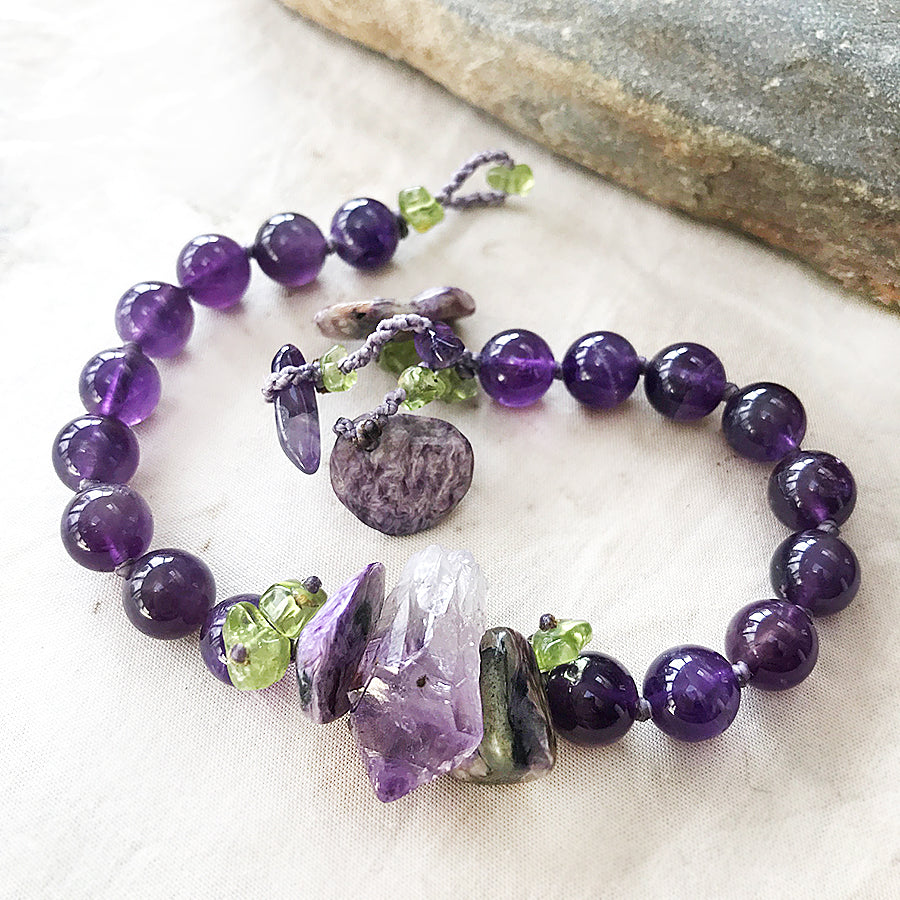 Amethyst mala bracelet
DESCRIPTION
Crystal mala bracelet with 18 Amethyst counter beads with a divider of a rough Amethyst point, Charoite on both sides and highlighted with small Peridot crystals. The three toggle stones are Charoite (2) and Amethyst (1) - you can slip one or all three through the knotted loop to fasten the bracelet. The counter beads are knotted individually for strength and flexibility, using light purple micro-macrame cord. 
This is a handy meditation / mantra aid for times when you'd like something smaller than a full mala. You can still count up to 108 with these bracelet beads - or in multiples of 27 if you prefer. Simply count back and forth over the divider as many rounds as needed. Use the toggle crystals as the guru bead.
The counter bead diameter in this mala bracelet is 0.8 cm (0.3") and the rough Amethyst point is approx. 2 cm (0.8") tall. Whilst the total length of this bracelet, including the toggle, is 22 cm (8.6") it would make a good fit for up to an 8" wrist circumference. However, if you prefer a looser style bracelet, this can happily be worn on a 6.5" wrist as well.
This mala comes in one of my handmade soft leather pouches for safe-keeping. If you would rather have a fabric pouch, please let me know at the time of purchase.

Gift-wrapped at no extra charge.

Read more about Spirit Carrier mala beads
CRYSTAL PROPERTIES
AMETHYST
Instils inner peace, promotes self-discovery and aids in relaxation. Associated with the crown chakra, known as a "stone of balance" and positive transformation. Thought to increase spiritual awareness and psychic abilities, initiating higher knowing and greater understanding. Helps in assimilating new ideas and manifesting thoughts into action. Symbolises a connection to the Divine. A well-known support stone for those wanting to break old patterns to create a new, harmonious life.
CHAROITE
Stone of insight and transformation. Teaches you to live in the moment, releasing fears. Symbol of endurance, giving courage to start over when needed. Aligns heart and intellect, eases worries and promotes a more relaxed attitude. Useful for alternative therapists: grounds high-frequency vibrations and assists in discerning energy patterns.
PERIDOT
Upbeat and comforting, Peridot reduces stress and amplifies intuitive awareness. Soothes hurt feelings, supporting renewal and personal growth. Brings in-depth heart based awareness, extending from healing to understanding and offering protection against negative emotions. Known also as the stone of prosperity and happiness.
Recently Viewed