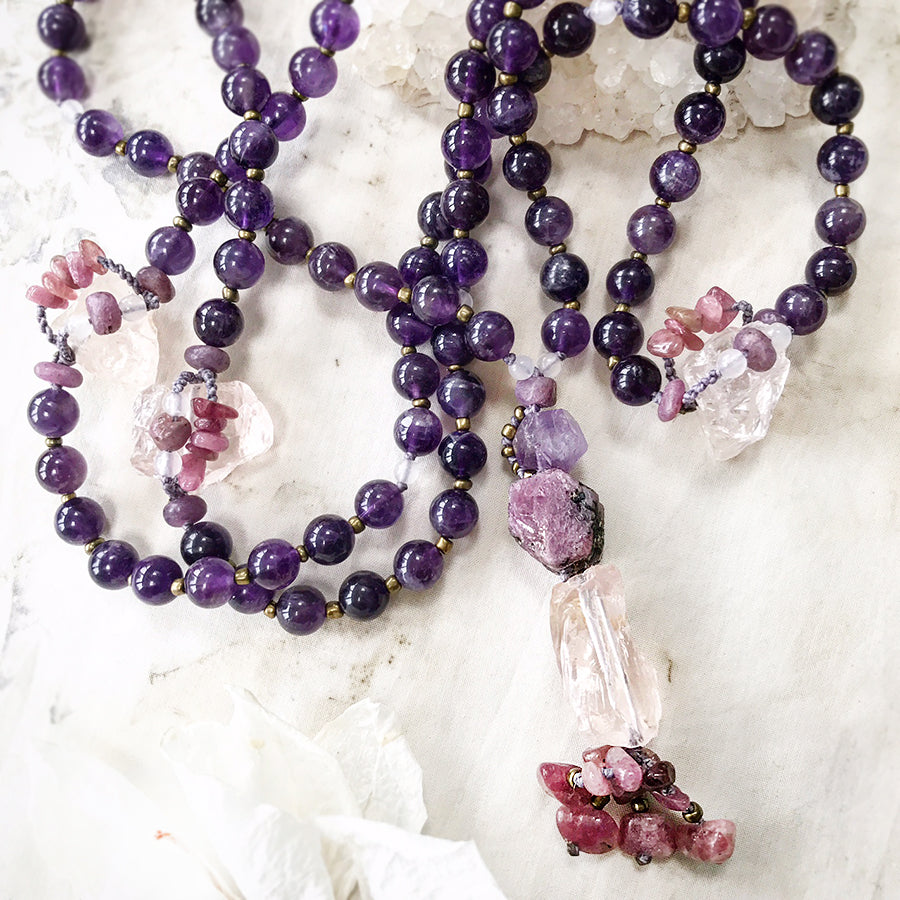 Amethyst meditation mala
DESCRIPTION
One of a kind, contemporary 108 bead meditation mala with Amethyst counter beads. The three dividers are a combination of translucent ice-like Rose Quartz, Ruby and Rubellite (pink Tourmaline). The guru bead is a cairn of faceted Amethyst, raw Ruby, rough cut translucent Rose Quartz and small Rubellite crystals.
The Amethyst counter beads are spaced with matt golden sheen Balinese ceramic beads in asymmetrical organic shapes. The mala is knotted with light purple micro-macrame cord, including a small Rose Quartz bead at every nine bead intervals. Whilst this mala is long, it's not too heavy, so would suit wearing wrapped around either longer or shorter. There's a loving, luxurious feel to this unique mala. 
All around length of mala: 121 cm (47.5") 
Counter bead diameter: 0.8 cm (0.3") 
The width of the divider combination: approx. 2.5-3 cm (1"-1.2") 
Length of guru bead crystal combination: 8.5 cm (3.3")
This mala comes in one of my handmade soft brown leather pouches for safe-keeping. If you would rather have a fabric pouch, please let me know at the time of purchase. 
You'll receive this mala gift-wrapped at no extra charge.

Read more about Spirit Carrier mala beads
CRYSTAL PROPERTIES
AMETHYST
Instils inner peace, promotes self-discovery and aids in relaxation. Associated with the crown chakra, known as a "stone of balance" and positive transformation. Thought to increase spiritual awareness and psychic abilities, initiating higher knowing and greater understanding. Helps in assimilating new ideas and manifesting thoughts into action. Symbolises a connection to the Divine. A well-known support stone for those wanting to break old patterns to create a new, harmonious life.
ROSE QUARTZ
Powerful love stone, love that is all-encompassing and unconditional. Awakens one's heart to its own innate love, compassion and acceptance. Vibrates its loving energy to all chakras, offering gentle healing. Soothing and calming. Dissolves anger and resentment. Good for raising one's self-esteem and feelings of self-worth. Balances emotions and is said to support all types of healing. Guides one's life path towards a sense of personal fulfilment and contentment.
RUBY
Increases vitality and one's life-force energy, Very energising, excellent for women. Promotes clear mind, motivation and concentration. Associated with love, passionate commitment and heart-based closeness, offering help in shedding past hurts. Encourages you to 'follow your bliss' and have courageous attitude. Supports closeness and commitment. Shielding crystal to keep your energy field in your own command. (Ruby is one of the four 'precious' gemstones, the other three being Emerald, Sapphire & Diamond. Other gemstones are considered 'semi-precious'.)
RUBELLITE (aka Pink Tourmaline)
Considered a rare, valuable crystal, Rubellite (pink Tourmaline) stimulates the heart chakra and life-force energy. A stone of quiet authority, instilling peaceful vibes in the midst of disputes. Harmonises one's feminine energies and has a nurturing energy. Helps in overcoming fears of lack and supports those who might not feel like belonging in this world to find joy of life.
Recently Viewed