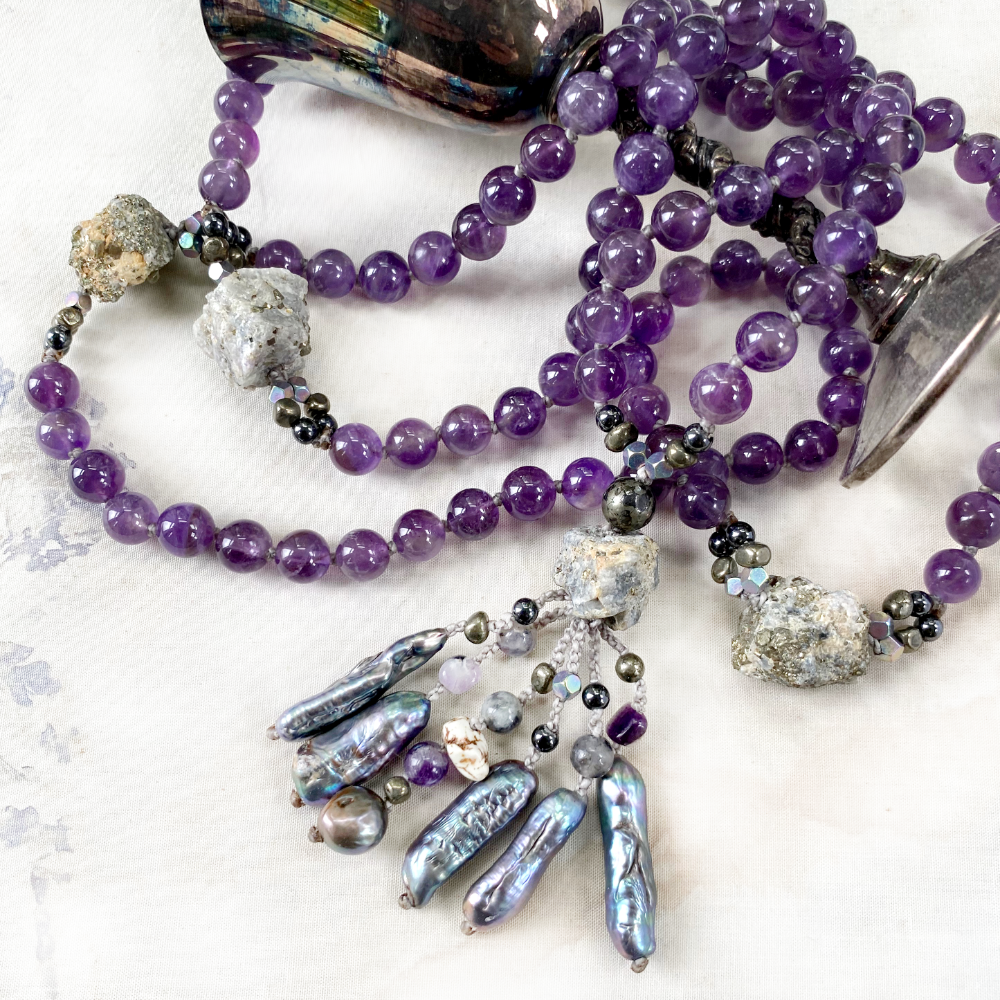 Amethyst meditation mala beads ~ full 108 count
DESCRIPTION
One-of-a-kind, luxurious 108 bead meditation mala with Amethyst counter beads. The three dividers are a combination of rough cut Marcasite, Pyrite and Hematite accents. The guru bead consists of a Pyrite sphere, a further rough cut Marcasite crystal and a 'tassel' of knotted strands adorned with small crystals Pyrite, Iolite, Hematite, Magnesite and ending in iridescent Biwa pearls showing subtle purple, pink and shimmery grey tones. The mala is knotted with light grey micro-macrame cord between each counter bead for added strength and ease of handling. If worn, this mala would look amazing as one long length or wrapped twice as a shorter necklace. There's a luxurious, feminine feel to this unique mala.
All-around length of mala: 111 cm (44")
Diameter of counter beads: 0.8 cm (0.3")
Width of divider bead combination: 4 cm (1.6")
Total length of guru (stone & tassel): 7 cm (2.8")
This mala comes in one of Spirit Carrier's handmade soft cork ('vegan leather') pouches for safe-keeping. If you would rather have a brown leather pouch, please let me know at the time of purchase. 
You'll receive this mala gift-wrapped at no extra charge.

Read more about Spirit Carrier mala beads
CRYSTAL PROPERTIES
AMETHYST
Instils inner peace, promotes self-discovery and aids in relaxation. Associated with the crown chakra, known as a "stone of balance" and positive transformation. Thought to increase spiritual awareness and psychic abilities, initiating higher knowing and greater understanding. Helps in assimilating new ideas and manifesting thoughts into action. Symbolises a connection to the Divine. A well-known support stone for those wanting to break old patterns to create a new, harmonious life.

MARCASITE
Resonates with the Soul Star chakra, even if being strongly grounding at the same time. Offers strong psychic protection and strengthens courage. Brings clarity of thinking, increasing will-power. Said to promote creativity and attract wealth. If you long for new spark in life, Marcasite helps ignite it. A stone of action, confidence and vitality.

PYRITE
Taps into your innate abilities, bringing confidence and perseverance to aim for your goals. A shielding stone that helps you see the truth in the motives of others. Increases vitality and enhances your assertive qualities. Helpful in turning melancholy into feeling empowered and more light-hearted. Helps in letting go thoughts of misfortune and worry, thus making it an excellent stone for manifesting abundance. Symbolises the warmth and presence of sun, attracting also abundance of love, friendship and success. Also excellent stone against electromagnetic fog.
HEMATITE
Creates a strong sense of self and enhances the creative flow. Relieves stress. Revitalises, enhancing personal magnetism and optimism. Helps in releasing self-imposed limitations to find your own unique gifts. A stone of balance and equilibrium. Grounds when feeling scattered, allows one to maintain a natural alertness while remaining calm.
IOLITE
Aids in making inner visions more vivid, activating the creative side of the mind. Dissolves fear of the unknown. Helps in blending everyday conscious thinking with intuitive inner knowing, initiating ideas beyond the ordinary. Awakens psychic gifts, activating and clearing the third eye. Helps accessing communication from higher vibratory realms. Helps one to act and respond to situations from one's higher guidance, to feel more motivated, less distracted.
MAGNESITE
Opens up higher realms and states of consciousness, bringing visions and emotional balance. Assists in hearing your heart's desires. High ascension stone that awakens one to spiritual growth. Offers the gift of direct knowing by opening the third eye and crown chakras. Has the potential to create blissful changes in one's life.
BIWA PEARL
Symbolises purity, clarity and spiritual transformation. Assists in discovering the wisdom and purpose in one's experiences.
Recently Viewed