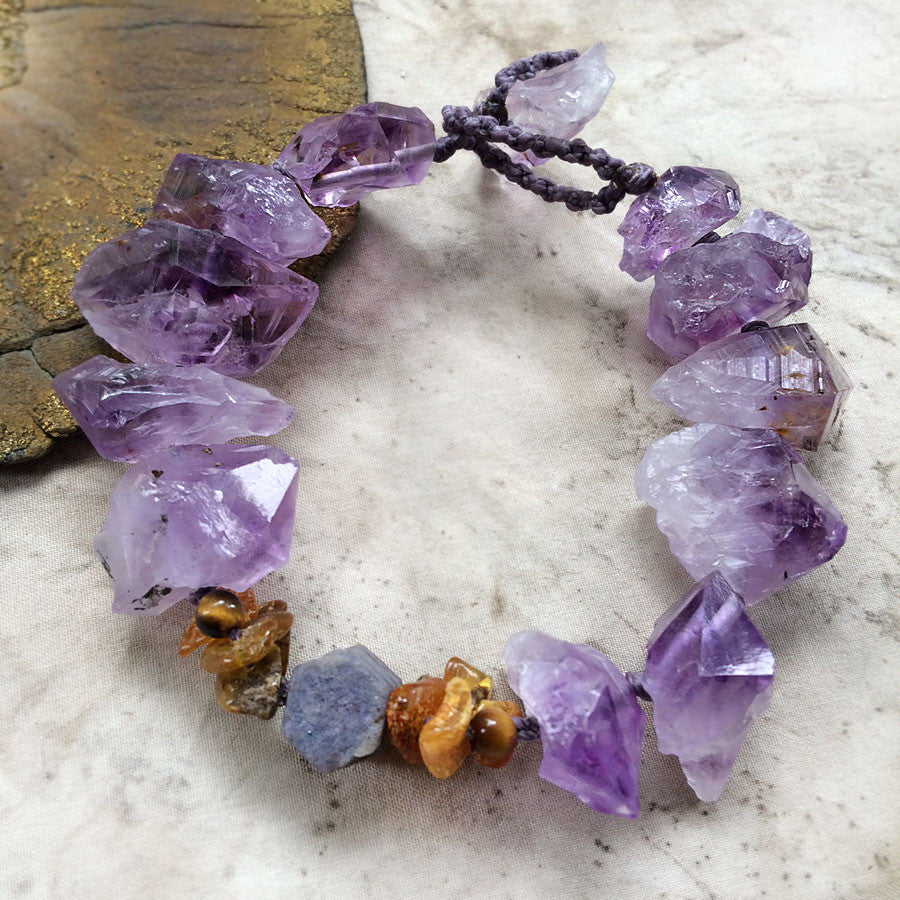 Amethyst point bracelet with Sapphire, Amber & Tiger Eye ~ for wrist size 6.5"
DESCRIPTION
Crystal healing bracelet with twelve rough Amethyst points, combined with blue Sapphire, Baltic Amber and Tiger Eye. This unusual, chunky bracelet is approx. 8.5" long, but the size of the stones means this would be the most comfortable fit for a 6.5" wrist.
The bracelet is knotted with a double strand of lilac micro-macrame cord, with an Amethyst point toggle clasp (1" wide).
This one-of-a-kind bracelet comes in a fabric drawstring pouch, and gift-wrapped at no extra charge.

CRYSTAL PROPERTIES
AMETHYST
Instills inner peace, promotes self-discovery and aids in relaxation. Associated with the crown chakra, known as a "stone of balance" and positive transformation. Thought to increase spiritual awareness and psychic abilities, initiating higher knowing and greater understanding. Helps in assimilating new ideas and manifesting thoughts into action. Symbolises a connection to the Divine.
SAPPHIRE
A stone of psychic activation, enhances insight and focus. Helps the throat and third eye chakras to work in unison to strengthen and express one's inner vision. Grounds higher knowledge and helps one to stay centred. Evokes the wisdom needed to see past any situation into the underlying truth. Helpful in channeling healing energy from the highest source, allowing access to deeper levels of consciousness.
BALTIC AMBER
Amber is like liquid sunshine, it transmutes negative energies into positive, cheers you up and helps you take action to make your ideas reality. Cleansing effect on the body, mind and spirit, promoting self-confidence and creative self-expression. Encourages spontaneity, patience and inner wisdom.
TIGER EYE
A power stone for attracting prosperity. But it has also a highly spiritual energy and is helpful in understanding any life cycle that one is living through. It helps in seeing through illusions, in discerning the truth in any situation. A highly protective as well as grounding stone.
Recently Viewed