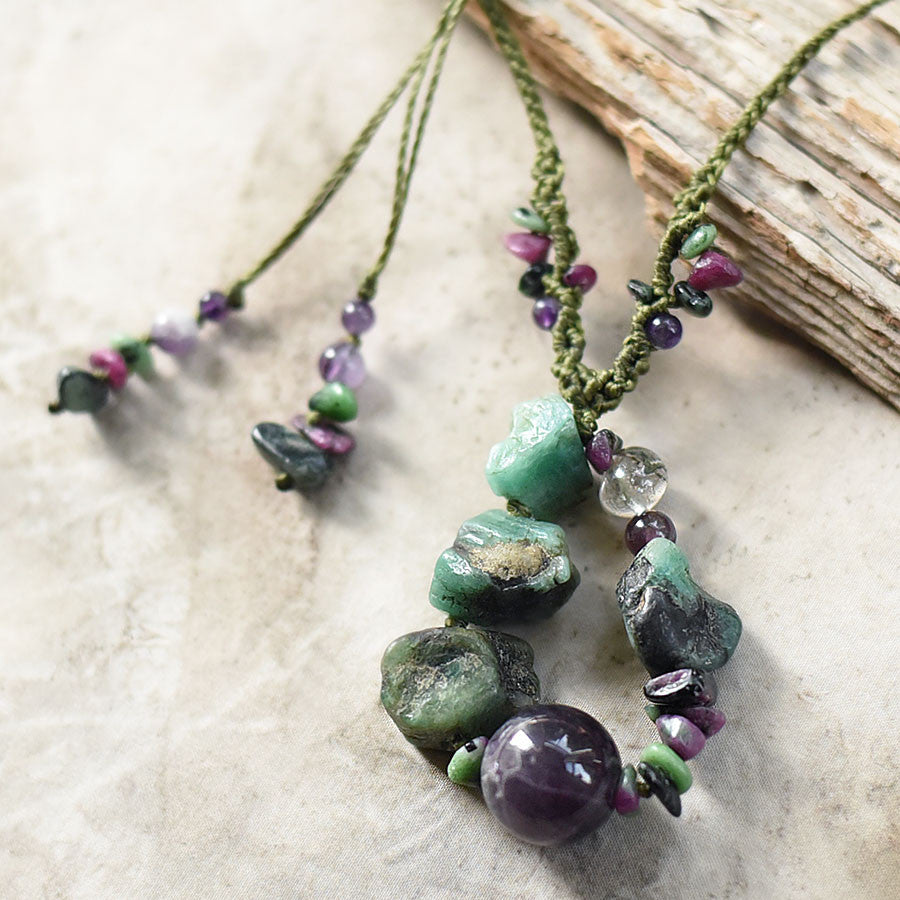 Crystal healing jewellery with Amethyst, Emerald, Ruby in Zoisite & Lodolite
DESCRIPTION
Crystal healing necklace with smooth Amethyst sphere, Emerald, Ruby in Zoisite and Lodolite. The necklace is minimally braided with forest green micro-macrame cord, very strong and durable, yet soft and comfortable to wear.
The length of the necklace is adjustable from very short down to solar plexus level. The crystal loop is just over 5 cm (2") tall. The Amethyst sphere is 1.6 cm (0.6") in diameter.
There are no metals in this necklace so would be particularly suitable for those with metal sensitivities, energy workers and those who simply prefer not to wear metal.
You'll receive this crystal healing necklace in one of my fabric draw-string pouches, great for the safe-keeping of the necklace. Gift-wrapped at no extra charge.
CRYSTAL PROPERTIES
AMETHYST
Instills inner peace, promotes self-discovery and aids in relaxation. Associated with the crown chakra, known as a "stone of balance" and positive transformation. Thought to increase spiritual awareness and psychic abilities, initiating higher knowing and greater understanding. Helps in assimilating new ideas and manifesting thoughts into action. Symbolises a connection to the Divine.
EMERALD
Stone of love. Opening and nurturing to the heart chakra. Benefits heart-based intuition. Promotes joyous emotions, enhances emotional and spiritual balance. Restores confidence where needed. Brings visionary insight, especially relating to one's vocation. In crystal lore, Emerald is the sacred stone of the goddess Venus. It was the symbol of eternal life in ancient Egypt.
RUBY IN ZOISITE (aka ANYOLITE)
Powerful heart based crystal that stimulates positive feelings and gratitude for all you have in your life. Facilitates soul memory to bring more spiritual learning into your life. Increases feelings of empathy towards yourself and others. Connects the heart chakra to work in unison with the third eye chakra, but also activating the base and the crown chakras, creating a strong life-force energy.
LODOLITE (aka Shaman Dream Stone Quartz, Garden Quartz)
Associated with the crown chakra, enhances one's sensitivity to invisible energies, helps in manifesting one's desires, brings harmony to one's aura, emanates strong yet gentle healing energies.
Recently Viewed