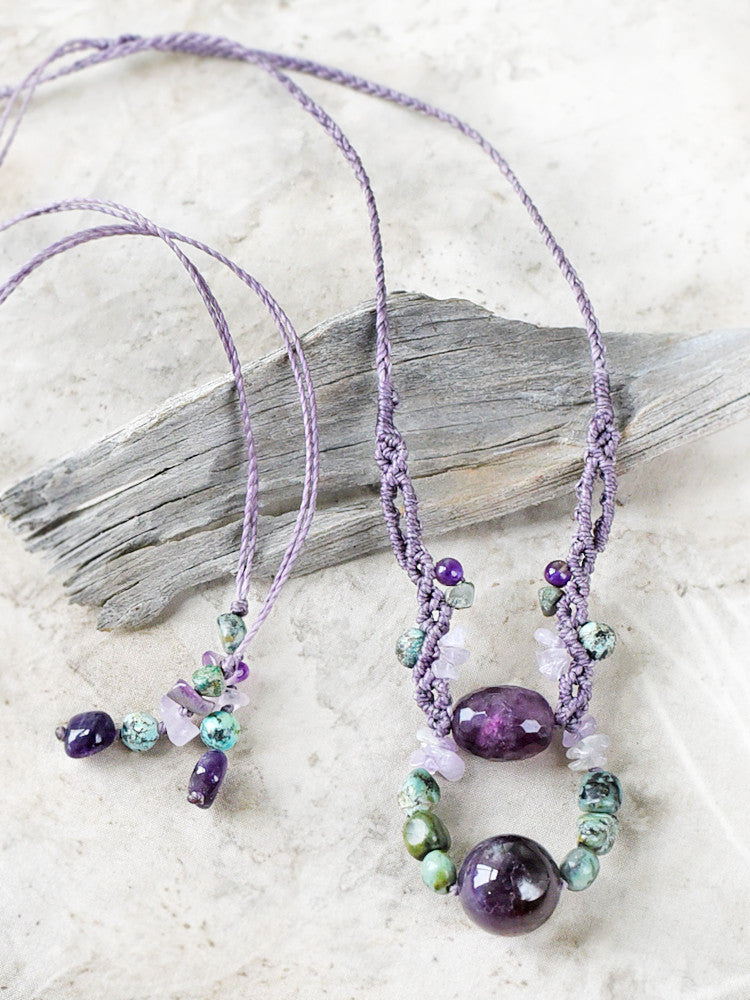 Amethyst sphere amulet with purple Fluorite & African Turquoise Jasper
DESCRIPTION
Crystal healing necklace with smooth Amethyst sphere, purple faceted Fluorite and African Turquoise Jasper. The necklace is minimally braided with lilac micro-macrame cord, very strong and durable, yet soft and comfortable to wear.
The length of the necklace is adjustable from very short down to solar plexus level. The crystal pendant from the top edge of the faceted Fluorite to the base of the Amethyst sphere is approx. 4 cm (1.6") tall. The Amethyst sphere is 1.6 cm (0.6") in diameter.
There are no metals in this necklace so would be particularly suitable for those with metal sensitivities, energy workers and those who simply prefer not to wear metal.
You'll receive this crystal healing necklace in one of my fabric draw-string pouches, great for the safe-keeping of the necklace. Gift-wrapped at no extra charge.
CRYSTAL PROPERTIES
AMETHYST
Instills inner peace, promotes self-discovery and aids in relaxation. Associated with the crown chakra, known as a "stone of balance" and positive transformation. Thought to increase spiritual awareness and psychic abilities, initiating higher knowing and greater understanding. Helps in assimilating new ideas and manifesting thoughts into action. Symbolises a connection to the Divine.
FLUORITE
Excellent for cleansing one's aura, also detaching unwanted energy cords. Grounds excessive energy, beneficial for all levels of healing. Helpful in achieving spiritual wholeness. Protective, stabilising and harmonising stone. Facilitates personal growth. Awareness expanding. Anchors intuitive insights into the physical plane. The combined green and purple shades support heart-centred higher knowing and intuition. Also known as absorbing environmental EMF.
AFRICAN TURQUOISE JASPER
Calming and soothing stone that creates a feeling of tranquility and comfort. Encourages personal growth, opening the mind to new ideas and possibilities. Also known as an abundance stone.
Recently Viewed