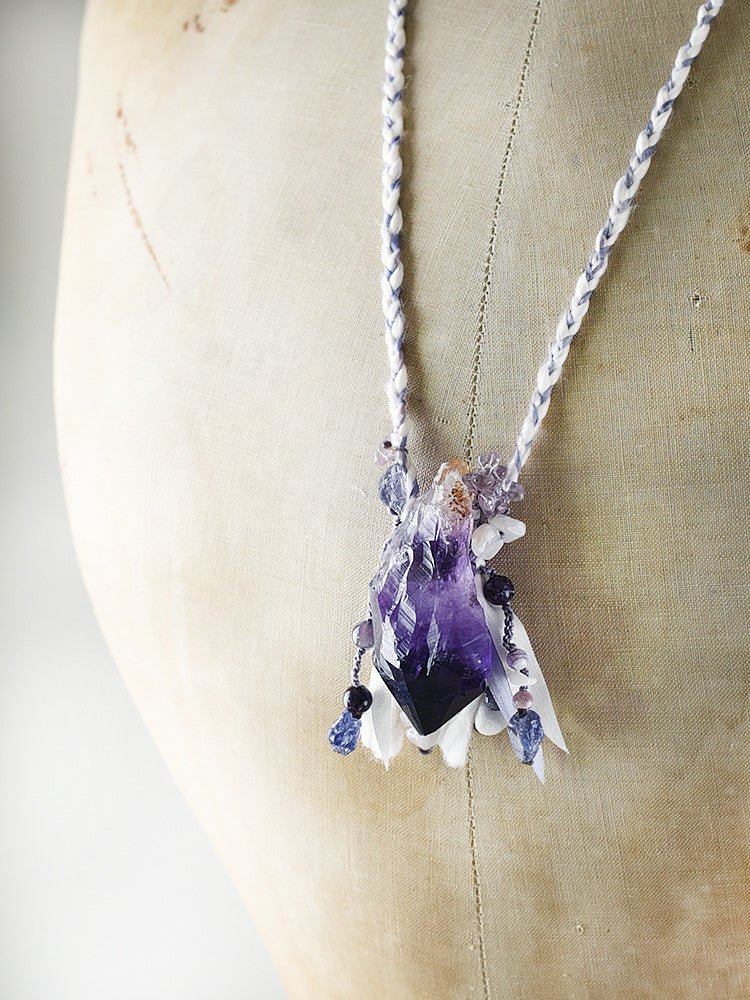 Amethyst crystal healing talisman in silk braid with Iolite, Lepidolite & white Jade
DESCRIPTION
Natural, raw Amethyst point in deep purple shade. The necklace is braided with a combination of white silk ribbon, soft hand-spun silk yarn and lilac micro-macrame cord. The talisman is highlighted with Iolite, Lepidolite and white Jade crystals adorning both sides of the Amethyst.
The necklace braid is set length, allowing the Amethyst point to hang down approx. 35-36 cm (14") measured from the back of the neck to the top edge of the Amethyst. The all-around length of the necklace braid is 71 cm (28").
The Amethyst point is approx. 5.5 cm (2.2") tall and 2.5 cm (1") at its widest.
There are no metals in this necklace so would be particularly suitable for those with metal sensitivities / metal allergy, energy workers and those who simply prefer not to wear metal.
You'll receive this crystal healing necklace in one of my handmade fabric draw-string pouches - great for the safe-keeping of the necklace. Gift-wrapped at no extra charge.
CRYSTAL PROPERTIES
AMETHYST
Instils inner peace, promotes self-discovery and aids in relaxation. Associated with the crown chakra, known as a "stone of balance" and positive transformation. Thought to increase spiritual awareness and psychic abilities, initiating higher knowing and greater understanding. Helps in assimilating new ideas and manifesting thoughts into action. Symbolises a connection to the Divine.
IOLITE
Aids in making inner visions more vivid, dissolving fear of the unknown. Helps in blending everyday conscious thinking with intuitive inner knowing. Awakens psychic gifts, activating and clearing the third eye. Helps accessing communication from higher vibratory realms. Helps one to act and respond to situations from one's higher guidance.
WHITE JADE
Filters away distractions, allowing inner knowledge to surface. Good for achieving meditative states. Aids decision making, dissolves self-imposed limitations. Brings harmony and happiness. A protective stone, historically used to keep its wearer out of harm's way.
LEPIDOLITE
An open, inviting stone, offering its gentle love readily when you just hold it in your hand. Useful in reducing depression and stress, it can assist in moving calmly through life transitions. In crystal healing practice, Lepidolite has been used to ease emotional traumas, panic attacks and addictions. Lepidolite is said to help you to nurture yourself and be optimistic, and to clear out ties to the past, assisting you in moving freely forward in joy and happiness.
Recently Viewed