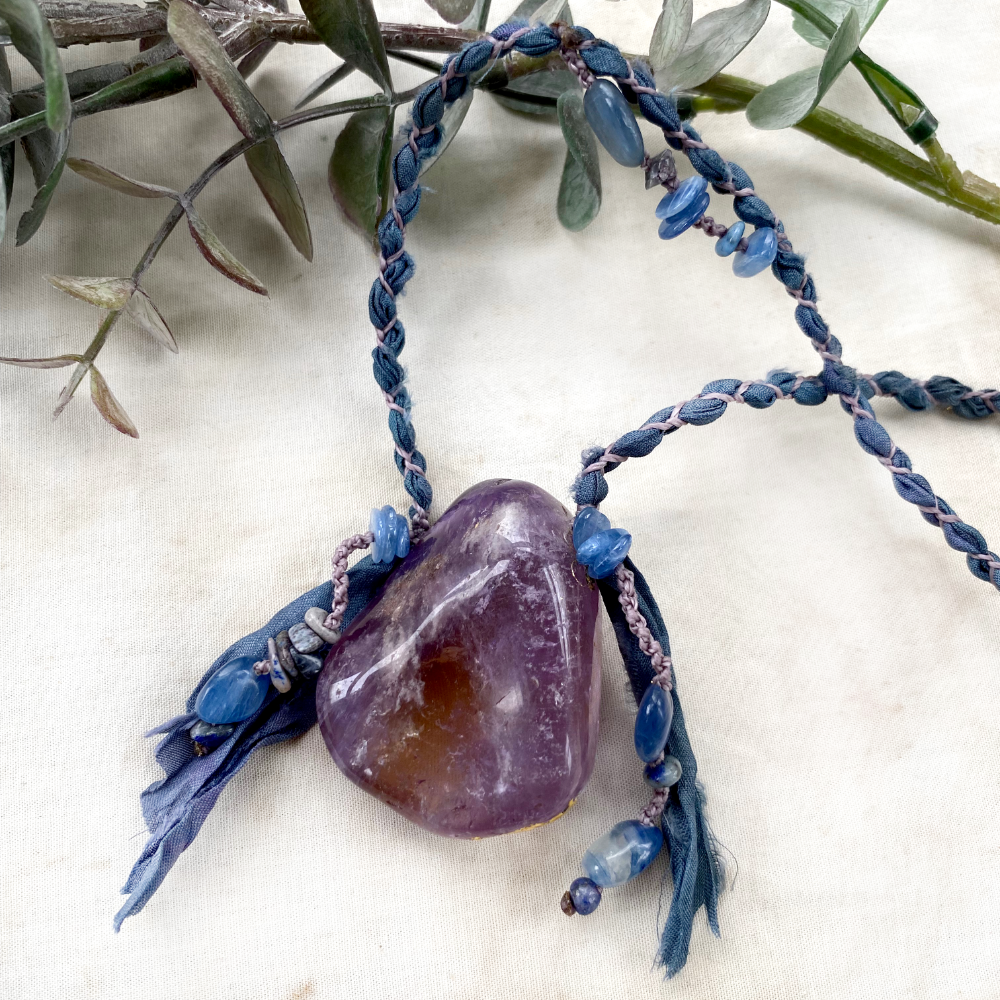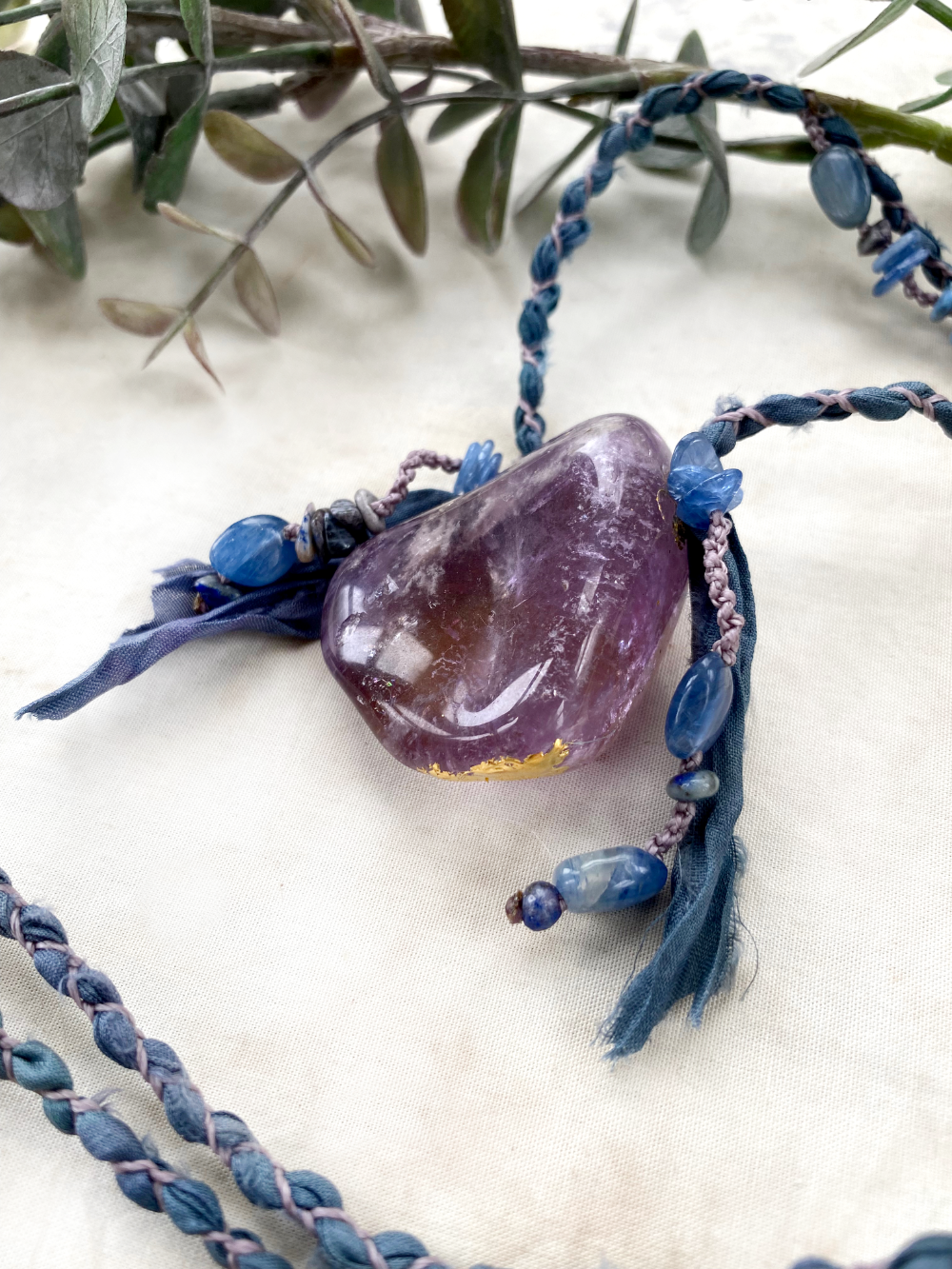 Ametrine crystal healing amulet ~ with kintsugi
DESCRIPTION
Crystal healing talisman with a smooth, organically shaped Ametrine pebble and small kintsugi repairs. The necklace is braided with blue recycled sari silk and pale purple micro-macrame cord. The highlighting crystals on knotted strands on both sides of the main crystal are Blue Kyanite and Lapis Lazuli. There is also a knotted crystal strand adorning one side of the necklace braid.
The necklace braid is set length, allowing the Ametrine to hang down 39 cm (15") measured from the back of the neck to the top edge of the Ametrine - i.e. the all-around length of the necklace braid is 78 cm (30").
'Crystal kintsugi' ~ sometimes a damaged crystal still has so much life and energy within that I just cannot discard it. Like us people, no need for past knocks and bruises to define our capabilities. Often these wounded healers have deep wisdom to share. This crystal spirit is now paired with genuine 24 carat gold to celebrate its beauty and to remind you of yours. 

KINTSUGI ('golden joinery') also known as Kintsukuroi ('golden repair') is the Japanese art of repairing broken pottery by mending the areas of breakage with lacquer dusted or mixed with powdered gold. As a philosophy, it treats breakage and repair as part of the history of an object, rather than something to disguise. Kintsugi can be seen to have similarities to the Japanese philosophy of wabi-sabi, an embracing of the flawed or imperfect. 

You'll receive this one-of-a-kind crystal healing necklace in one of Spirit Carrier's fabric draw-string pouches, great for the safe-keeping of the necklace. Gift-wrapped at no extra charge.

Read here how to take care of your crystal jewellery.
CRYSTAL PROPERTIES
AMETRINE
Infusion of the healing properties of both Amethyst and Citrine, but also emanates its own unique energy. Connects your third chakra and your seventh chakra beautifully, to align your will power with your soul's purpose. Helpful for procrastination sufferers, giving you a boost to joyfully complete your tasks, to be inspired and stay focused. Connects you with the divinity of all. Also said to be an aid in weight loss and in releasing addictions.
BLUE KYANITE
'Stone of connection' that opens up energetic pathways where none existed. Enhances telepathic and psychic abilities, aligning chakras and subtle bodies. Calming and soothing, aids meditative work. Beneficial in negotiations, creating harmony between people through enhanced communication. Empowers you to stay true to your path. Helps in hearing one's intuitive guidance.
LAPIS LAZULI
Creativity super charger stone. Ignites new ideas and encourages different creative ways of thinking. Stone of truthfulness, openness, inner power, intuition and manifestation. Thought to increase self-confidence as well as to promote spiritual healing, mental calmness and strength of will. Powerful tool for dream work. Historically a stone of royalty.
Recently Viewed