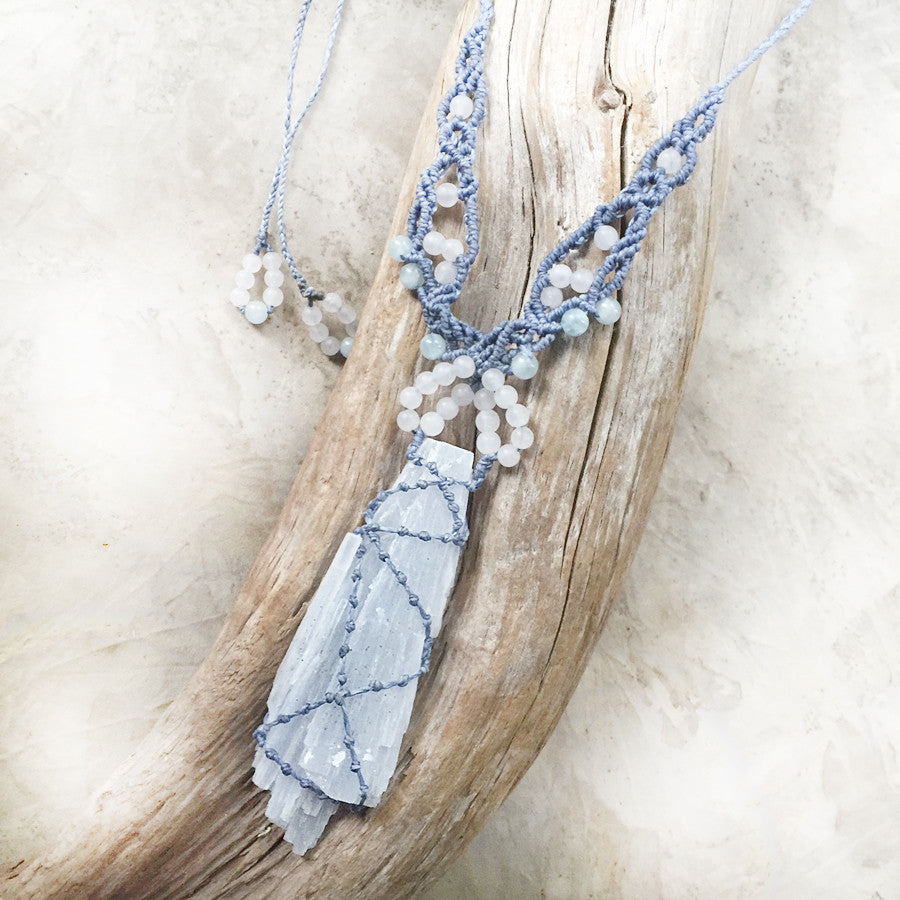 'Infinite Grace' ~ Angel wing blue Anhydrite crystal amulet with white Rose Quartz & Aquamarine
DESCRIPTION
Crystal healing necklace with stunning pale blue Angel Wing Anhydrite. The Angel Wing shaped Anhydrite has a distinctively different vibe from the blue Anhydrite that's also called Angelite. The necklace is intricately knotted with light blue micro-macrame cord, very strong and durable, yet soft and comfortable to wear, and highlighted with white Rose Quartz and Aquamarine crystals. The ends of the adjustable necklace cords are also decorated with the same.
The length of the necklace is adjustable from very short down to solar plexus level. The Angel Wing Anhydrite is just over 8 cm (3") tall and approx. 2.5 cm (1") wide in its middle.
There are no metals in this necklace so would be particularly suitable for those with metal sensitivities, energy workers and those who simply prefer not to wear metal.
You'll receive this crystal healing necklace in one of my fabric draw-string pouches, great for the safe-keeping of the necklace. Gift-wrapped at no extra charge.
CRYSTAL PROPERTIES
ANGEL WING BLUE ANHYDRITE
Stone of quiet strength and acceptance, with serene angelic energy. Deeply purifying for the emotional body. Brings balance to the flow of energy between body and spirit. Helps in facing things you need to deal with in order to move forward. Gentle guide in becoming more aligned with your inner truth and helps in expressing it. Gentle yet powerful, resonating with the upper chakras.
ROSE QUARTZ
Powerful love stone, love that is all-encompassing and unconditional. Vibrates its loving energy to all chakras, offering gentle healing. Soothing and calming. Dissolves anger and resentment. Good for raising one's self-esteem and feelings of self-worth. Balances emotions and is said to support all types of healing.
AQUAMARINE
Connected with the throat chakra, easing verbal self-expression. Helps you communicate your own truth and find your voice. Helps in looking at emotional situations from other perspectives, assists in opening up intuition and to calmly be in the flow of life. Aquamarine also aids in reaching deep meditative states. Resonates with the energy of the ocean. Stone of courage and protection.
Recently Viewed