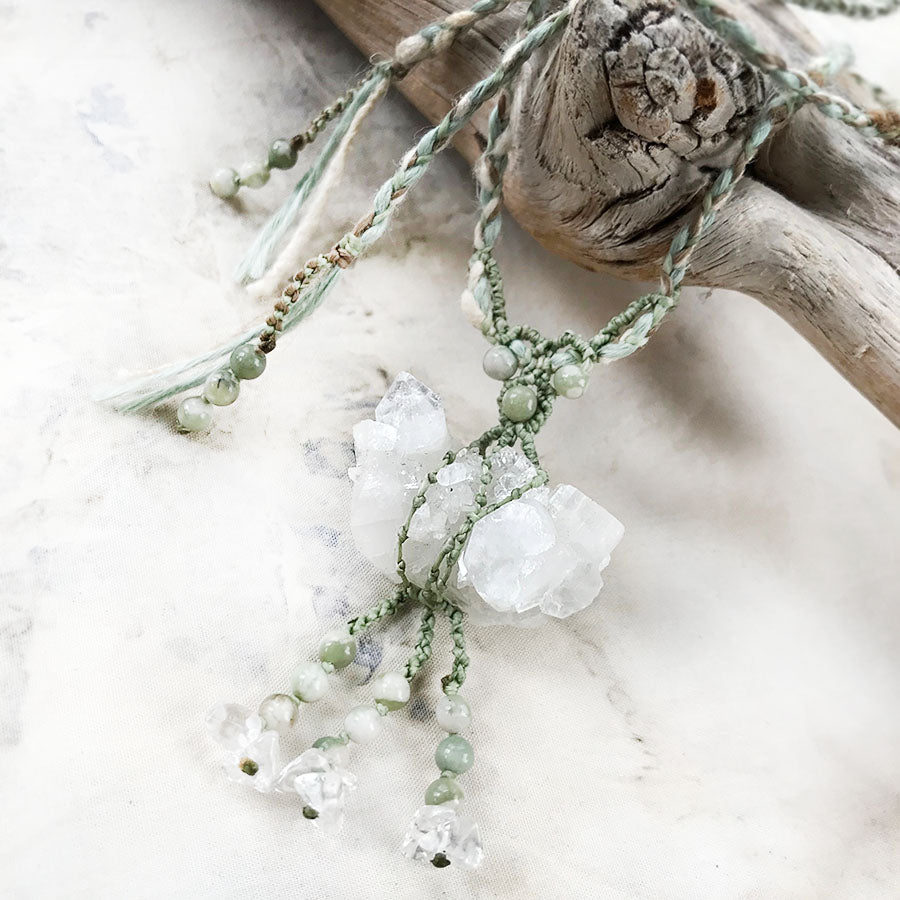 Apophyllite crystal healing amulet
DESCRIPTION
Stone talisman with a charming little Apophyllite, white with some translucent areas too. This is an un-drilled stone that is wrapped with light green micro-macrame cord. It attaches to a necklace braid of peace silk ('peace silk' is a name of silk made by ethical process where no silk worms were harmed) combined with soft, pale green linen yarn and micro-macrame cords in light green and muted brown. The highlighting crystals in this talisman are Peace Jade and clear Quartz, which also feature in the three strands that extend downwards from the base of the Apophyllite.
The Apophyllite is just over 3 cm (1.2") wide and the total measurement from the top edge of the Apophyllite to the base of the three  dangly strands is 5 cm (2"). The long braid ends are 35 cm (13.5") long each and left open so you can tie the amulet to hang at any desired level.
You'll receive this crystal healing necklace in one of my handmade fabric draw-string pouches - great for the safe-keeping of the necklace. Gift-wrapped at no extra charge.

Read here how to take care of your crystal jewellery.
CRYSTAL PROPERTIES
APOPHYLLITE
Spiritually energising, infuses one's light-body with high-vibrational energy. Assists in providing relief from anxiety, tension and stress. Brings hope for the future and helps releasing any negative thought patterns that hold you back. Helps you feel calmer, more joyful and relaxed. Brings guidance from your spirit, stimulating the third eye chakra. Increases the flow of light throughout your being.
PEACE JADE
Pure, intensely peaceful vibe which can be easily felt when just holding this stone. Releases internalised stress, allowing you feel serene and in alignment with your core self. Calming when feeling emotionally overwhelmed. Guides you to take that "deep breath" of release to let go of tension and worry. Compassionate heart chakra stone that fills you with divine tranquility.
CLEAR QUARTZ
The universal master crystal that has a harmonising effect on all levels of being. Programmable by intention, so can be used for versatile purposes. Quartz can clear, enhance, amplify, transmute, balance, focus and transmit energy. Raises one's energetic vibration. Brings clarity and filters out distractions. A deep soul cleanser, attuning its keeper to their higher self. Each Quartz crystal is unique with its own character and teachings it offers, all are known as "Stones of Power" and "Master Healers".
Recently Viewed